Request your free fluorophore selection guide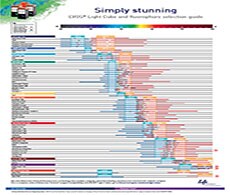 Complete the form below to request your free fluorophore selection poster featuring Molecular Probes® reagents.

**No purchase necessary. This promotion is available only to life science professionals 21 years and older in Australia, New Zealand, Singapore and India who submit a completed request form no later than December 16, 2016, or until promotional items are depleted, whichever comes first. The estimated value of the poster is $10 USD. One free poster per person. Offer void where prohibited, licensed, or restricted by federal, state, provincial, or local laws or regulation or agency/institutional policy. Health care professionals and employees of or those working on behalf of federal, state, or local government entities may not participate in this promotion. By submitting the request form, you warrant that you are not prohibited by employment, contract, or law from accepting a gift from Life Technologies. Life Technologies reserves at its sole discretion to determine the eligibility to receive this special offer. Other restrictions may apply.