Can the design of a gas chromatograph (GC) impact the productivity of your laboratory? The answer is yes, especially when it allows you to work more efficiently. In a previous blog post, I described how modularity delivers innovation in the gas chromatography world. It highlighted the benefits to laboratories of the modular concept of the Thermo Scientific TRACE 1300 Series GC.
With the introduction of the new Thermo Scientific TRACE 1600 Series GC, the modular architecture continues to deliver cost- and time-savings opportunities to users, thanks to a comprehensive choice of self-installable iConnect injector and detector modules. Each module is identified by a serial number for easy tracking in the laboratory and can be qualified as a separate item, so it can be safely interchanged on a GC instrument maintaining compliance with internal quality protocols.
An enlightening infographic is available for downloading, illustrating the four ways to increase laboratory efficiency through the modular concept of the TRACE 1600 Series GC. Don't miss it.
1. Swap downtime for runtime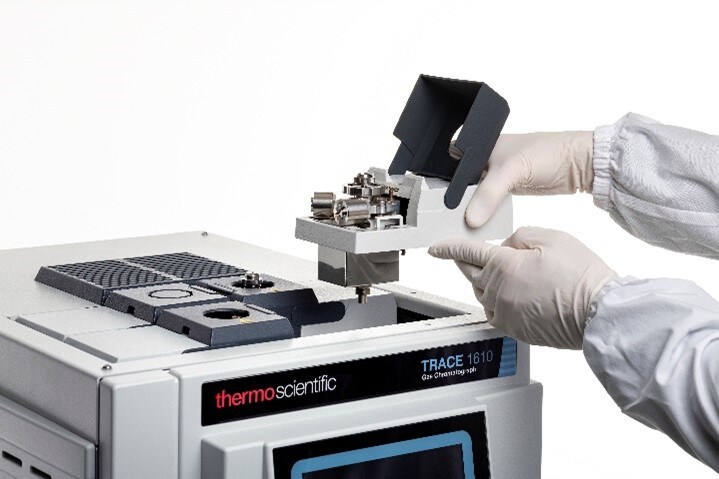 High-throughput testing laboratories as well as QA/QC labs need to deliver quality results on time. In a situation where a laboratory needs to quickly solve a contamination issue, for example, or needs to quickly recover a correct instrument behavior, the module replacement allows you to restore running conditions in less than 30 minutes, including cooling and powering down the instrument, disconnecting the column from the original injector module, removing the module, and plugging in the new one, re-connecting the column, and powering up the GC again. The same operation on a conventional GC design would require a service call and a day of instrument downtime.
In a situation where the laboratory has a spare module available, no troubleshooting actions are needed and no service call, reducing instrument downtime to half an hour —all with the limited investment of a spare module.
2. Optimize running costs
A way to increase your laboratory's efficiency is to make better use of the available resources and optimize running costs by reducing underutilized instrumentation in the lab. The modular concept of unlimited GC configurations and the ability to share modules on any Thermo Scientific TRACE 1300 and 1600 Series GC, multiplies the analytical possibilities. With the increased flexibility gained from modular capabilities, an instrument no longer needs to remain idle because it's not configured to run particular sample types. More efficient use of your GC instruments optimizes costs and accelerates the return on investment.
3. Maximize your investment
Start-up, non-routine laboratories may initially face limited budgets, so investments need to be prioritized. Short-terms requirements are clear but future requirements remain uncertain; the same GC may be required for different applications. So which configuration should be considered to balance the initial investment with growing analytical requirements?
With conventional GC, saving money today may mean higher costs in the future. Through modularity, you can invest based on current requirements and benefit from additional modules when they are necessary, with no additional fees. Modularity opens up to high flexibility to quickly adapt the GC system to current and future needs and easily address evolving priorities.
4. Free up bench space
With a width of only 44 cm (17.3 inch), the compact size of the TRACE 1600 series GC allows your lab to optimize valuable bench space, allowing you to position more instruments in a limited space. Additionally, having the capability to quickly install and uninstall injectors and detectors and having spare iConnect modules on hand for fast replacement, eliminates the need for maintaining a duplicate GC back-up instrument, removing associated cost of operation and further optimizing valuable bench space.
The modular design of your next GC system will revolutionize the way you work in your laboratory.