For many years Thermo Fisher Scientific has worked closely with PharmaFluidics, inventor and manufacturer of micro pillar array columns (μPAC) for low-flow liquid chromatography (LC) omics experiments. This partnership has generated exciting results. For example this poster from HUPO and journal article demonstrate the high-quality, reproducible chromatography performance you can expect when our products are used together.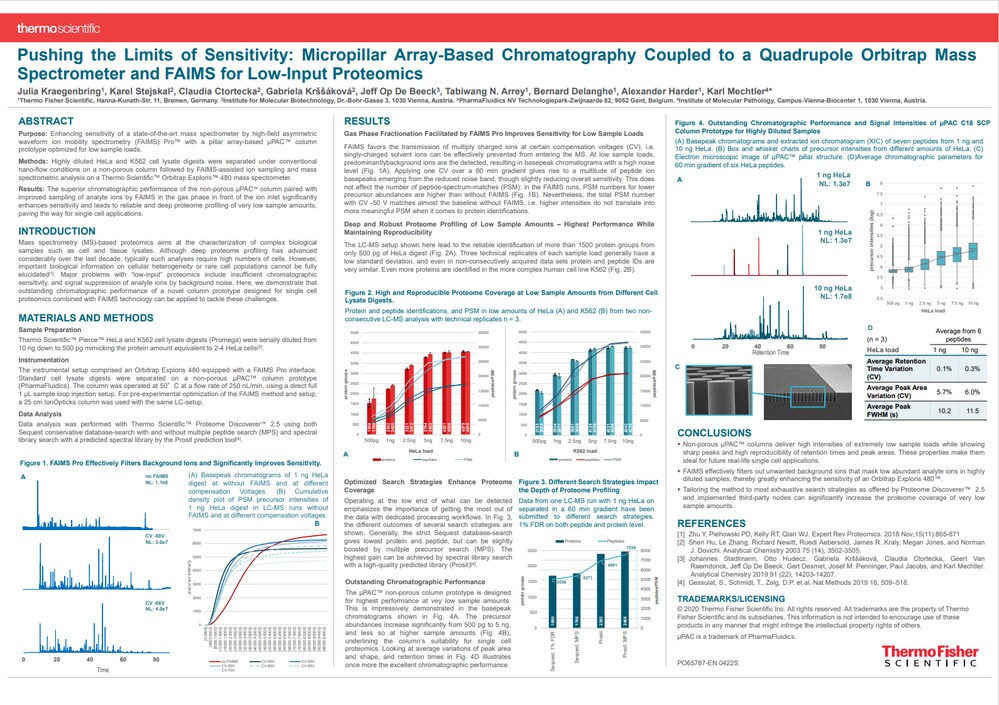 In 2021 the PharmaFluidics team joined Thermo Fisher Scientific. The merger resulted in the formal release of Thermo Scientific™ μPAC™ HPLC Columns in January 2022, an exciting step in our journey.
μPAC HPLC columns are built by precisely micromachining chromatographic separation beds into silicon wafers. This approach produces columns with perfect order, providing the following chromatographic characteristics:
Sample coverage– µPAC HPLC columns provide comprehensive coverage that is ideal for proteomics, metabolomics, and lipidomics. When used for single-shot proteome analysis, nearly 10,000 identifications can be achieved so you can discover more about your sample.
Column-to-column reproducibility– Each column is manufactured using the same lithographic mask, providing consistency and performance from column-to-column for a high level of confidence in your data.
Flow rate flexibility– µPAC HPLC columns can be operated at moderate LC pump pressures up to 350 bar over a wide range of flow rates (100 – 1,000 nL/min) for method flexibility.
The newly expanded Thermo Scientific low-flow column range offers multiple column formats and column chemistries to cover all your bottom-up and top-down experiments, and budgetary needs. More information on our range can be found here.
Welcoming new colleagues and customers to Thermo Fisher Scientific has been an amazing start to the year. I'm looking forward to seeing what the future holds as creative minds come together as one team to service research scientists in new ways.
Welcome to the family, μPAC HPLC Columns!