More than 100 tons of dead fish have been hauled out of the River Oder, which flows along part of Poland's border with Germany. Officials warned people not to enter the water while the Polish government pledged to investigate possible contamination. Polish and German authorities are working "flat-out" to establish the cause behind the mysterious mass fish die-off, deepening concerns of an environmental disaster for which no cause has yet been identified.
What is known so far about the cause?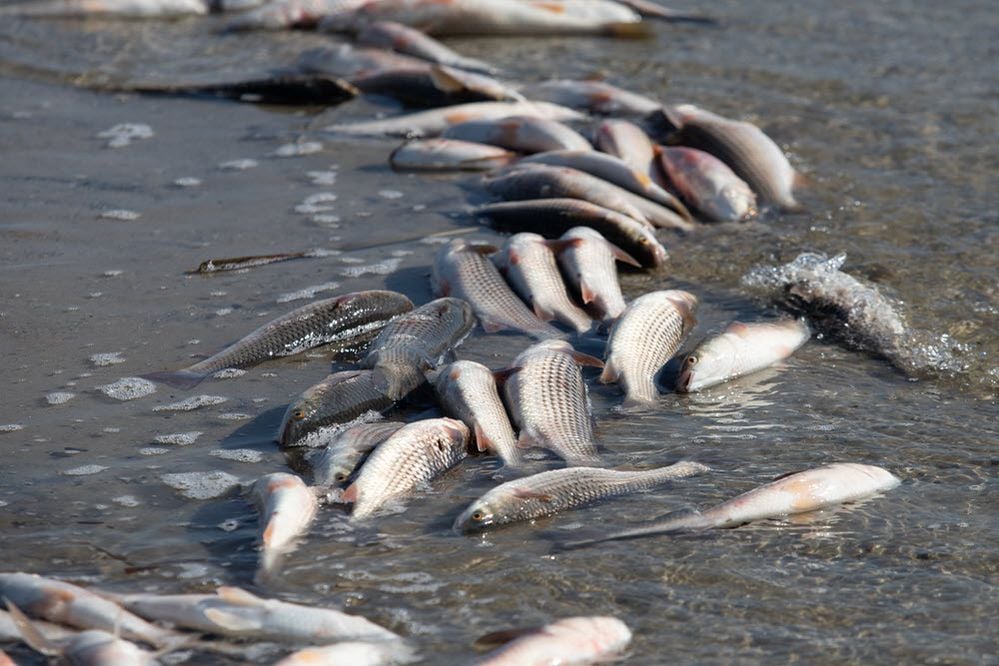 There is still little knowledge about what is causing the mass fish die-off. In Poland, samples are being tested for about 300 harmful substances, including heavy metals such as mercury and other compounds. Mercury was suspected to have caused the contamination of the river, but there is some uncertainty. According to authorities and experts, there is another explanation for samples that had previously tested positive for mercury, for instance, mercury compounds in the sediment. Mercury sediment deposits have formed decades ago and compounds may have transferred back into the water phase. Still, this is unlikely to be the cause of the severe river pollution and the subsequent mass die-off observed in August 2022. Currently, several authorities and laboratories are busy looking for the cause in various samples from the water, river sediment and dead fish. Without more detailed information on the source of the possible contamination, however, the search is particularly tricky.
Why have laboratory analyses not been successful so far?
A known substance can usually be detected precisely with state-of-the-art analytical instrumentation. But a negative test, e.g., for mercury, does not always provide definite proof of its absence. Some pollutants can be present in many chemical forms and unknown compounds are frequently a challenge for research and routine analytical laboratories. To provide rapid detection, experts in laboratories need to know what to look for. So far, analytical laboratories could rule out only several expected pollutants, those chemical and compound classes that are monitored regularly.
How do analytical laboratories assess and monitor water quality?
Even in small quantities, some elements and chemical compounds can have toxic effects when present in river water or in our drinking water supplies and food chains. As such, monitoring the trace elemental and chemical composition of water, as drinking, wastewater, and surface waters (such as rivers, lakes and ponds) is critical to maintain human, animal and environmental health. Therefore, it is vital that water bodies and drinking waters are not only checked regularly for their trace elemental composition, but also for other organic and inorganic compounds.
In this blog post, we evaluate trace elemental analysis in water and environmental samples, which is important for determining elemental composition, particularly with respect to heavy metals.
Fast, accurate and robust elemental analysis with ICP-OES
For trace elemental analysis, as for the analysis of heavy metals and other elements, the DIN EN ISO 11885:2009 method contains performance guidelines in Europe. It recommends the use of inductively coupled plasma optical emission spectroscopy (ICP-OES) as the analytical instrumentation of choice for assessing both major and trace elements in water samples. ICP-OES instruments are particularly well suited for this analysis as they can effectively perform rapid, low-level multielement measurements in a single analytical method, while providing high accuracy, precision, and low limits of detection for key elements.
Analytical instruments, such as the Thermo Scientific™ iCAP™ PRO series ICP-OES, provide a wide linear dynamic range from <1 to >100,000 μg·L-1 for most critical elements in environmental samples. ICP-OES provides good detection limits (low μg·L-1 or ppb range) as well as excellent system robustness and reproducibility for samples with challenging sample matrices. Spectral interferences can also be easily corrected. In addition, the iCAP PRO ICP-OES offers the flexibility to choose alternative element-specific wavelengths, depending on the expected element concentrations and the presence of potential interferences. Overall, busy labs will benefit from fast analysis of all target elements usually within 2 minutes per sample.
To learn more, take a look below at some application notes for analytical methods using ICP-OES for various types of water and environmental samples or follow this link.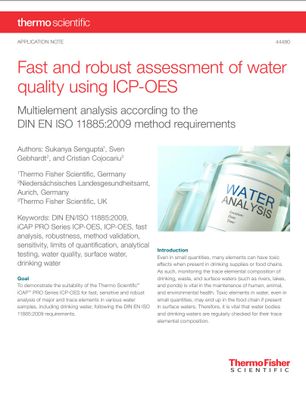 Application note 44480: Fast and robust assessment of water quality using ICP-OES.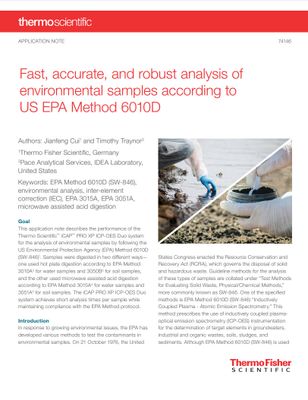 Application note 74146: Fast, accurate, and robust analysis of environmental samples according to US EPA Method 6010D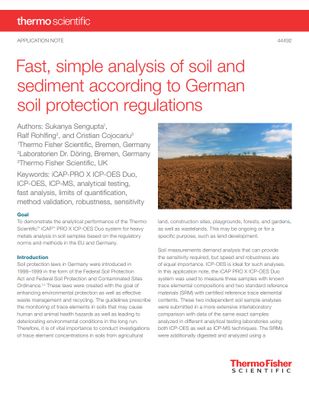 Application note 44492: Fast, simple analysis of soil and sediment according to German soil protection regulations.
Sensitive detection of trace elements with ICP-MS
When sensitivity is key, inductively coupled plasma mass spectrometry (ICP-MS) is the preferred analytical solution for trace element determination down to ppt levels. Modern ICP-MS instruments offer comprehensive interference removal and innovative solutions to increase sample throughput. Single quadrupole ICP-MS systems, such as the Thermo Scientific™ iCAP™ RQ ICP-MS, are commonly used in many laboratories, combining consistent interference removal with short measurement times, enabling robust, high-throughput analysis. Interference removal can be accomplished by using a collision/reaction cell (CRC) to remove the most common polyatomic interferences.
A more advanced way to overcome more challenging interferences is to use triple quadrupole ICP-MS (TQ-ICP-MS) instrumentation, such as the Thermo Scientific™ iCAP™ TQ ICP-MS, which offers routine removal of all types of interferences, including doubly charged ions. Triple quadrupole ICP-MS is a viable tool for the routine analysis of environmental water samples, such as groundwater, surface water and wastewater. The Reaction Finder method development assistant enables fast method development for interference-free analysis even for inexperienced users.
To learn more, take a look at the application notes below for analytical methods using ICP-MS for various types of water and environmental samples or follow this link: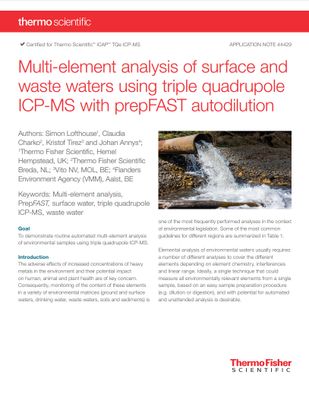 Application note 44429: Multi-element analysis of surface and waste waters using triple quadrupole ICP-MS with prepFAST autodilution.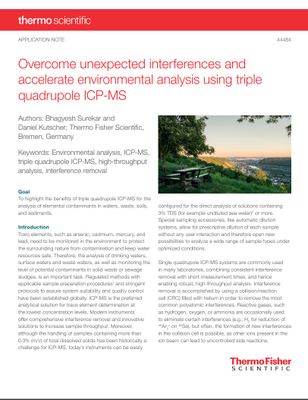 Application note 44484: Overcome unexpected interferences and accelerate environmental analysis using triple quadrupole ICP-MS.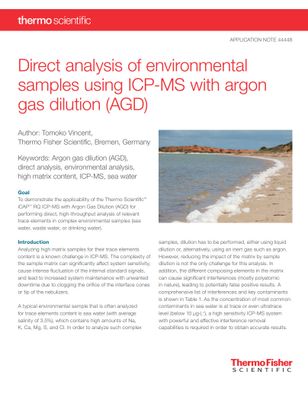 Application note 44448: Direct analysis of environmental samples using ICP-MS with argon gas dilution (AGD).
Discover more about ICP-OES and ICP-MS in our "Introduction to ICP spectrometry" webinars.

Additional resources
Guide for Environmental Sample Analysis by ICP-MS
Discover Triple Quadrupole ICP-MS For the Analysis of Trace Elements
Trace Elemental Analysis – Analytical solutions for applied science and research laboratories