We also learned that where soap and water are not available, we can use alcohol-based hand sanitizers that contain at least 60% alcohol to quickly reduce the probability of spreading the virus to others, as well as to objects and surfaces.
The sudden increase for alcohol-based hand sanitizer demand was huge, pushing for manufacturers to convert their production over to ethanol and isopropyl alcohol (IPA)-based sanitizing products. But with increased production, they also need to keep strict control over quality and regulatory compliance in order to preserve the efficacy of those products and ensure their safety for consumers.
In order for ethanol or IPA-based hand sanitizers to be effective as disinfecting agents, they must contain at least 60% ethanol or 70% IPA by volume. The Federal Drug Administration (FDA) and Environmental Protection Agency (EPA) guidance on product efficacy, sanitizing ability, and label claims require manufacturers selling these types of disinfecting products to perform tests to confirm alcohol content.
Since the major components of alcohol-based hand sanitizers include similar distillates like methanol, acetone, n-propanol and iso-propanol that are quite volatile, the prime testing method is performed usinggas chromatography (GC), capable of chromatographically separating the compounds of interest based on their boiling point and polarity, and thus accurately quantify their content in the sample.
In order to help the many industries that have started producing hand sanitizer for the first time, instrument suppliers are in an interesting role of sharing knowledge and experience, on top of analytical hardware, to help new users of analytical instrumentation. It's not enough to produce a robust, quality product, but needs to complement that with the knowledge and support to enable end-users to take things to the next level.
Thermo Fisher Scientific has a wide array of solutions available to ensure compliance with USP guidance, offering fast and comprehensive testing methods. To streamline the entire workflow, users can rely on the Chromeleon Chromatography Data System (CDS) reporting capabilities, making the data interpretation very easy.
Raw Materials Testing
Testing the raw material for possible impurities is a primary goal to ensure the final products are safe for use. One of the most common requirements for production is assessing Ethanol purity, typically performed using the USP Monograph for Ethanol, which requires quantitating organic impurities against spiked solutions of the Ethanol to be tested.
How do you accomplish this task easily?
Liquid injection in a Thermo Scientific™ Trace™ 1310 GC-FID system allows you to produce "USP Certified" solvents in a very straightforward way. Our "Quick methods" are available as brief documents designed to give comprehensive starting conditions to the user for a quick and easy start-up.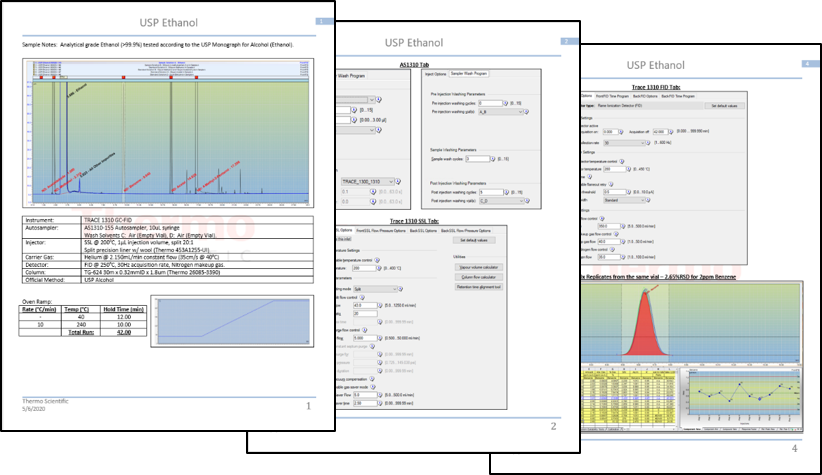 Additionally, because we all know speed is important these days, we've developed a significantly faster and easier method than the official USP Ethanol monograph, for screening purposes. It assumes all impurities are equivalent and sets a limit based on total integrated area. It allows you to answer a simple question – how clean is my product?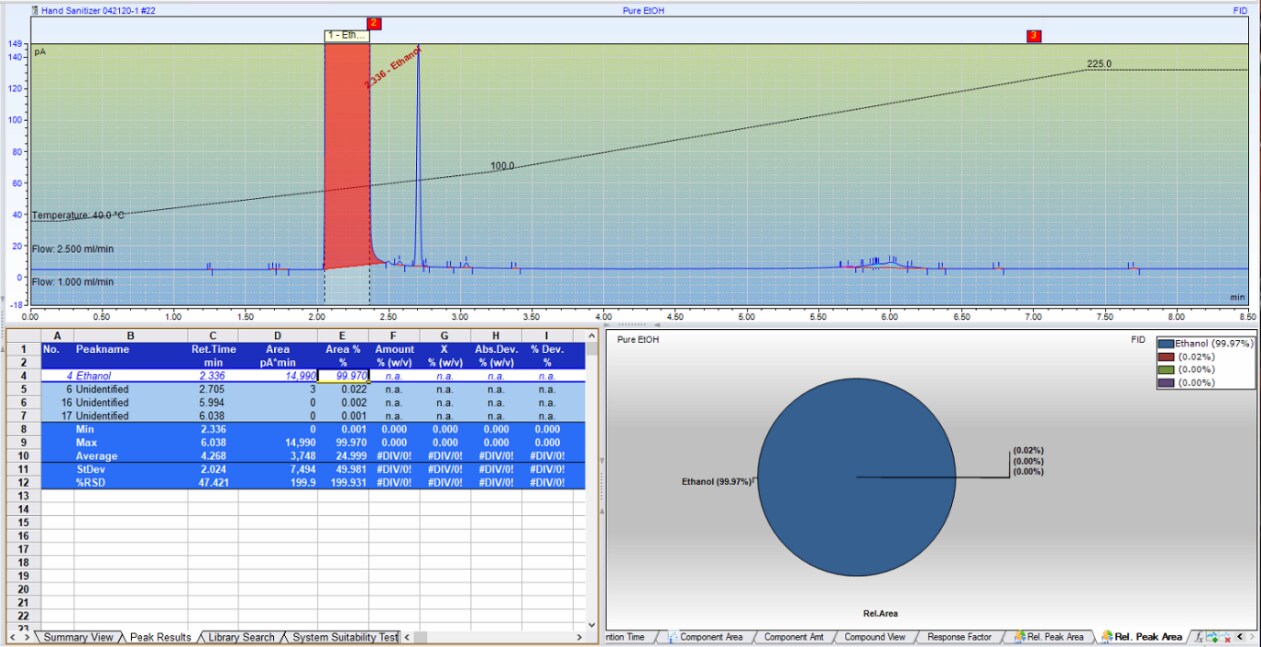 Alcohol-based Hand Sanitizer Finished Product Testing
Testing of finished products is also required to certify the content % of IPA or Ethanol as declared on the label before each batch is released for distribution. A fast and convenient way to analyze finished products with almost no sample preparation involves the use of the static headspace sampling technique coupled to GC-FID, or GC-MS.
The use of the Thermo Scientific™ TriPlus™ 500 Headspace autosampler provides incredibly repeatable injections (RSD% < 1%) for highly reliable quantitative data. If flexibility is required between headspace and liquid injections, the Thermo Scientific™ TriPlus™ RSH Autosampler offers a high level of confidence in analytical results, with flexible injection options.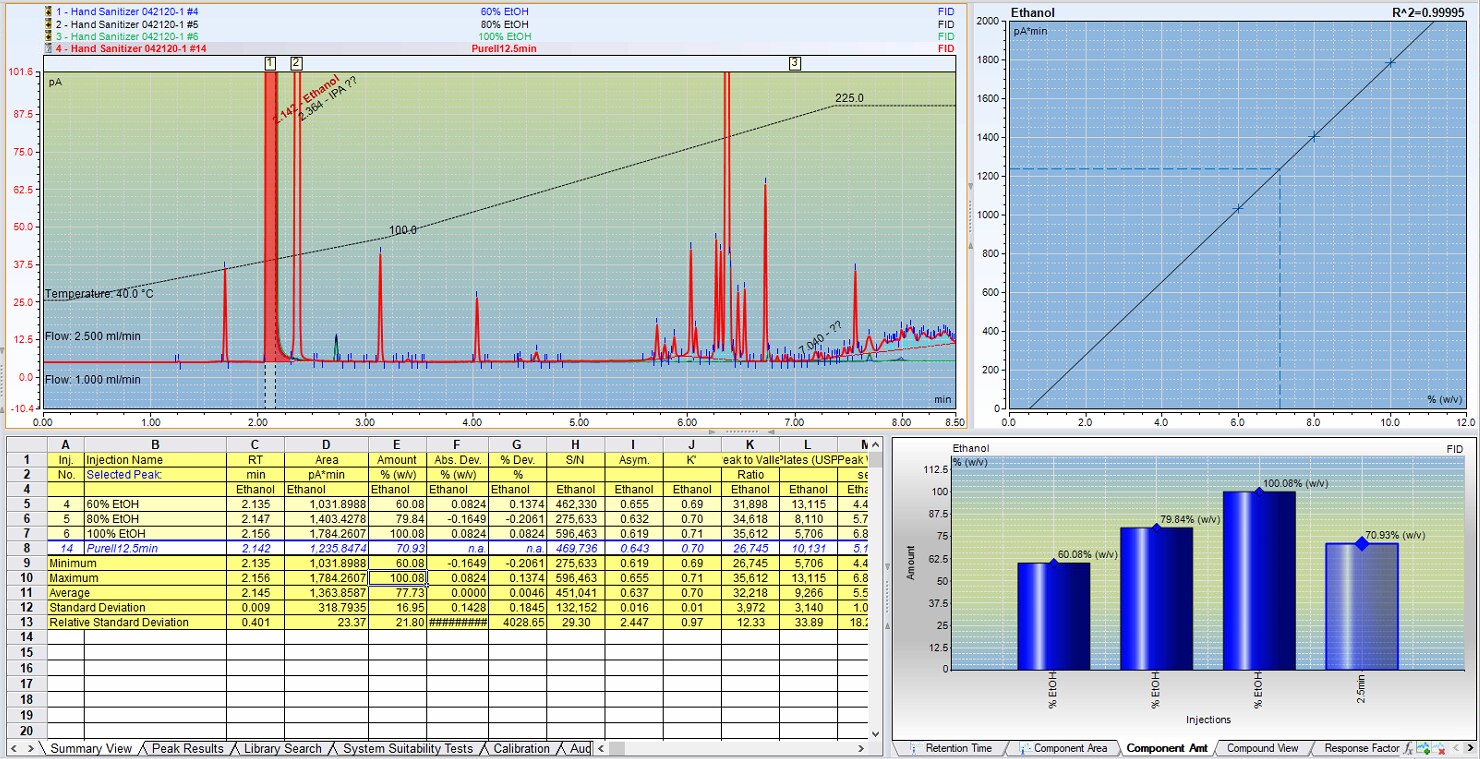 Would you like to know more about how Thermo Scientific GC and GCMS solutions can help to certify the quality of alcohol-based hand sanitizers?
Don't hesitate to contact us!