Latin. In wine there is truth.
By definition the "truth in wine" is that we are more likely to say and what we mean once a few glasses of wine have passed our lips. We may be more likely to say what we think, but how do we know what we drink, is what we think it is? Has your sauvignon blanc been deceiving you? Or are there some hidden untruths in your pinot noir?
Sour Grapes
Wine fraud is big business; the world's biggest wine forger sold $24.7m of rare vintage plonk in one auction alone. Little did his unsuspecting buyer know that the rare coveted wine he had bought were actually cheaper alternatives rebottled. This may be the biggest case, but it is not an isolated situation. You only have to look at Winefraud.com weekly updates to see how frequent this type of fraudulent activity is occurring.
Wine fraud is not only by theft or imitation, the actual contents of the wine can be doctored with cheaper alternatives, additives and colours known as wine adulteration. This is certainly not a new phenomenon. There was the 1985 diethylene glycol wine scandal amongst others throughout history detailed in the wine scam hall of fame. Wine regulations are in place to protect us as consumers but also to protect brand and business, from the grape growers throughout the whole winemaking process to bottle and then to glass. There are also a host of wine and food fraud task forces such as the WTSA and various bodies within Interpol-Europol out there to catch the fraudsters.
In Scientia Veritas
Of course science has a vital role in wine, beverage and food fraud testing. There are vast arrays of analytical methods and techniques available to determine whether your rich, round bodied Merlot is actually more of a Merl-no. The wine solutions community highlights analytical techniques and application notes used in the fight to make sure wine should ONLY be wine. Ion chromatography (IC) is a key player and it makes me very happy when my work life combines with my home life because I am partial to a crisp glass of a citrus noted medium white and IC is my daily bread and butter.
IC is well suited to analyse organic acids, which play important roles in juices and wines because of their influence on the organoleptic properties (flavor, color, and aroma) and the total content of affects the drink's acidity. Winemakers also monitor the concentration of various organic acids to ensure the quality of their wines. The determination of organic acid profiling also plays an important role when testing the authenticity of wines which can be adulterated with other juices. The Determination of Organic Acids in Fruit Juices and Wines by High-Pressure IC details the importance of organic acids for wine authenticity testing using the latest innovations in ion chromatography.
Don't just hear it through the grapevine€¦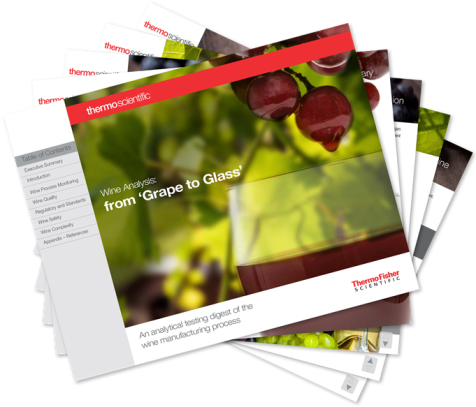 Download from grape to glass, a beautifully illustrated digest for complete understanding of the analytical wine analysis process. Featuring peer-reviewed journal references, this is an essential read for those in the industry following regional regulations for wine safety and ensuring wine authenticity for a high quality final product.