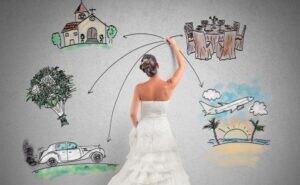 Recently it seems the only question my fiancé and I receive is "How is wedding planning going?" Our sometimes not very enthusiastic answer then yields the question, "Have you considered a wedding planner or at least a month-of coordinator?" This question brings back memories of feeling overwhelmed when having to choose between a coordinator or a planner, and then having to evaluate multiple coordinator services.If you are in the market for an
LCMS instrument
, I would not be surprised if "feeling overwhelmed" really resonates with you. Not only are there multiple vendors to choose from, but you also need to evaluate multiple technologies. Let's focus on deciding between
Triple Quadrupole
vs.
High-resolution Accurate Mass Spectrometry (HRAM)
technology today. My recommendation is to start answering a couple of key questions to get your thoughts together. You'd be surprised to hear that my fiancé and I asked ourselves some very similar questions that ultimately informed our wedding decision.
What are your LCMS analysis goals?
Ask yourself if you already know which set of analytes you want to move forward with for analysis. Will you need to screen or targeted quantify these analytes, or both? Conversely, it may be that you suspect analytes exist in your sample that are of interest. In this case, taking an untargeted screening approach is best. Furthermore, you need to consider weighing how important speed, sensitivity and selectivity are for your analyses, as well. Lastly, if you've ever been asked "Are you sure?" causing you to re-run samples for other compounds because your results don't conclude what your boss or customer suspect, it might be good to have technology where you can simply retrospectively analyze your data set.
Will these goals change in the future?
It's hard to predict the future, let alone tomorrow's analytical demands. If there is a slight chance that your laboratory could be asked to identify currently unknown analytes or work with more complex samples types, this is important information to consider when making a purchasing decision.
Are your samples complex or unique in any way?
We all know that complex samples can make identifying and quantifying your analyte of interest harder given matrix interferences. If you have a targeted list of analytes to screen or quantify, the nature of your samples can be a deciding factor because a flexible technology with high selectivity will naturally be required.
What's your budget and how flexible is it?
Chances are you do not want to burn a hole in your change pocket. This is an important question to think about in terms of cost-per-sample to meet your laboratory's operational efficiency goals.
Addressing these types of questions will take time, but it will pay off in the long run to find the right tools for the right trade! Watch for my next blog post, which will do a comparison between triple quadrupole MS and HRAM MS instruments.
Learn More
Achieve Tomorrow's Quantitation with LC-MS Today
Smart Note: Transitioning to Confident Quantitation – In Search of a Better Tomorrow