There's no doubt we're all much more health conscious since COVID-19 came into our lives (like a wrecking ball), spurring a surge in healthier lifestyles and diets. One example is the supplement market boom.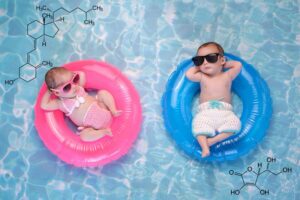 Recent data published by Grand View Research projects the vitamin supplement market to $71 billion in global revenue by 2028. Another insightful takeaway from this report is around 40 percent of consumers opt for a multivitamin product versus a single vitamin.
Needless to say, there's A LOT of money to be made in the multivitamin business. And a huge cash market is likely to attract professional fraudsters that sell adulterated products, which is why analytical testing to ensure product quality and purity is critical for consumer trust and safety.
But analytical testing of multiple vitamins using a single method is challenging due to the opposite polarities of different vitamins.
There are ways to overcome these limitations by using switching valves or delayed injections, but the disadvantages include:
Cumbersome CDS programming
Complex LC hardware setup
Low analytical throughput
Poor resolution
This is where the benefits of having a Dual LC system come into play.
Benefits of Dual LC instruments
You can think of Dual LC instruments as twins – fraternal or identical – depending on what your analysis entails. This multichannel system has two pumps, two columns, two injection ports, and two detectors and enables you to run two methods independently, at the same time (Figure 1).
The major perks are:
No extra bench space or head count for operation
100 percent increase in analytical throughput
Better-optimized methods
Simple to implement
Even better, this modern technology allows you to eliminate problems like the precipitation of buffers in high-organic mobile phases resulting from solvent incompatibility in the shared flow path.
A simple method for multivitamin analysis with Thermo Scientific™ Vanquish™ Duo UHPLC Systems for Dual LC
One beneficial application of Dual LC applies to the analysis of vitamins, in particular multivitamin supplements (Figure 2). As described in our application note, Dual LC enables you to of two different columns and methods to analyze vitamins of opposite polarity at the same time.
Figure 2. Separation of a water-soluble vitamin standard (left) and fat-soluble vitamin standard (right) on an Acclaim PA2 column (150 × 2.1 mm, 2.2 µm) recorded at 210 nm and 280 nm, respectively.
Scale your productivity with our Dual LC solutions
Looking for a way to scale your analytical productivity but don't have the bench space or budget for more headcount? Watch this video (See productivity in a new light) to learn how our Dual LC instruments can boost your analytical throughput by 100 percent versus a single channel system.
P.S. Don't forget to follow our LinkedIn page to stay in the know with all things #VanquishDuo.