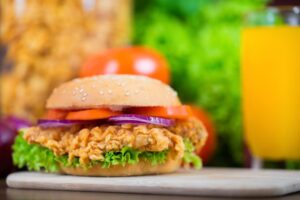 Hooray! Have you heard that the
U.S. fast-food chain McDonald's Corp will phase out the purchase of chickens raised with human antib…
(link to story). It is known that antibiotics are widely used in animal husbandry primarily for protection of animals from disease but also as growth promoters.
The gradual phasing out of poultry grown using antibiotics is seen as a major step since the fast-food chain is the largest buyer of chicken in the U.S.. This change is likely to have a major impact on the way poultry is raised and treated on the farms and the types of chickens served in restaurants throughout the U.S. Another company to follow suit is Tyson Foods, the country's biggest poultry producer, who has stated that they will stop giving chick… (link to story).
Antibiotics and Food Animal Use
Antibiotics are widely used for veterinary purposes to treat diseased animals, prevent diseases and promote growth. Due to inappropriate or excessive usage of antibiotics, residues of these compounds can be found in food and food products of animal origin. As the rate of human infections from antibiotic€"resistance bacteria increases, public health experts have become more critical of the regular use of antibiotics in poultry.
An excellent read on the topic is an article published in The New York Times by David A Kessler on March 27, 2013 that goes into how widespread the usage of antibiotics is in the U.S. The article states that €œIn 2011, drug makers sold nearly 30 million pounds of antibiotics for livestock €" the largest amount yet recorded and about 80 percent of all reported antibiotic sales that year. The rest was for human health care.€ It is suggested that most of these drugs are fed to animals in low levels to increase growth rates and to suppress future diseases that may arise due to the conditions that they live in.
Regulations for Antibiotic Use in Animals
The use of antibiotics at times cannot be avoided; however, it is necessary to ensure the safety of food and food products for human consumption. For this reason, the European Commission has established maximum residue limits (MRLs) for antibiotics in animal tissue, … (downloadable PDF).
India is another country that recently put an effort forward to curb the rampant usage of antibiotics in meat and poulty products. The Food Safety and Standards Authority of India (FSSAI) has issued a draft order that proposes to stop … as well as bovine and porcine byproducts in poultry feed (link to story).
As seen from the McDonald's industry event, there is an increasing need for rapid and selective screening techniques for the detection of a wide range of antibiotic drugs in food animals.
Chromatography and Mass Spectrometry Applications for Analysis of Antibiotics
Based on regulations, it is critical to be able to screen and quantify single and multi-class antibiotics in poultry and milk. Some of our latest resources on this subject include several application notes and an on-demand webinar. Click the titles of the application notes below to download the PDF.
This application can be used to determine ionophoric antibiotics in food without post-column derivatization. This sensitive method can determine low amounts of ionophores in samples, and provides the greatest resolution value between monensin and narasin of any method found in the literature. Two food samples, egg and chicken, were processed and analyzed for possible matrix interference. Four ionophoric antibiotics were chromatographed and resolved using the Thermo Scientific Acclaim RSLC C18 column on the Thermo Scientific Dionex UltiMate 3000 RSLC and the Thermo Scientific Dionex Corona ultra RS Charged Aerosol Detector, without derivatization.
This application shows the advantages of using the Thermo Scientific Accucore Vanquish C18 UHPLC 1.5 μm column and Vanquish UHPLC system for the analysis of 36 antibiotics. Advanced capabilities of the Vanquish UHPLC system allow the Accucore Vanquish UHPLC columns to be operated at high flow rates that enable development of rapid analytical methods while maintaining performance. The need for chromatographic separation of isobaric compounds prior to MS detection is also highlighted.
This application describes a new method for veterinary drug analysis, showing how the variable data-independent acquisition (vDIA) workflow achieves high sensitivity and selectivity, providing a complete high-quality data record of the measured sample. Quantitative analysis of the acquired data in combination with non-targeted and unknown screening is shown.
For more information, visit our community web page on Veterinary Drugs.
Are you looking for applications on the analysis of antibiotics in food animals? Tell us in the comments section; we look forward to hearing from you.