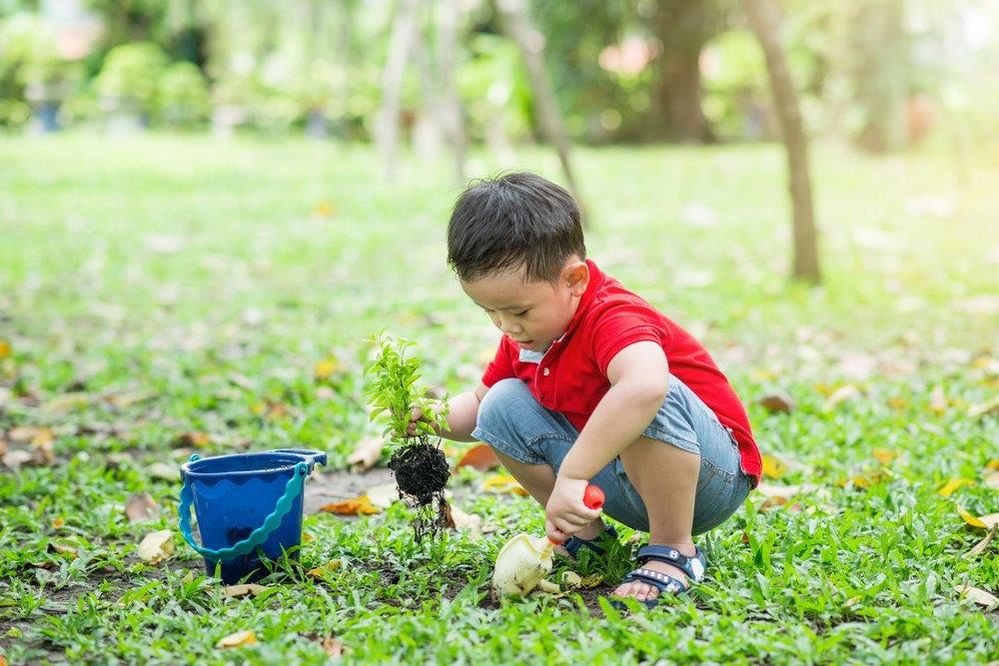 If you read my blog post last year on
lead contamination in a community garden
in Vancouver, Canada, you would know how soil contaminated with heavy metals can be so detrimental to our health. Just two months ago, while the Indiana governor, Mike Pence, was busy visiting flooding victims in Baton Rouge as a Republican vice-president nominee for Donald Trump at that time, the people back home in East Chicago were prepared to move out of their homes due to severe
contamination of lead and arsenic
in the soils. Soil contaminants can directly affect our health. First of all, the contaminants in the soil may enter ground water or surface water and contaminate our drinking water sources. Second, contaminants can also enter our food sources, such as crops and vegetables, and further enter into our bodies. Many of the contaminants do not easily degrade and will stay in the body for a longer period of time before excretion. The toxic effect on our health is long-term. For instance, metals can't degrade and persist in different species depending on the pH and redox conditions. Some of the polycyclic aromatic hydrocarbons (PAHs), which were added to the Stockholm Convention list of persistent organic contaminants (POPs) in 2001, are also toxic and difficult to be removed.
Soil Contaminants and Sources of Soil Contamination
Soil can be contaminated with heavy metals, pesticides, petroleum hydrocarbons (PHCs), PAHs, and explosives.
Pesticides designed to target insect nervous systems can also poison human beings.
Some PAHs, produced from incomplete combustion of fuels, are carcinogens.
Most of the hydrocarbons are petroleum-based and they act as central nervous system (CNS) depressants; long-term exposure can result in permanent CNS damage.
These soil contaminants can come from different sources:
Agricultural activity (Fertilizers): heavy metals
Agricultural activity (Pesticides): lead and arsenic
Landfills: pesticides, heavy metals and PHCs
Automobile repair and storage: PAHs and PHCs
Highway traffic: lead and PAHs
Military forces: explosives
Soil Contaminant Testing
Soil contaminants can be analyzed using different techniques depending on the contaminants. Multiple EPA SW846 Methods are available for testing these contaminants in soil and are good references if similar analysis needs to be done. For screening purposes, heavy metals can be conveniently tested using the XRF technique (EPA Method 6200) without taking the soil out of the ground. But a more accurate and sensitive analysis is conducted using ICP-OES (EPA Method 6010). As an ideal technique for high matrix samples, such as soils, ICP-OES provides the advantage of wide dynamic range and multi-element detection capability.
For pesticides in soil, multiple techniques are available for analysis from IC-MS/MS, GC-MS, GC-MS/MS, LC-MS/MS to GC or LC coupled with high resolution mass spec. Multiple analytical methods for individual pesticides can be found on the EPA website.
For PAHs in soil, gas chromatography (EPA 8100) or the combination of gas chromatography and mass spectrometry (EPA Method 8270) is used to identify multiple isomers and similar compounds in the soil samples. The EPA8270D Analyzer Kit helps implement and manage the analytical method. In addition, HPLC (EPA Method 8310) is also a common technique used to analyze PAHs, which provides better separation compared to the stand-alone GC technique.
Explosives in soil are often determined by gas chromatography, such as in EPA Method 8095. However, some explosives are heat labile and nonvolatile and are determined by high performance liquid chromatography (EPA Method 8330).
For PHCs, measurement of total hydrocarbons (THCs) becomes challenging because the whole spectrum contains volatiles, semi-volatiles, and non-volatiles fractions. Different sample preparation techniques are necessary for different fractions. After sample preparation, the samples can be analyzed by gas chromatography using different detectors depending on the resolution and level of information needed. For semi-volatile hydrocarbons, the most common procedure is EPA Method 8515B using flame ionization detector (FID). A more sophisticated method such as EPA Method 8270, may also be used.
Additional Information
You can find additional information for soil contaminant analysis: