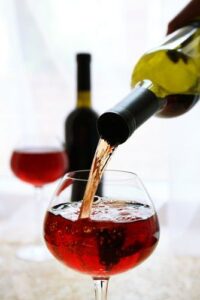 Here, in my first post on the advantages of using discrete photometric analyzers, I will be addressing the challenges of testing wine elements that contribute towards the taste of a good wine. Typically, wine drinkers look for a robust mouth experience which is the result of amount of acidity in wine, one of its most appealing characteristics and which complements foods in a palate-c… (link to page on totalwine.com). If a wine is too low in acid, it tastes flat and dull; too high in acid and it is tart and sour. Natural acids, such as tartaric, malic, and citric have the freshest, purest acid tastes. Fermentation acids, like lactic and acetic, add milder, complex flavors. Since acidity greatly influences the taste of wine, winemakers need to understand the role that each of the various acids plays during fermentation and production to ensure an end product with great lasting flavor. Common methods for determination of acids can be accessed in AOAC Official Methods of Analysis 945.08, 950.15, 962.12 (19th edition).
Tartaric acid, not found in most other fruit, is the primary acid in the grape and thus controls the acidity of a wine. The amount of tartaric acid present is a measurement of the total acidity of a wine and plays a critical role in the taste, feel, and color of wine. More importantly, it lowers the pH to a level that improves its resistance to bacterial contamination, acting as a preservative. Tartaric acid deficiency, therefore, can contribute to various wine issues.
Our range of automated discrete analyzers (Thermo Scientific Gallery, Gallery Plus, and Arena) can measure tartaric acid in wine samples and our applications specific to white or red wine samples improve test accuracy. There is no need for pretreatment of red wine samples since the red color is removed by hypochlorite during the automated procedure. A ready-to-use kit using a colorimetric method based on formation of a complex between tartrate and vanadate offers the following advantages:
No issue with acetic acid evaporation enabling tests to be run simultaneously.
A fully automated procedure that can provide from 30-50 results in less than 40 minutes.
A test kit can complete up to 480 tests at an average cost of 25 cents per test.
Demonstrated precision with variability ≤ 3%.
In practice, a commercial wine laboratory in Germany, Weinlabor Braun, was able to significantly reduce their testing time and complete most of the required analyses for quality control in about 30 minutes while providing accurate and consistent results for their customers. Every year, this laboratory processes about 10,000 wine samples for alcohol, sugar, total acid, density, and sulfite, aiming to meet certain strict parameters so that the finished product can be certified and labeled from the Pfalz growing region. Read more details in this downloadable Case Study, Testing time decreases ten-fold for a commercial wine lab in Germany.
Automated discrete analyzers (Gallery and Arena 20XT) can simultaneously run multiple tests on the same sample while offering the flexibility, if required, to alter tests without interrupting the current test cycle. Currently, acetic acid is one of the most important tests and can easily be measured with precision and repeatability. In the near future they hope to add a sulfur dioxide test for compliance with additional legal limits.
Additional Resources
Also, do visit our online Food Community pages, a wonderful resource totally dedicated to our Food and Beverage customers and featuring the latest on-demand webinars, videos, application notes, and much more.
Are you measuring the level of total acids in your wine samples and is automated photometric determination of interest to your laboratory? If so, we would like to hear about your experiences.
Liisa Otama is an International Application Specialist for Discrete Analyzers providing application support for food and beverage testing and water analysis in the Chromatography and Mass Spectrometry Division at Thermo Fisher Scientific, Inc. Her expertise is highly customer-focused and includes evaluating industrial product feedback and addressing inquiries, supporting customer training, and identifying new customer needs. Since 2008, she has held several positions ranging from process engineering to R&D. Liisa earned a B.Sc. in analytical chemistry from University of Helsinki, Finland, and has 6 publications and a patent to her credit.