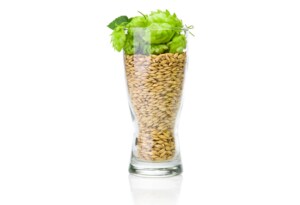 Back in the Middle Ages, Nordic countries not only had malt as a valuable commodity but it could also be used as a means of payment of taxes. From those times there is still a phrase
"malt"
which refers to something that is expensive or "costs a fortune" – be sure to click translate if you are not fluent in Finnish.In modern times the largest quantities of malt are used in the brewing of beer, but malt can also be used to produce other food and beverage products. Whisky and vinegar are other obvious popular products, it can be milled and turned into flour, and it is also used in some confections as highlighted in the
case study here.
Malt is a nutritious product that often generates a unique palette of flavor, color and texture. The flavor of beer is predominantly the result of the malt from which it has been made. Malt analysis is therefore very important for comparing different malts and to predict brewing performance. Important parameters in these analyses are beta-glucan, free amino nitrogen, diastatic power and alfa-amylase. Excessive amounts of beta-glucan can clog process filters or impair the taste of the beer. Amino acids are required as a source of nutrition for yeast and both alpha-amylase and diastatic power are important indicators of enzyme activity.
Fully Automated Game Changer
Traditionally, malt analysis has been performed manually or when higher throughput has been needed, with a continuous flow analyzer. A more flexible way to do this analysis is to use fully automated discrete analyzers, which have been specifically designed for heavy routine use in industrial applications. Discrete analyzers have been called game-changers in malt and beer analysis because they combine fast and accurate detection with ease-of-use. The novel methods adapted for malt analysis have shown to produce results that are comparable to the standard reference methods. This was highlighted perfectly in the webinar 'Automated Malt Analysis using Discrete Analyzers' where the speaker Aaron MacLeod, Director of the Center for Craft Food and Beverage at Hartwick College demonstrates repeatability and compares the results from different methods. Aaron has been involved with malting and brewing quality testing and research for over 10 years and he is certainly worth listening to.
Versatile Analyzers
Discrete analyzers started out in clinical diagnostics, but their utility in other areas quickly became clear. In addition to malt and beer analysis, nowadays the bench-top Thermo Scientific™ Gallery™ analyzers can be found measuring water, juice and wine. Discrete analyzer technology has the benefit of enabling simultaneous analysis of multiple parameters. For example, in wine analysis, different sugars, acids and sulfites are routinely measured with these instruments by enzymatic and colorimetric methods. The fully automated test procedure and microliter-scale reaction volumes provide cost efficiency.
Read What Laboratory Managers Are Saying
Recently, SelectScience® interviewed two different laboratory managers about the technology they use for beer testing. The articles give great insights into a working laboratory and the benefits the Thermo Scientific™ Gallery™ Plus Beermaster has brought to each of them.
The interview with Helmut Klein from Brau Union in Austria can be read here and Paul Taylors' story from Murphy and Son in the UK can be read here.
More Resources and Reading
Our dedicated webpage on Beer Testing Information is worth visiting as it contains the detailed methods for the important parameters in beer analysis. If wine or juice testing is of more interest, specific information can also be found on a Wine Testing Information or Juice Testing Information page.
If you want to read more on what I have to say please check out Cheers to the Beermaster in the Analytical Scientist.