In recent years, researchers, governments and international organizations have sounded alarms that if rapid and global progress isn't made on myriad sustainability fronts, the current generation and generations to come could face a future steeped in inequity and climate crises. Everyone, from CEOs of progressively minded companies to activists on the street, is talking about building a more sustainable future. But how does it look like and who is first to start building it?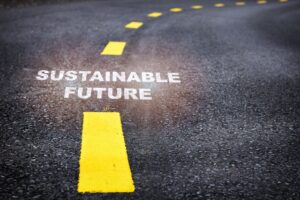 Sustainable development is development that meets the needs of the present without compromising the ability of future generations to meet their own needs (as defined in 1987's Brundtland Report). This leaves a lot of room for interpretation. Most importantly, though, this definition doesn't tell us what sustainability actually looks like in practice. Everyone wants it, but all may have a different idea in their heads of what that means. However, it will need a whole collection of ambitious strategies to achieve meaningful change. So, it is not a matter of asking how exactly to get there, but to start walking.
IsoFootprint for a sustainable isotope analysis
In August 2021 the Inorganic Mass Spectrometry team at Thermo Fisher Scientific Bremen, Germany, started paving the way for a sustainable future in mass spectrometry and announced the ambitious IsoFootprint project, an initiative to remove all CO'' emissions associated with the manufacturing and production of all new instruments. The long-term vision of IsoFootprint is to remove 100 percent of CO2 emissions associated with products and their supply chain by 2030, through investment in a range of carefully selected, high-quality carbon dioxide removal (CDR) projects.
Removal of the lifecycle CO2 emissions of the entire inorganic mass spectrometry product portfolio started recently with the launch of a net zero gas isotope ratio mass spectrometer (IRMS) and a multi-collector inductively coupled plasma mass spectrometer (MC-ICP-MS). Although reduction of carbon use during instrument and shipping is the long-term end goal for this initiative, removing carbon generated during manufacture is an important step in achieving net zero. As a consequence, the Bremen team plans to implement a carbon dioxide removal (CDR) program for the new mass spectrometers starting in 2021. Considering all works out as planned, 100% of the IOMS product portfolio CO2 emissions will be included by 2030. More details about this ambitious project can be found in this white paper.
The first net zero mass spectrometers
The Thermo Scientific DELTA Q Isotope Ratio Mass Spectrometer (IRMS) represents the next evolutionary leap forward in isotope analysis. Not only in regard to its performance, robustness and ease of use, but also the commitment to a sustainable future. DELTA Q IRMS is a result of continuous improvements based on more than 20 years of experience in Thermo Scientific DELTA Series Isotope Ratio Mass Spectrometers. Driven by user's feedback, the IRMS system have been carefully optimized, starting from the gas intake, the ionization volume, along the ion optical pathway up to the high sensitivity Faraday cup detectors, delivering improved measurement reproducibility and precision. Find additional details in this brochure.
The DELTA Q IRMS is the world's first net zero mass spectrometer. All emissions associated with the manufacture and production of the DELTA Q IRMS will be removed from the atmosphere through the combination of short-, medium- and long-term carbon dioxide removal projects, helping researchers, analytical laboratories and organizations meet their net zero targets.
But there is another analytical instrument that will also join the journey to net zero — the Thermo Scientific Neoma MC-ICP-MS, which was launched earlier this year. The Neoma is built to perform isotope analysis or explore novel isotopes in unknown samples or materials in geosciences and other advanced research areas. This ICP-MS system builds on our multi-collector technology to deliver all the advantages of high-precision isotope ratio analysis. It includes state-of-the art software and hardware, features flexible and sensitive detector technology, a sensitive ion source and excellent mass resolving power, enabling challenging isotope analyses. Ironically, this instrumentation is often used in climate research, investigating historical climate changes in the earth's history. By joining the IsoFootprint initiative, Neoma MC-ICP-MS contributes not only to the exploration of history but also to a sustainable future.
Both instruments come with the new Thermo Scientific Qtegra Intelligent Scientific Data Solution (ISDS) software. The software platform is built on four pillars: workflow, data management, scalability and compliance. Each pillar delivers a user experience based on simplicity. Qtegra ISDS Software has a logical, streamlined interface that intuitively provides the analyst with the appropriate tools at each point in the analytical workflow. Extensive automation of tasks reduces the need for manual intervention. Because instruments share the same look and feel, analysts are empowered and can easily switch between different techniques, saving operators time for training and daily operations, as well as results generation.
It is an exciting time for mass spectrometry users, offering one of many paths to a net zero future. Even if this is a small step, it is the start of a long journey toward a sustainable future. And as mentioned earlier, it's not about how exactly to get there, it's about getting started. And therefore, we invite you to join us on our journey to sustainable isotope analysis.
Additional resources
Thermo Scientific DELTA Q Isotope Ratio Mass Spectrometer (IRMS)
Thermo Scientific Neoma MC-ICP-MS
Thermo Scientific Qtegra Intelligent Scientific Data Solution (ISDS)