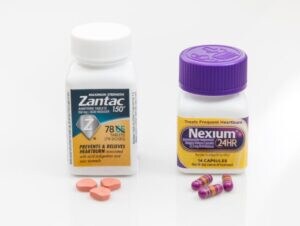 There are a few Ranitidine (brand name Zantac among others) drug manufacturers getting heartburn over product recalls at the moment. This popular generic drug for the treatment of indigestion and reflux has been at the center of product recalls in North America, Europe and Asia.
Sanofi, Dr. Reddy's, Teva, GlaxoSmithKline, Perrigo, Apotex, Sanis Health, and Sivem Pharmaceuticals, amongst others, have all initiated product recalls.
Manufacturers are taking this action due to the possibility of unacceptable levels of N-nitrosodimethylamine (NDMA) in the products. NDMA is a compound classified as a probable human carcinogen at trace levels.
Testing for N-nitrosodimethylamine in Pharmaceuticals
NDMA historically has been tested in a range of pharmaceuticals such as Valsartan easily, robustly and cost-effectively using headspace GC-MS – Headspace GC-MS Application for NDMA in Valsartan.
However, recently it has been postulated that the physico-chemical properties of Ranitidine can cause it to degrade at elevated temperatures used in headspace GC-MS, forming NDMA, leading to elevated results by this technique. This resulted in the issue of a US FDA statement regarding the headspace GC-MS method when applied to Ranitidine samples by headspace GC-MS:
"The higher temperatures generated very high levels of NDMA from ranitidine products because of the test procedure… That method is not suitable for testing ranitidine because heating the sample generates NDMA." – US FDA
The agency goes on to share an alternative US FDA LC-HRMS Method for the analysis of NDMA in Ranitidine, and also gives the following recommendation:
"FDA recommends using an LC-HRMS testing protocol to test samples of ranitidine. FDA's LC-HRMS testing method does not use elevated temperatures and has shown the presence of much lower levels of NDMA in ranitidine medicines" – US FDA
The US FDA LC-HRMS method utilizes the Thermo Scientific™ Q Exactive™ hybrid quadrupole-orbitrap mass spectrometer.
So why is the Q Exactive so good for the analysis of NDMA in Ranitidine?
Here are three reasons why:
1. Orbitrap HRAM selectivity
NDMA, in its pure form, is a semi-volatile liquid with low molecular mass, MW=75. Under tandem quadrupole LC-MS/MS conditions it fragments poorly to give low intensity fragment ions m/z 43 and m/z 58. At these low masses, there are many solvent-related and fragment ion interferences. Moreover, low fragment yield, gives lower ion transmission and fewer detected ions compared to MS-only techniques. MS/MS results in noisy ion chromatograms, such as those observed from alternative LC-MS/MS methods, which are a challenge to integrate.
Conversely, the exceptional high-resolution accurate mass (HRAM) selectivity of the Q Exactive, such as that used by the FDA, allows high-resolution (R>140,000) to remove interferences without the need of fragmentation. More ions detected, resulting in easy-to-detect and integrate peaks, even at the limit of detection (LOD), such as those observed in US FDA LC-HRMS Method.
2. Orbitrap sees more and enables retrospective data analysis
Full scan MS techniques, such as the one used by the FDA on Q Exactive, enable retrospective interrogation of data for other ions, not just target ions or fragment ions. This capability combined with 1ppm mass accuracy means that retroactive data processing can be performed to elucidate elemental composition of other unknown impurities in the sample, without reanalysis — a powerful tool should you ever need to perform a fast investigation during a product recall situation.
3. Orbitrap is simple
QQQ LC-MS/MS methods take efforts to optimize. You need to perform an MS analysis in full scan mode to find the compound-specific MS1 ion, followed by a series of analytical runs to elucidate fragment ion spectra at a range of energies. Then, you need to evaluate the optimum sensitive MS1>MS2 transitions in solvent standards (most intensive MS2 signal per fragmentation energy), and finally repeat the whole thing in sample matrix to establish that there are no matrix-related interferences. More so, if you have a multi-window MS/MS method where you need to avoid retention time drift and losing your analyte out of the window.
With the Q Exactive system you can operate in full scan: Acquire the data, select the ions, post-acquisition you want to use. Done.
Implementing full scan HRAM methods is considerably more straightforward and requires very little in the way of optimization. What's more, full scan approaches mean that multiple analyte workflows can be combined in a single run, saving time and boosting throughput.
To find out more about Orbitrap-based mass spectrometry visit thermofisher.com/orbitrap
Fragmentation spectrum of NDMA from world's largest free-to-search MS spectral library mzCloud: