Ebola Virus Disease is an extremely serious disease that kills between 60 to 65 percent of the people it infects. This also highly contagious disease, is transmitted by coming into contact with the bodily fluids of those infected and has killed tens of thousands of people in the recent outbreak was reported in West Africa in 2014. Unfortunately, there is no known cure for Ebola because of the difficulty of developing treatments for viral diseases, the quick evolution of the virus, and the high mortality rate of researchers who come into contact with it. As a result, Ebola outbreaks are still happening, with the most recent declared in July 2018.
Scientists around the world are trying to gain a deeper and more accurate understanding of the Ebola virus. As in biology knowing the structure gives an insight on how it works, researchers are also using cryo-electron microscopy (cryo-EM) to look at the viral components, which in turn may accelerate discovery of effective treatments and vaccines. In May 2018, a group of researchers from Stanford University, Washington University and Baylor University published a study that included high-resolution structure of Ebola's viral nucleocapsid-like assembly. Capturing these images enabled researchers to identify a new regulatory role for the Ebola nucleoprotein and analyze a mutation that affects viral RNA synthesis, discoveries that have led to a proposal for new drugs to target the virus.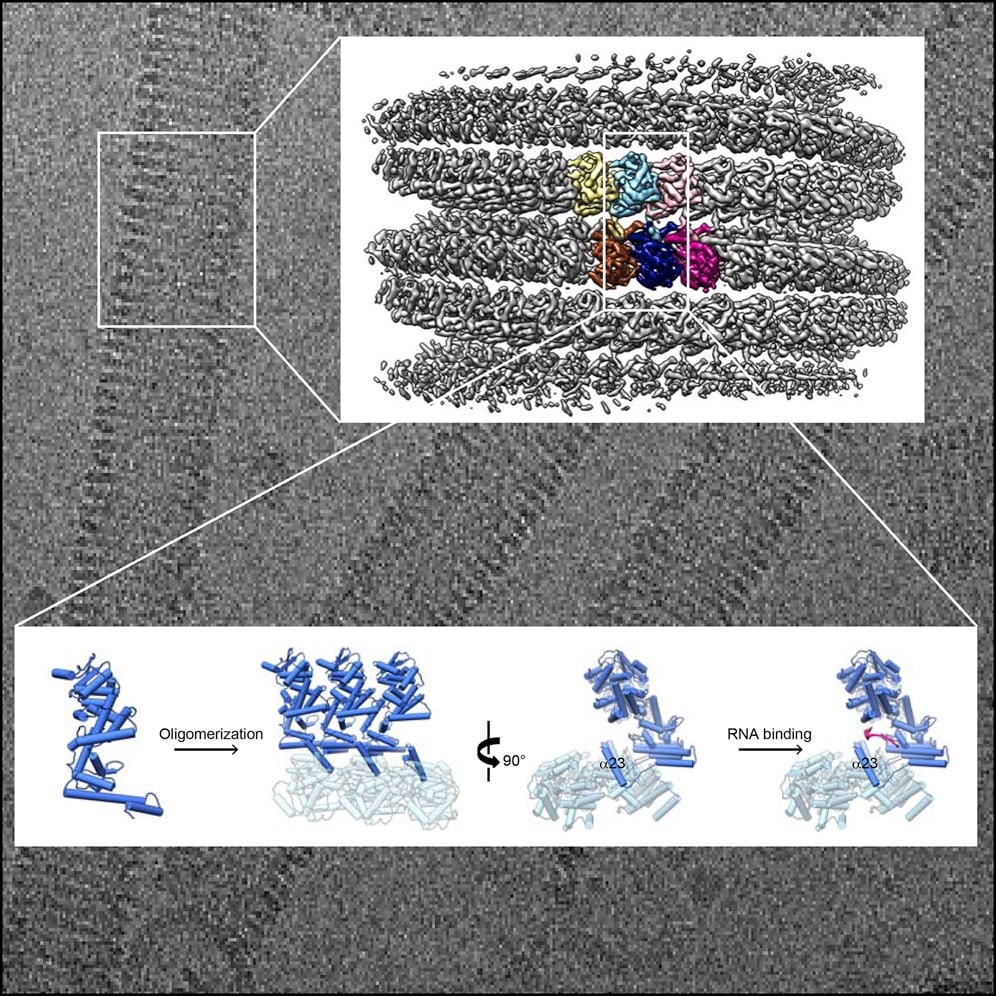 Cryo-EM helped researchers capture high -resolution images of Ebola's viral nucleocapsid-like assembly, leading to innovative discoveries and the proposal of new drugs that could target the Ebola virus. (Cell via DOI: https://doi.org/10.1016/j.cell.2018.02.009)
Then, in October 2018, researchers at the Okinawa Institute of Science and Technology Graduate University (OIST) used cryo-EM to and solve the structure of the Ebola nucleocapsid at near-atomic resolution. The research team, led by Prof. Matthias Wolf and Dr. Yukihiko Sugita of OIST's Molecular Cryo-Electron Microscopy Unit, used cryo-EM to view the structure of the Ebola virus nucleocapsid at a resolution of 3.6 Angstrom (Å). The nucleocapsid is a complex of proteins that acts as a support structure for the genetic material of the Ebola virus, enabling the virus to multiply. The 3D model of this nucleocapsid with the viral genome is a breakthrough which gives researchers the opportunity to more accurately understand how the virus functions, spreads, and evolves. This, in turn, is expected to pave the way for new drug therapies that could save thousands of lives in the future.
Left: A 3D rendering of the cryo-EM reconstruction by researchers at OIST. The RNA and NP are colored in red and grey, respectively. A single NP molecule is highlighted in blue. Right: An atomic model of a single NP molecule with the RNA in the complex. The model is superposed with the cryo-EM map in a polygon mesh representation. Credit: Yukihiko Sugita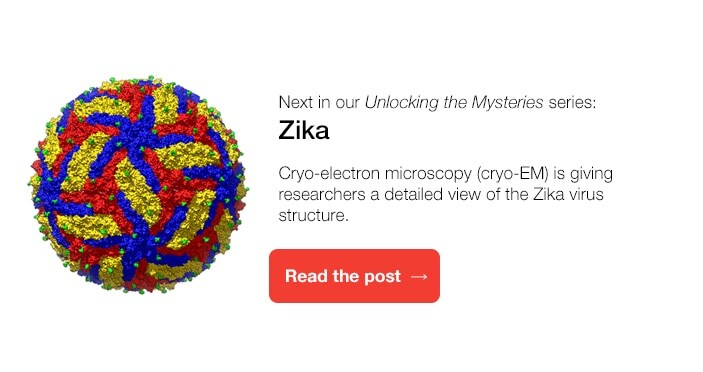 Subscribe now to receive new Accelerating Microscopy posts straight to your inbox.
Gabriella Kiss, PhD, is a Product Marketing Manager for Single Particle Workflow at Thermo Fisher Scientific.
To learn more about cryo-EM, fill out this form to speak with an expert.