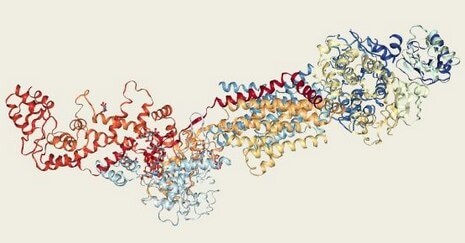 We talk a lot about cryo-electron microscopy single particle analysis (cryo-EM SPA), a Nobel Prize-winning method that researchers use to examine the structure of molecules at near-atomic level. For those unfamiliar with the method, one of our scientists is answering some frequently asked questions:
What is cryo-electron microscopy single particle analysis?
Cryo-EM single particle analysis is a scientific method where researchers cool a protein or virus sample to cryogenic temperatures (below -180 °C) so quickly that water molecules do not have time to crystalize and the sample structure is preserved. Then scientists use a powerful cryo-transmission electron microscope (cryo-TEM) to observe the structure of these macromolecules in their natural state and create a near-atomic resolution model of them. By obtaining the 3D structures made possible by cryo-EM SPA, scientists and researchers can better understand proteins, viruses and the diseases they cause.
What's so exciting about cryo-EM single particle analysis?
Cryo-EM SPA brings unprecedented levels of insight to biomolecular research. Structural biologists can not only study the structure of proteins and viruses in their biologically relevant form, but they can also observe how they interact with other macromolecules which is the basis of every biological process. By identifying these interactions, the mechanism of how a virus enters a cell, for example, is revealed and scientists can design more effective drugs and therapies to prevent infection. Today, researchers are using Thermo Scientific cryo-EM instruments to study and combat a wide range of serious health issues, from neurodegenerative diseases such as Alzheimer's, Parkinson's, Huntington's and CTE, to cancers,  malaria, HIV and other viral infections such as Zika and Ebola.
Is single particle analysis new?
Cryo-EM isn't new, but it is constantly evolving. Cryo-EM has been in a continuous state of development over the past 40 years. Most significantly, the combined efforts of three researchers from 1975 through 1990 helped make single particle analysis the groundbreaking technique it is today. In 1975, Joachim Frank developed an algorithm that analyzed low-resolution 2D images and reconstructed them into sharp 3D structures. In the early '80s, Jacques Dubochet successfully vitrified water, which enabled the process of supercooling a protein solution without letting it crystallize. Several years later in 1990, Richard Henderson was the first to use an electron microscope to produce a 3D structure of a protein at near-atomic resolution. Then, in 2017, these three researchers were awarded the Nobel Prize in chemistry for their respective work in cryo-EM, and the technique is still advancing today.
How does cryo-EM single particle analysis work?
At a high level, the cryo-EM SPA process can be narrowed down to a few steps:
First, biochemistry techniques are used to purify a solution and bring it to the right concentration.
Then comes vitrification, in which the solution is cooled so rapidly that water molecules can't form ice crystals. The vitrification process forms an amorphous ice and preserves the native hydrated state of the macromolecule.
Next, it's photo time! Researchers use a transmission electron microscope to capture thousands of 2D images, containing tens of thousands of particles. Those images are then computationally extracted.
Finally, the 2D data is analyzed using automated reconstruction software, which yields accurate 3D models of intricate biological structures at the molecular levels.
How is cryo-EM single particle analysis different than other research techniques?
Cryo-EM SPA enables scientists to study the structure of proteins and other macromolecules that are too large or complex for nuclear magnetic resonance spectroscopy (NMR), or that are too flexible and can't be crystallized for X-ray crystallography (XRC). Cryo-EM SPA also enables the study of membrane proteins in their native lipid surrounded environment, which are the main targets for drug discovery. Cryo-EM doesn't replace or eliminate the need for crystallography. Instead, it gives scientists a new tool for structural studies that complements X-ray crystallography and NMR.
Are there recent examples of interesting cryo-EM single particle analysis research?
There are countless examples of innovative cryo-EM SPA research, over 300 papers have been published since 2012 in the finest scientific journals (Nature, Science and Cell) and there are many more demonstrating how cryo-EM SPA is advancing every field in structural biology. One recent example began in early 2015 when a widespread Zika virus outbreak affected hundreds of thousands of people across North and South America. In 2016, researchers at Purdue University were the first to discover the structure of the Zika virus. By using cryo-EM SPA, the group was able to achieve an impressive 3.8Å resolution of the Zika structure, which helped researchers better understand the composition and interaction that the virus has. This resulted in swift structure based vaccine design and currently two of these developed vaccines are already being tested in humans. This unprecedentedly fast process for vaccine development was enabled by cryo-EM SPA. Just this year, Purdue created an even more accurate image of the Zika virus at 3.1Å resolution, which is currently the highest-resolution image of the virus and will further advance these antiviral research efforts.
What cryo-EM instruments does Thermo Fisher Scientific offer?
Thermo Fisher Scientific offers an assortment of cryo-EM instruments under its Thermo Scientific brand that fulfill the needs of both smaller research labs and industrial research facilities to do cryo-EM SPA:
More than 170 universities, institutions and companies worldwide have Thermo Scientific cryo-EM instrument already. The Krios, in particular, stands out as the preferred cryo-TEM of leading researchers around the world: since 2012, there have been more than 970 scientific articles published using data collected on the Krios, approximately 260 of which were published in 2017. Scientists are releasing their published structures for others to advance research creating a collaborative environment.  From these released structures solved by cryo-EM SPA, 98% was solved by using Thermo Scientific instruments. As a recognition for these achievements, the Krios G3i was granted the Edison Award in 2018, which is one of the highest honors a company can receive in the name of innovation.
Where can I go to learn more?
For real-time updates on the latest cryo-EM SPA research and industry news, follow us on Twitter (@thermosciEMSpec) or Accelerating Microscopy on LinkedIn. You can also read about the history of the electron microscope on our blog.
If you want to test and grow your cryo-EM knowledge, enroll in our free online cryo-EM SPA courses at em-learning.com. These have been created in collaboration with Grant Jensen, Principal Investigator, and Caltech, and offer step-by-step instructions, expert demonstrations and theoretical lessons—at any pace, from any place and free-of-charge.
Gabriella Kiss is Product Marketing Manager for Single Particle Workflow at Thermo Fisher Scientific.
To learn more about cryo-EM, fill out this form to speak with an expert.