While phenotype-based bacterial classification has yet to be swept into history's dustbin (the Gram stain is >130 years old this year!), an advancement, 16S rRNA sequencing, is making inroads to identifying bacteria for a range of applications.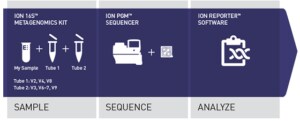 Taking advantage of the evolutionary conservation of genes responsible for preparing mRNA for translation on the ribosome, 16S rRNA has the advantage of being small enough (1,542 nucleotide bases) to be easily cloned and sequenced. Performed on the Ion PGM™ System, we've written before about how sequencing the 16S gene has been used to identify bacteria in oil sands tailings, uranium mining waste, contaminated soil, as well as in the human intestinal tract, mouth, airway, infection sites and the hands of healthcare workers. And the list of applications keeps growing.
While most of the 16S rRNA gene is conserved, its identification power comes from its variable regions, which can help pinpoint a known species or indicate an unknown one. While 16S rRNAs have nine such variable regions, no single region is diverse enough to identify all bacterial species. In addition, most NGS platforms have read length restrictions that prevent sequencing the full 16S rRNA gene.
An integrated solution to 16S rRNA sequences
Using the Ion PGM™ System and Ion Reporter™ Software, our Thermo Fisher scientists developed a new approach that simultaneously examines 7 of the 9 variable regions in bacterial 16S rRNA.
Universal primers usually allow the targeting of a single, or a few, variable regions in one PCR reaction. To increase this resolution power, ThermoFisher scientists designed primers that would amplify variable regions 2, 4 and 8. Amplicon fragments were about 250 base pairs, 288 bps, and 295 bps, respectively. Another PCR reaction targeted variable regions 3, 6-7, and 9. For these regions, amplicon fragments were 215 bps, 260 bps, and 209 bps, respectively. The primers could target more than 80 percent of sequences in the Greengenes database.
Classifying individual 16S rRNA reads is easily conducted using the 16S rRNA workflow in Ion Reporter™ software. Reads are classified using  BLAST® alignment to the public Greengenes database (complete with more than 400,000 records) and BLAST® alignment to the MicroSEQ® ID database, a high-quality library of full-length 16S rRNA sequences for >15,000 organisms that has been manually curated for sequence quality, length, annotation, and phylogeny, with frequent updates. The workflow was made much simpler by integrating with Torrent Suite™ software and Ion Reporter™ software. A simple run setup was completed in a little as five clicks, and enabled species-level identification.
Your key takeaway
16S rRNA sequencing can revolutionize bacterial identification. But restrictions on read lengths and the ability to target only 1 to 3 variable regions have stymied the technique's full potential to characterize the 'bacteriome'. Our method of simultaneous targeting of 7 variable regions, integrating Ion PGM™ sequencing and the Ion Reporter™ software, can be used to achieve excellent detection sensitivity with a number of reference database options for superior taxonomical assignment. Time to throw away the Gram stain for good.
If you would like to, you can learn more about the 16S Metagenomics Solution by reading the 16s Metagenomics kit App note,
and we have also written up several publications that use 16S rRNA sequencing on the Ion PGM System for various applications.