1. Pac-ManTM to TaqMan
Originally, Applied Biosystems™ TaqMan™ Assays were named after the 1980s Pac-Man™ video game. The Pac-Man video game was created by Japanese video game designer Toru Iwatani and became incredibly popular after its introduction to the United States. In the original paper describing TaqMan technology, the authors noticed that the exonuclease activity of Taq polymerase had similarities to the Pac-Man game. When Taq polymerase reaches a probe, it chews it to bits as it is creating a new amplicon; this causes the reporter and quencher components of the probe to become physically separated. As a result, fluorescence increases proportionally with the doubling of product.
2. TaqMan Assays Span Multiple Applications
Thermo Fisher Scientific is the market leader for TaqMan Assays, which span multiple applications, including gene and miRNA expression analysis, SNP genotyping, copy number variation analysis, and rare mutation detection. They are designed using a highly sophisticated oligonucleotide probe/primer design pipeline that includes robust primer design algorithms and an extensive array of bioinformatics tools and processes to automate assay design.
Related: Real-Time PCR Research Applications & Technologies
3. TaqMan Assays Design
TaqMan Assays are designed to work at or near 100% efficiency and use a proprietary probe (MGB-NFQ) to increase specificity.
All TaqMan probes contain three components: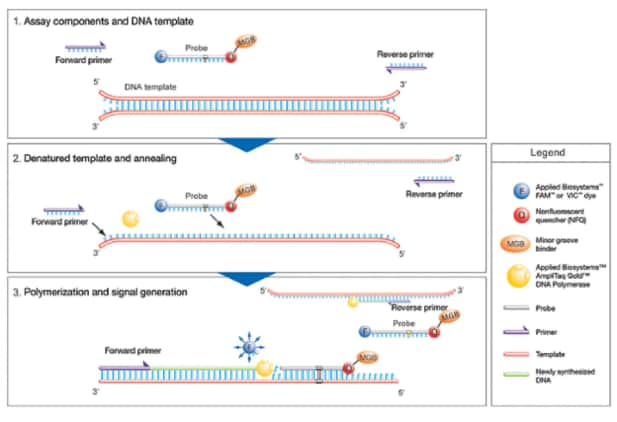 On the 5' end: fluorescent reporter dye
On the 3' end: nonfluorescent quencher (NFQ)
Also on the 3' end (attached to NFQ): minor groove binder (MGB)
The 5′ fluorescent reporter dye is detected by a qPCR instrument in order to quantitate the amount of amplicon in the sample. When the polymerase reaches a TaqMan probe, its 5′ nuclease activity cleaves the probe, separating the dye from the quencher. With each PCR cycle, more dye molecules are released, resulting in an increase in fluorescence intensity proportional to the amount of amplicon synthesized.
The 3′ NFQ quenches the 5′ fluorescent reporter dye until separated from it by the exonuclease activity of Taq polymerase. Using an NFQ instead of a fluorescent quencher increases the sensitivity of an assay by providing a greater signal-to-noise ratio.
The NFQ on TaqMan probes minimizes background, and intelligent PCR primer and probe design maximizes amplification efficiency and allows for high sensitivity and accuracy to reliably detect targets present at 10 or fewer copies.
The MGB is a small molecule that fits snugly into the minor groove of double-stranded DNA. The MGB increases the melting temperature (Tm) without increasing probe length; therefore, probes can be designed for difficult sequences (e.g., AT-rich sequences), making it easier to design probes over exon–exon boundaries.
Related: Video – How TaqMan Real-Time PCR Assays Work – The science behind TaqMan Assays
4. 20 Million Predesigned TaqMan Assays
Performance Guaranteed
There are over 20 million predesigned TaqMan Assays that are performance guaranteed and optimized, so you can achieve results faster instead of spending time testing and optimizing assay parameters.
Step-by-Step Guidance and Custom Solutions
The right TaqMan Assay is just a few clicks away – if you are new to TaqMan Assays or want step-by-step guidance on choosing a predesigned assay, check out the TaqMan Assay Search Wizard. For custom solutions, visit our custom design tool.
Related: TaqMan Real-Time PCR Assays
5. TaqMan Assays Cited in Over 200,000 Publications
MIQE Guidelines Compliance
TaqMan Assays are consistently used as a trusted source—they have been cited in over 200,000 publications. TaqMan Assays comply with MIQE guidelines (Minimum Information for Publication of Quantitative Real-Time PCR Experiments), and Thermo Fisher provides all information necessary to ensure MIQE compliance when publishing the results of your real-time PCR experiments.
Related: Video – Episode 28: MIQE Guidelines and TaqMan Assays
Applied Biosystems™ Taq Talk Video Series
Check out the entire Taq Talk Video Series. As experts in real-time PCR, we address your most frequently asked real-time PCR questions and challenges in a new video series. Browse the lineup and stay tuned for more Taq Talk videos.
Watch the Videos Referenced in this Article
—
For Research Use Only. Not for use in diagnostic procedures. © 2018, 2022 Thermo Fisher Scientific Inc. All rights reserved. All trademarks are the property of Thermo Fisher Scientific and its subsidiaries unless otherwise specified. Pac-Man is a trademark of Bandai Namco Entertainment, Inc. TaqMan is a trademark of Roche Molecular Systems, Inc., used under permission and license.