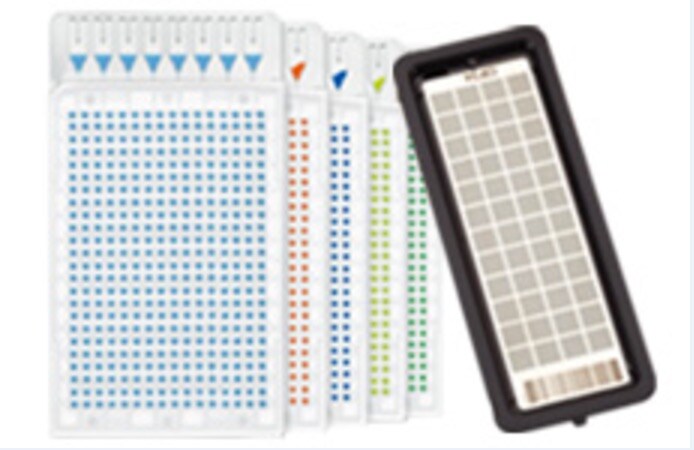 The newest addition to the TaqMan assay family- the Applied Biosystems™ TaqMan™ Advanced miRNA Assays-enable highly sensitive and specific quantification of mature miRNAs using qPCR. Together with the Applied Biosystems TaqMan Advanced miRNA cDNA Synthesis Kit, this solution provides a streamlined upfront workflow that is ideal for analysis of multiple miRNA targets from a single sample or low-level RNA samples such as serum and plasma. Read on for the 5 best reasons to make the switch from SYBR Green miRNA assays to TaqMan Advanced miRNA assays.
1. Higher Specificity for Your miRNA of Interest
miRNAs (microRNAs) are short (18-25 nucleotide) RNAs that regulate expression of target mRNAs (messenger RNAs) and are involved in a variety of cellular processes. Due to their small size, design of qPCR assays specific only to a single miRNA can be challenging. In addition, miRNAs can share a large degree of sequence homology, and are grouped in highly conserved families of nearly identical sequence.
Unlike SYBR™– based approaches, which utilize a non-specific intercalating dye for target detection, TaqMan Advanced miRNA assays utilize a TaqMan MGB probe that is specific only for the miRNA of interest. In a head to head study of the TaqMan Advanced miRNA assays vs. Competitor Q SYBR assays, only TaqMan Advanced miRNA showed a linear response across the input range. A non-linear response indicated that the SYBR-assays detect off-targets: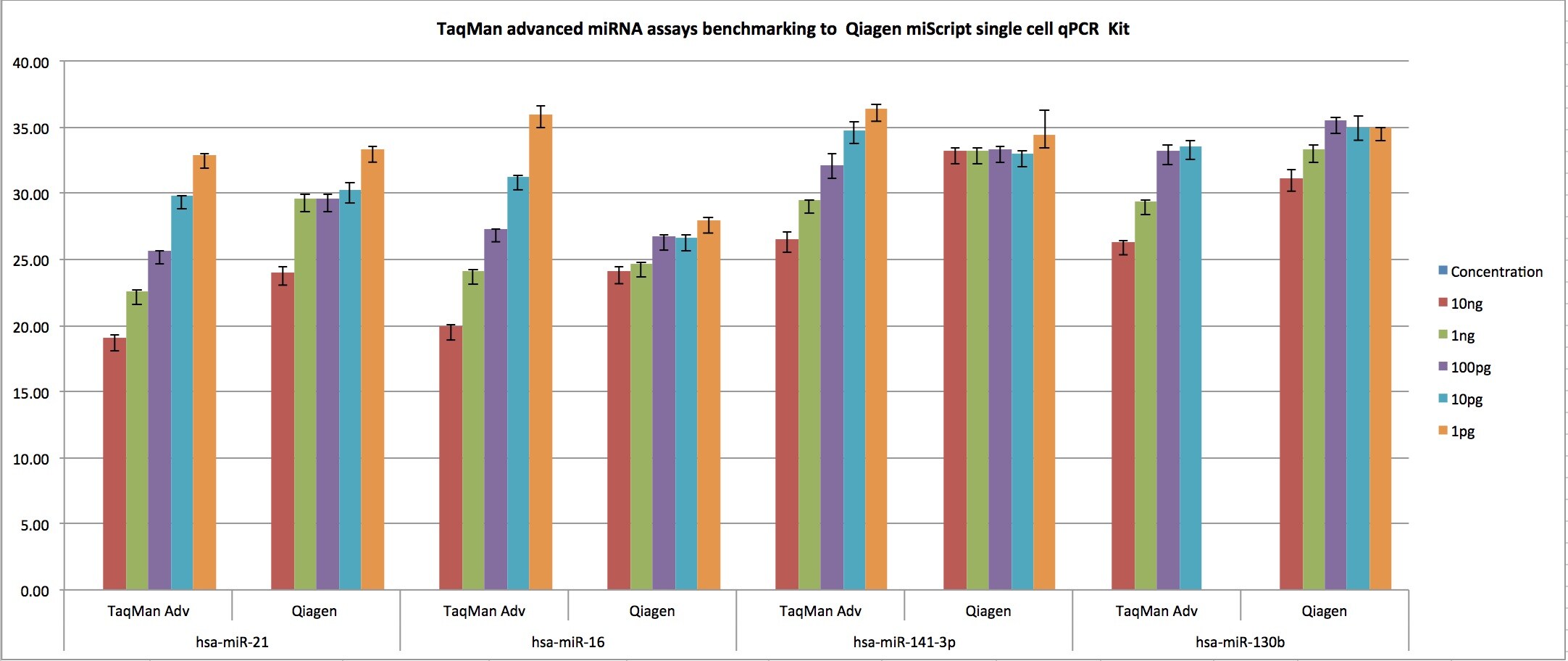 2. Increased Sensitivity for Low Expressing miRNAs
Another shortcoming of SYBR-based approaches is sensitivity, especially in challenging sample types such as plasma, serum and other biofluids. The new TaqMan Advanced miRNA assays can detect as few as 60 copies of target input into cDNA, or one copy in the qPCR reaction. Read more in the TaqMan Advanced miRNA performance white paper
3. Requires Less Sample
SYBR-based approaches can require large amounts of input RNA. With TaqMan Advanced miRNA assays, one can detect and quantify mature miRNA from as little as 1pg of total RNA or 2 µL of purified plasma or serum. In this dilution experiment, TaqMan Advanced miRNA assays were able to detect as low as 1pg of total RNA input, whereas the SYBR-based assays failed to detect:

4. Saves Money on Reagent Costs With Microfluidic TaqMan Array Cards
The TaqMan Array Cards provide up to 384 assays pre-spotted on microfluidic cards that use up to 75% less reagents than standard 96 well plates. The innovative microfluidic card format also helps improve reproducibility by minimizing sample handling. TaqMan Advanced miRNA Array Cards and Open Array plates are currently available through our Early Access program.
5. Upgrade to the Most Cited qPCR Technology
With over 40,000 peer-reviewed publications, TaqMan assays are the gold standard in qPCR technology, with bioinformatics support, instrumentation, and associated reagents. TaqMan Advanced miRNA assays are the latest innovation in qPCR assays.
Interested in improving your miRNA studies? Read on to learn more about the new TaqMan Advanced miRNA assays, the latest advancement in qPCR technology for quantitating miRNAs.
For Research Use only. Not for use in diagnostic procedures.