As you may have already noticed, Ion Community recently got a fresh new look. Those who are familiar with the old community will notice a drastic difference when they visit the new community which features a much cleaner and sleeker web design.
But Ion Community didn't get 'just prettier'. Improvements were made to make it more user-friendly and help you to find the information you need more easily. Here are the top 5 things about the re-designed community that you will enjoy the most.
Search smart with improved search functionality
Ion Community hosts a vast amount of information and resources to help Ion users with their day-to-day inquiries. It's easy to get lost in the sea of information and waste precious time. With improved search functionality, users can now immediately access their search history and bookmarks to find what they're looking for faster. A simple click on the magnifying glass on the upper right corner of the homepage will present them with a dropdown list of search suggestions, history, and bookmarks which they can click through to get to the results they need.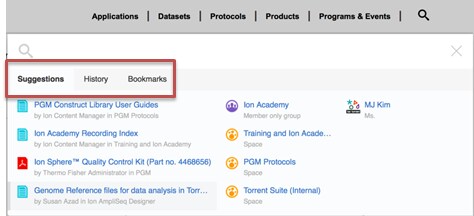 2. It's easier to ask questions and easier to get answers.
The new community includes an added ability to indicate when you have the same question on unanswered question threads. Simply check "I have the same question" as shown in the screenshot below, and you will be notified when the question is answered. It's that easy.

3. Stay connected with real-time product updates
Don't be left in the dark. Stay connected with real-time updates on new products, protocols, and user guides. Follow all product updates or create your own customized product updates stream and be the first hear about the latest updates on Ion products, protocols, and user guides. You can visit the Introduction to the Ion Community page to learn how.

4. Updated application spaces with easy access to product resources
Our applications spaces have been updated so that users can access helpful resources including application notes, how-to-guides, and product information all in one place. Interested in targeted sequencing on the new Ion S5™ System? Learn how to get started with Ion Torrent's targeted sequencing solutions, view dataset, access webinars, or ask a question in the Targeted Sequencing applications space.
Browse all applications spaces >

For Research Use Only. Not for use in diagnostic procedures.