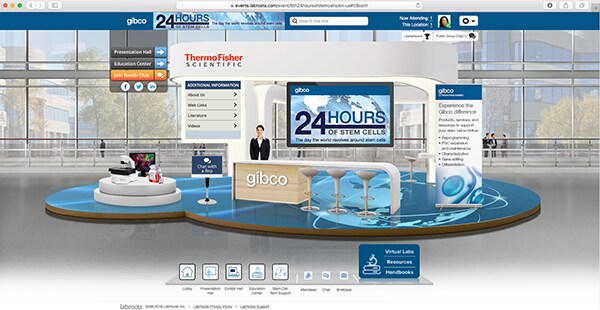 Have you heard about Thermo Fisher Scientific's annual 24 Hours of Stem Cells™ virtual event? Now in its sixth year, the 24 Hours of Stem Cells™ virtual event is the only major stem cell research event of its kind. On this day, the world will revolve around stem cells. We will be celebrating the many unique qualities and functionalities of stem cells for 24 action-packed hours, and we want you to join us! Regardless of your time zone, you will be able to partake in our virtual event. We have 24 amazing reasons why you should attend 24 Hours of Stem Cells live on November 15, 2018.
1. You always have the best seat in the house for viewing and listening to live presentations
Trust us when we say, there will be no better place to be sitting than at your monitor. You will be front and center for every speaker, keynote presentation, and Q&A session, learning all there is to know about the latest in stem cell research.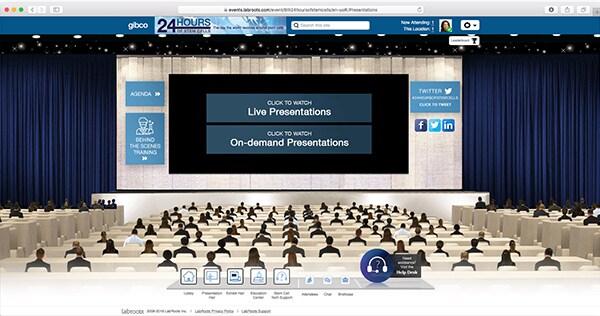 2. Access live stem cell technical support
Speaking of best seat in the house, how about a seat right next to a stem cell specialist? Our stem cell technical support will be on-hand live to answer all of your stem cell related questions such as PSC culture, transfection, genome editing and more.
3. You'll have a chance to win a free StemFlex™ Medium T-shirt*
Participate in a variety of activities throughout the virtual event to collect points on the leader board. The top 30 scores will receive a free StemFlex™ Medium T-shirt!
4. You can attend from anywhere, all day, IN your pajamas
No need to dress to impress; we encourage you to climb into your most comfortable clothes and find a cozy nook to enjoy the 24 Hours of Stem Cells™ virtual event. If it's in casual jeans at the coffee shop, that's okay. If it's in your swimming suit at the beach, we're okay with that too. If it's in a bunny onesie in the middle of the desert, well… sure, we'll just go with it.
5. Participate in live Q&A sessions with our keynote presenters
Bring all of your application-relevant questions to our live Q&A sessions and find out what our keynote presenters would recommend for your experiment. We encourage you to really pick their brains on all there is to know about stem cells.
6. You can access the event from any device – phone, tablet, or computer
The convenience of our event knows no limits! Whether you access our event on your smartphone, tablet, or computer, wherever you receive an internet signal, you can access our live feed of the event on November 15th using our mobile app – just visit thermofisher.com/24hoursapp.
7. It's a great reason to have a party
Now that Halloween is over, you might be wondering what the next big event is to celebrate. Surprise – it's stem cells! You can plan a party to watch the 24 Hours of Stem Cells™ live event with all your colleagues. Gather together to watch presentations on your favorite stem cell topics, complete activities as a team, see who can stay awake for all 24 hours – there's almost too much fun to pack into one party.
8. Join Dr. Takanori Takebe to learn about modeling inflammation and fibrosis in humans with PSC-derived steatohepatitis liver organoids
Dr. Takebe, an Associate Director of Center for Stem Cell and Organoid Medicine (CuSTOM) at the Cincinnati Children's Hospital Medical Center and Professor at Yokohama City University, and Tokyo Medical and Dental University, Japan, will present key methodology and preliminary results which offer a new method for studying human precision for inflammation and fibrosis, facilitating the discovery of effective treatments.
9. Get live, behind the scenes training with our stem cell specialists
Our stem cell experts are coming to you live from the lab with hands-on stem cell training. Topics will include routine passaging, colony picking, transfection and more. Join them live to ask your questions!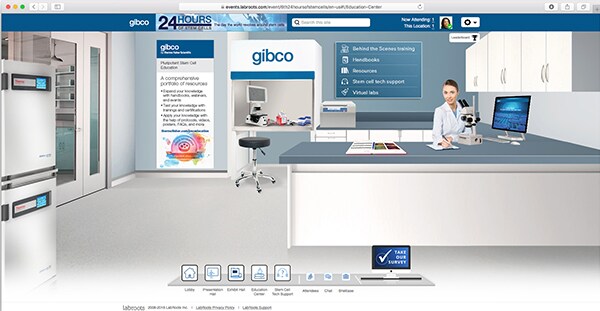 10. Connect with keynote presenter Alysson Muotri on applications of brain-model technology
Listen to Dr. Muotri, Director of the University of California San Diego Stem Cell Program, discuss a potential bridge to the gap between the microscale in vitro neural networks electrophysiology and non-invasive electroencephalogram. Don't forget to bring your own application specific questions regarding brain-model technology!
11. No need to be shy if you have a hard time speaking in large groups.
We've all had that terrifying moment when you realize you're standing in front of a huge crowd and you freeze up – your mind goes completely blank. Even the most accomplished speakers can get nervous in front of large groups. At the 24 Hours of Stem Cells™ virtual event, this is not an issue. There's no need to worry about other attendees. Feel free to ask questions, discuss ideas, defend hypotheses, and more – all without fear or anxiety.
12. Connectivity – the opportunity to connect with over 1,000 other researchers live
If you're looking to connect with new researchers in the stem cell research community – this is the place to be! Attendees from all over the world have already registered for the live event, and we're planning on even more registrants. Register today and start getting to know your fellow researchers.
13. Extremely cost efficient
There's nowhere on earth that you will find a scientific event to attend more inexpensively and for more value than Gibco's 24 Hours of Stem Cells™ virtual event – because it's FREE! You don't even have to pay for transportation. Just boot up your computer, connect to the internet and you're there! Where else are you going to find such cost-efficient, live scientainment?
14. Hear from Ryan Hicks on the generation and application of 3D-organoid cell culture models using human pluripotent stem cells for drug discovery
Dr. Hicks is the Associate Director of the Stem & Primary Cell Group at AstraZeneca and he will be sharing data from a key kidney model system he developed to exemplify various platforms. Join him to learn how he used transcriptomic analysis by NGS to get the most from his iPS derived 3D cell models.
15. Better networking capabilities
By taking part in our activities, you can expand your research network, find potential collaborators from around the world, and enrich your perspective on a global context – all with just a few clicks of the mouse.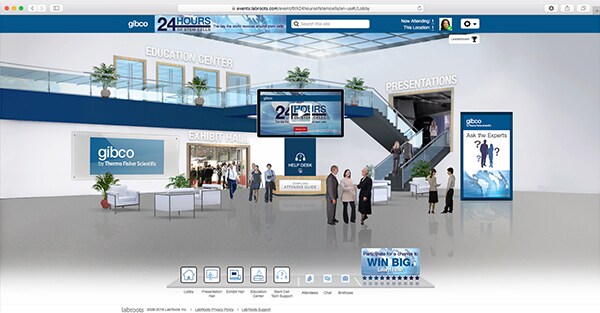 16. NEW Education Center provides educational opportunities, tools and resources  
This year, 24 Hours of Stem Cells is introducing an education center that will provide you with live training and technical support from our stem cell specialists, career development presentations, virtual training labs, event certification, resources like our PSC handbooks, and much more.
17.  Easily gain an event certification
Earning your 24 Hours of Stem Cells event certification is fun and now easier than ever before. Complete various activities throughout the virtual event to collect 500 total points and earn your certification of completion.
18. Expand your career development
This year's event will feature various career development presentations. Tune in to watch, listen and expand your career in stem cells.
19. Join keynote presenter Filip Roudnicky to find out more about the use of stem-cell derived endothelial cells for disease relevant cell modeling and drug discovery
Dr. Roudnicky, Senior Scientist at Roche, will show examples of modeling high-barrier resistance endothelial cells in vitro and modeling the effect of a severe metabolic genetic disease on endothelial cells. Join in and ask questions!
20. Sharpen your stem cell skills and expertise with virtual training
Back by popular demand, you can test your knowledge and sharpen your stem cell skills in one of our virtual training labs. Lab topics include pluripotent stem cell culture, basic cell culture, transfection, and protein expression.
21. An all-star, packed agenda
Stay on the leading edge of stem cell research at 24 Hours of Stem Cells™ virtual event which features over 30 leading scientific presentations from prominent researchers and thought leaders around the globe.
22. Chat live with our staff about the latest offers from Thermo Fisher Scientific
Our staff will be available live to discuss our latest innovations to support your stem cell workflow. You can even request samples of our innovative products from the Gibco brand.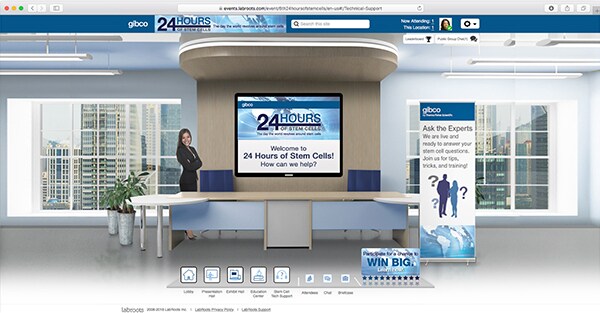 23. Hundreds of stem cell specific resources including app notes, FAQs, and much more  
Whether you're new to the field or expanding into new areas, our Stem Cell Research Learning Center offers a plethora of information, education, and resources. We think you'll really enjoy accessing our collection of scientific application notes, protocols, videos, webinars, publications, posters, and more for stem cell research.
24. Participate for a chance to win a free registration to ISSCR 2019**
That's right! We're giving you the opportunity to win a free registration to next year's annual meeting of the International Society of Stem Cell Research (ISSCR). Simply attend live and share with us how/when/where/with who you are attending the virtual event.
*No purchase necessary. This promotion is available only to attendees of 24 Hours of Stem Cells in the US and Canada who participated in the event on November 15, 2018 and scored in the top thirty on the leader board. Qualifying attendees will receive a Gibco™ T-shirt (approximate retail value $12 USD). Free T-shirt is available to eligible participants no later than November 15, 2018 or until gift supplies are depleted, whichever comes first. One free gift per person. Healthcare professionals may not participate in this promotion. Government Officials located outside of North America may not participate in this promotion. By registering, you warrant that you are not prohibited by employment, contract, or law from accepting a gift from Life Technologies. Offer void where prohibited, licensed or restricted by federal, state, provincial, or local laws or regulation or agency/institutional policy. Other restrictions may apply.
**NO PURCHASE NECESSARY TO ENTER OR WIN. Participation is open only to life science professionals 21 years and older in the US (excluding Puerto Rico), Canada (excluding Quebec), Japan, Southeast Asia, Taiwan and China. Complete terms and conditions are available here.