Authors: Shrivalli R. Kamath, Mansi B. Agrawal, Priyanka Swamynathan
What is an Antibody?
An antibody is a protein specific to the immune system, generated as an immune response against foreign substances like bacteria or virus (these substances are antigens). The immune system detects these antigens and in turn produces antibodies, which circulate in the blood and provide protection against any future exposure to the same antigens. We leverage this unique biological response system for research applications. A primary antibody is an immunoglobulin which binds to a specific protein or biomolecule. There are various techniques that leverage antibodies to detect, study the function, measure the concentration, and determine the localization of a protein. To enable detection, we also use another type of immunoglobulin to allow us to visualize our primary antibody. This immunoglobulin is a secondary antibody. The production of secondary antibodies is similar to a primary antibody. However, the antigen used is an immunoglobulin from the host species of our target primary antibody.
Western Blotting
Western blotting is a technique where the separation of proteins is based on their molecular weight using gel electrophoresis. Next, the transfer of the separated proteins onto a membrane leads to detection by probing the membrane with an antibody specific to the protein of interest. The protein of interest is subsequently detected using an appropriate secondary antibody that is conjugated to an enzyme or fluorophore using chemiluminescent or fluorescence based detection. If the primary antibody is specific to the protein, expect a single band at the correct molecular weight to show up on the membrane (provided that the antibody doesn't also recognize other isoforms or modified forms of the protein).
Optimizing experimental conditions beforehand may reduce common challenges observed in the western blotting workflow. These can include weak or no signal, appearance of multiple non-specific bands/ghost bands, signal saturation, undesired background, etc. Here we discuss frequently encountered problems seen in protein detection and suggest common solutions.
How to Perform a Good Western Blot?
While detection limits in a western blot are due to a number of factors, the first step to obtaining a good signal is to ensure there is sufficient protein in the sample load and that the antibody used is verified for target specificity. Thermo Fisher Scientific offers a comprehensive catalogue of antibodies tested in various applications, including western blot. The antibodies undergo further advanced verification testing wherein target specificity is ensured using one or more techniques such as genetic modification, cell treatment, relative expression, SNAP-ChIP and independent antibody verification, among others.
In addition to choosing a good antibody, it is important for a user to optimize experimental conditions. These may include protein sample loading concentration and primary and/or secondary antibody titration and ensuring that enough antigen epitopes are present on the membrane for the antibody to bind to and yield a satisfactory signal with good signal to noise ratio. It is also crucial to consider incubation time in a western blot – based on the binding affinity of the primary antibody.  One may consider shorter incubations at room temperature or a longer, overnight incubation at 4-8 degrees Celsius and to use fresh wash buffer containing detergents to remove any unbound antibody. To ensure the selection of an appropriate secondary antibody, verify that the target host is the same as the host species of the primary, found on the antibody product information sheet.
Sometimes one may encounter the appearance of faint bands or signal during detection and often signal intensity is directly proportional to the target abundance in the protein sample. Proteins such as housekeeping controls, histones, transcription factors etc., are easier to detect due to their abundant expression in a cell. On the contrary, low abundance protein(s) and/or samples having low protein concentration may be challenging to detect using standard detection agents such as ECL reagents. Low abundance of a protein can be due to the inherent protein expression being low, challenges in protein extraction techniques, rapid protein degradation resulting in low yield or a combination of all the conditions.
The overall result of this often leads to appearance of a faint band of interest during imaging, resulting in inconclusive data. A highly effective way to overcome this challenge is to increase the exposure time or switch to a more sensitive developing substrate (like the SuperSignal™ West Atto Ultimate Sensitivity Substrate) to get an optimal signal. These enhanced chemiluminescent substrates detect low levels of chemiluminescent signal when compared to standard substrates. This guide can help you choose the best substrate for your Western blot experiments. Additionally, rapidly degrading proteins could be another reason for the appearance of faint bands, in which case adding protease inhibitors to the lysis buffer can be helpful.
Various normalized expression measures can be used to determine the abundance of a gene or protein in a cell. One such measure is Transcripts per Million (TPM) or protein Transcripts per Million (pTPM). Since the TPM (or pTPM) value of a protein is directly proportional to its relative abundance in a cell, it is a great data point to consider when attempting to detect proteins using western blot. Proteins that have low transcript level (low abundance proteins) should be in greater concentration in the gel and detected using more sensitive detection reagents as compared to high abundance protein targets (having high TPM values).
In Figure 1, western blotting detected ABCG1 (ATP binding cassette sub-family G member 1), a low abundance protein involved in intracellular lipid transport processes and has a low TPM value.
Figure 1: Use of sensitive detection substrates to detect low abundance proteins: Western blot was performed using Anti-ABCG1 Recombinant Rabbit Monoclonal Antibody (2A10) (Product # MA5-24857). Whole Cell Extract-WCL (50 µg lysate) of MCF7 (Lane 1), MOLT-4 (Lane 2), Raji (Lane 3), HeLa (Lane 4), Mouse Lung (Lane 5) and Mouse Liver (Lane 6) were electrophoresed using NuPAGE™ 4-12% Bis-Tris Protein Gel (Product # NP0321BOX). Resolved proteins were then transferred onto a Nitrocellulose membrane (Product # IB23001) by iBlot® 2 Dry Blotting System (Product # IB21001).
The blot was probed with the primary antibody (1:1000 dilution) and detected by chemiluminescence with Goat anti-Rabbit IgG (H+L) Superclonal™ Recombinant Secondary Antibody, HRP (Product # A27036) (1:20000) using the iBright FL 1000 (Product # A32752). In panel A, the blot was developed using an ECL substrate following which a faint band of interest was observed at 110 kDa, which was markedly enhanced upon developing with the  SuperSignal™ West Atto Ultimate Sensitivity Substrate (Product # A38556) (panel B). Protein concentration was equal in both experiments.
In Figure 2, we cite an example of a high abundance target; the family of 14-3-3 proteins which are widespread in eukaryotes. These are phospho-binding proteins which are structurally similar and regulate several important cellular functions such as metabolism, growth, transport, stress response and development. Most 14-3-3 family of proteins are abundantly present in the cell and hence standard loading conditions and regular ECL developing substrate like Novex™ ECL Chemiluminescent Substrate Reagent Kit (Catalog number: WP20005) are sufficient to detect their presence in a western blotting experiment.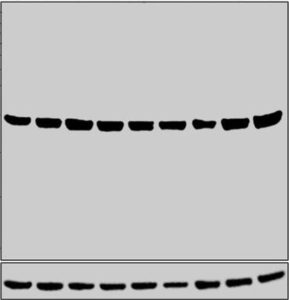 Figure 2: Western blot was performed using Anti-14-3-3 zeta Polyclonal Antibody (Product # PA5-80245) and a 28 kDa band corresponding to YWHAZ was observed across all the cell lines and tissues tested. Whole cell extracts (30 µg lysate) of HeLa (Lane 1), A549 (Lane 2), SH-SY5Y (Lane 3), MCF7 (Lane 4), COS-7 (Lane 5), PC-12 (Lane 6), NIH/3T3 (Lane 7), tissue extracts of Mouse Brain (Lane 8) and Rat Brain (Lane 9) were electrophoresed using Novex® NuPAGE® 12 % Bis-Tris gel (Product # NP0342BOX).
Resolved proteins were then transferred onto a nitrocellulose membrane (Product # IB23001) by iBlot® 2 Dry Blotting System (Product # IB21001). The blot was probed with the primary antibody (0.5 µg/mL) and detected by chemiluminescence with Goat anti-Rabbit IgG (H+L), Superclonal™ Recombinant Secondary Antibody, HRP (Product # A27036, 1:4000 dilution) using the iBright FL 1000 (Product # A32752). Chemiluminescent detection was performed using Novex® ECL Chemiluminescent Substrate Reagent Kit (Product # WP20005).
Thermo Fisher offers a range of detection substrates (listed below) to suit your applications:
Although as a technique, western blot seems simple and easy to execute. However, common problems such as those listed above can interfere with successful protein detection, often frustrating the user. As crucial as it is to choose a well-performing antibody, the user must also consider several factors to get a successful western blot. These factors include target biology protein abundance, sample preparation, immunogen design and type, gel type and detection reagents to get a specific, strong signal and subsequently, a successful western blot. Visit our western blotting education center to learn more and to find the right products that can help you with protein detection and analysis.
Additional Antibody Blogs
For Research Use Only. Not for use in diagnostic procedures. © 2022 Thermo Fisher Scientific Inc. All rights reserved. All trademarks are the property of Thermo Fisher Scientific and its subsidiaries unless otherwise specified.