Thermo Fisher Scientific's sponsorship fuels support vehicles that aid riders during eight-day cycling journey
In many ways, Josh Minton has always been a leader. He joined the Army in 2006 seeking a career with a purpose, and soon after rose through the ranks, first as a 2nd lieutenant, then to captain to lead a unit of young soldiers. But, like any well-trained veteran, Josh doesn't let setbacks deter him from his objectives, be it on the battle field or in life. Despite having received a cancer diagnosis three years ago, the 30-year-old is still leading, only now, he's doing so with a small army of cyclists and a newfound family of fellow survivors.
Josh was among more than 30 cyclists and support staff that included cancer survivors, their family members and care givers who participated in the Ulman Cancer Fund's Key to Keys event, an eight-day cycling journey that brings together a diverse group of individuals to build a community of support for those affected by the disease. Participants rode from Baltimore, MD., to Key West, FL., and along the way, shared their stories of survival and adversities while providing as much support to others as they are receiving themselves.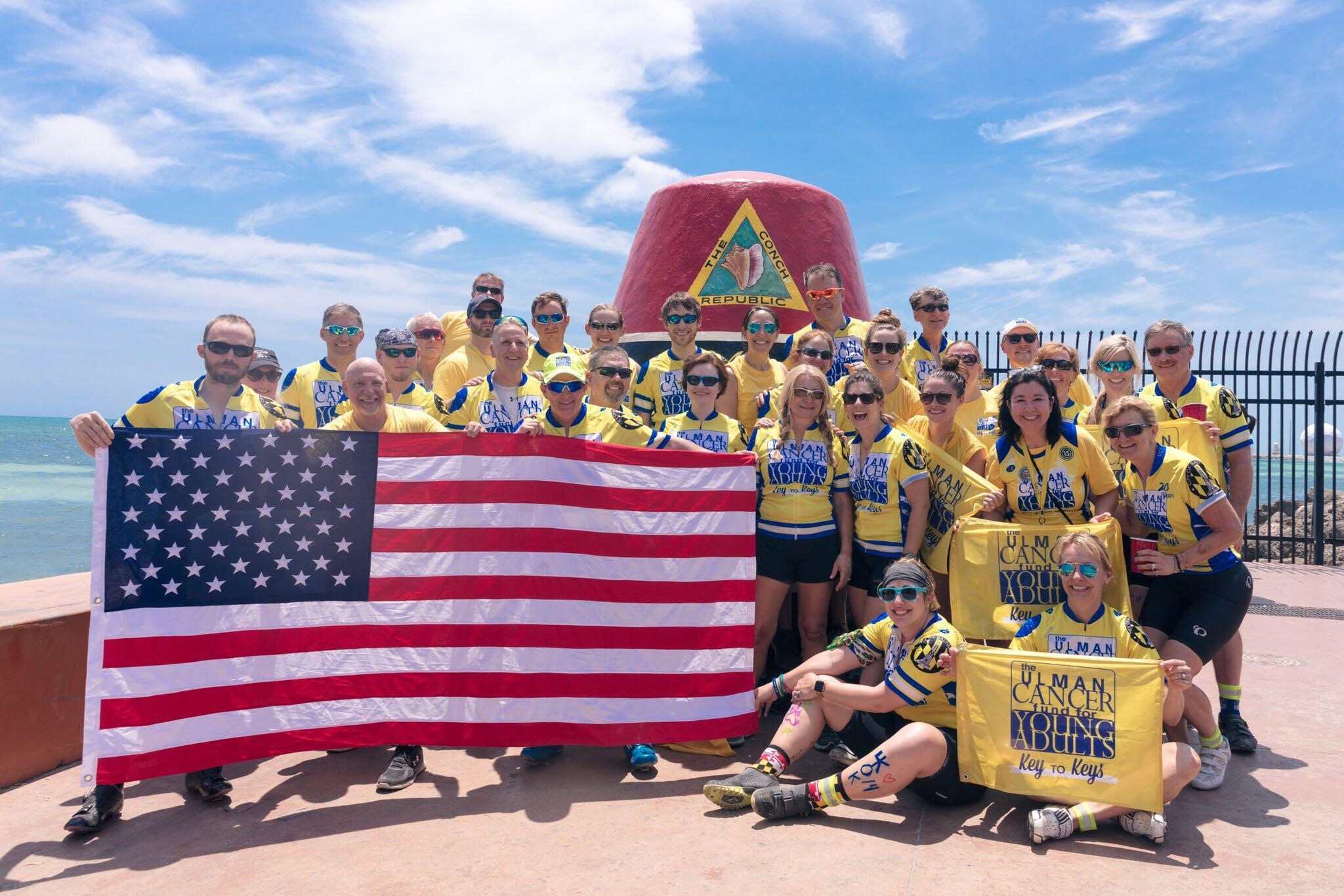 Thermo Fisher Scientific proudly sponsored the support vehicles, which rode alongside the riders and carried their supplies the same week the company launched its Oncomine Childhood Cancer Research Assay, a comprehensive, next-generation sequencing (NGS) panel developed in collaboration with Children's Hospital Los Angeles. The assay specifically targets mutations associated with pediatric and young adult cancers.
The Key to Keys ride in April marked the second year Josh participated in the event. Prior to that, he had only been peripherally involved with the Ulman Cancer Fund, volunteering once a week to speak with other veterans who had also received a cancer diagnosis at the Walter Reed National Military Medical Center in Washington DC. But not wanting to fall back into despair after receiving devastating news about an ex-girlfriend last year, and despite being two months into an aggressive cycle of chemotherapy, Josh chose to ride to get more involved.
"The ride was physically challenging, but it was so much more emotionally powerful than I could have ever imagined," says Josh of his first ride in 2017. "You hear so many stories from others, and what they're dealing with and what Ulman Cancer Fund has done to support them. You learn how people persevere and work to move on with their lives. It just really helped put things in perspective for me and taught me not to take anything for granted."
Life-Changing Diagnosis
Josh was in the best physical shape of his life in 2014 when he went to see his doctor for what he believed were kidney stones. Instead, they discovered he had neuroendocrine cancer, a very rare form of the disease with no known cure. The news hit him hard. His relationship ended, and six months of chemotherapy cycles began soon after. Depression eventually set in.
"I was reflecting and I thought, 'What happened to my life?' I was engaged. I had a great career. I was about to start a family. It all hit me, and I hit rock bottom."
But then, Josh's training kicked in. He decided he wasn't going to give up. Through an Ulman Cancer Fund social worker, he learned of the support group at Walter Reed and decided to volunteer. He was the highest ranking officer at the meeting, so he went in thinking he could offer them support and guidance. Josh also thought the experience would give him a sense of purpose again.
"My favorite part of being in the Army and being a leader was taking care of my soldiers," Josh says. "So I got involved, thinking I could offer them something."
Once a week he spent time with two younger soldiers. During that time he learned that one of them got married soon after his cancer diagnosis. Josh also witnessed the unwavering support the second veteran received from his wife. Although both soldiers succumbed to their disease nine months later, and within four days of each other, the experience proved to be pivotal for Josh.
"The strange thing about it was that I was going there thinking I could to help them," Josh explains. "But the experience actually helped me, too. Seeing how their wives supported them really helped restore my faith in love again."
Josh officially retired from the Army in February, but he is still leading to provide hope for others. For a year-and-an-half he was involved in a clinical trial, during which time he volunteered to undergo eight biopsies – instead of just two – so that researchers could maximize their work and understanding of neuroendocrine cancer. He is now the first and only participant of a Phase I immunotherapy clinical trial in which Josh's immune system has been harnessed to attack his cancer.
If the experimental therapy is proven to be successful and safe, the novel approach, which leverages next-generation sequencing to tailor a vaccine, could potentially help many other cancer patients in the future. So far, the therapy is going well, he says.
In the meantime, Josh is moving forward with life. After participating in this year's Key to Keys event, he has decided to participate in the Ulman Cancer Fund's Point to Point event as a support vehicle driver in September. Regardless of his cancer, he says he continues to enjoy his favorite outdoor activities near his home in Ohio.
"My cancer in incurable, I accept that," Josh says. "I can't tell you if I have five or 50 years left to live, but while I'm here, I'm going to live life to the fullest. I know this cancer is going to take my life someday, but I'm not going to live my life like that. I like to think that cancer is living with me. Cancer is just along for the ride of my life."