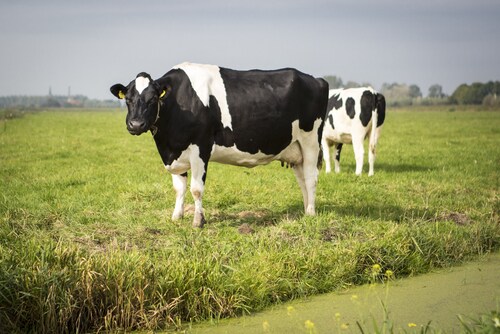 I recently heard about the BlueTongue Virus (BTV) outbreak in France that started in August this year and ended in October. I wondered why I hadn't heard about this on my evening news until I found out that it only affects ruminants, and is not harmful to humans. Does that make the virus less dangerous? I think not…
The BTV virus is a double-stranded RNA virus. It is an infectious, non-contagious, insect-borne viral disease that can be fatal to animals 1,2,3. It affects wild and domestic ruminants, like sheep, cattle, goats, and deer, and is transmitted by a certain species of biting Culicoides midges1,2,3. Several serotypes of the virus have been identified worldwide, and an outbreak of this virus is not uncommon in certain parts of the world. Farmers will often vaccinate their livestock, to help prepare of an outbreak.
So, why is BTV important? Well, it not only affects livestock health and transportation but also affects human travel. You are probably wondering why human travel suffers when this disease is harmless to humans. Although the virus is harmless to humans, humans may help carry the virus, unknowingly spreading the virus to other domestic, wild and in some cases endangered ruminants in foreign countries. Travel and transportation precautions and containment efforts affect several aspects of trade and economy, making it a much bigger problem than it may seem at a glance.
During the most recent BTV outbreak in France, once the BTV infection was determined at a particular site, the authorities, veterinarians and farmers sprung into action to first determine if the spread was an isolated incident or widespread. Within 24 hours, a BTV laboratory network was set up to confirm the infection. Upon confirmation, the authorities reached out to the Thermo Fisher Scientific team, who then quickly responded by providing the LSI VetMAX™ Bluetongue Virus NS3 Real-Time PCR Kits for screening the virus. Quick response and a well-set up network helped contain the disease before it could spread to neighboring countries. You can read more in the news article here.
Currently with no way to treat the infected animal, vaccination is presently the best solution for disease prevention.1 Since insects spread the virus, it's almost impossible to control the spread of the vectors themselves. Understanding viral evolution and detecting new viral strains will help scientists prepare for an outbreak. Gaundreault et al. (2014), used Ion PGM™ sequencing technology, to sequence a novel BTV strain isolated in the western United States. Interestingly, BTV evolves similarly to the Influenza virus via a process called genome-segment 'reassortment', which is why the outbreak resurges ever so often.3 NomiKou et al. (2015), used the 3730 DNA Genetic Analyzer to study the reassortment process and its impact on BTV evolution.
Continued research, advanced technology and a well-set up network of government officials, veterinarians, farmers, and scientists may help contain future outbreaks and save animal lives.
---
1] Fao.org,. 'AVIS – Bluetongue – Main'. N.p., 2015. Web. 9 Dec. 2015. <http://www.fao.org/ag/againfo/programmes/en/empres/gemp/avis/A090-bt/index.html>
2] Gaudreault, N. N., et al. "Whole Genome Sequencing and Phylogenetic Analysis of Bluetongue Virus Serotype 2 Strains Isolated in the Americas Including a Novel Strain from the Western United States." J Vet Diagn Invest 26.4 (2014): 553-57. Print.
3] Nomikou, K., et al. "Widespread Reassortment Shapes the Evolution and Epidemiology of Bluetongue Virus Following European Invasion." PLoS Pathog 11.8 (2015): e1005056. Print.