Since it was first sequenced in 2005, the canine genome has been giving up its secrets for inherited disease research, with around 200 disease-causing mutations identified as of 2018. The genetic testing laboratory Paw Print Genetics is turning this knowledge into action for dog breeders and owners, with screening programs to help improve canine health. Increased access to genetic screening means that more dog breeders and owners can reduce the impact of canine inherited diseases through preventive veterinary care and also by eradicating affected breeding lines. The Applied Biosystems SeqStudio Genetic Analyzer is helping Paw Print Genetics further expand its service, where its precision and sensitivity resolve screening down to the level of one base pair (1 bp) mutations. 
Genomic screening: A pet subject
Many canine inherited diseases are late onset conditions that are often not apparent until maturity. Breeders and owners must therefore wait until a puppy grows before knowing if it is affected. This delays vital preventive veterinary treatment and can result in breeding from affected animals, thus perpetuating the disease. Replacing this traditional approach with genomic screening is a much faster way to manage breed-specific problems; genomic carrier status is easy to screen in young puppies, so breeders and owners do not have to wait for clinical signs before taking action.
Moreover, with more research, scientists are also finding that different gene mutations cause the same or similar diseases. For example, various genes associated with retinal function cause progressive retinal atrophy (PRA) and blindness in many dog breeds. Inheritance is mostly as an autosomal recessive gene (PRCDin many breeds, PDE6Bin the Irish setter, RD3in collies, and PDE6Ain cardigan Welsh corgis all cause rod-cone dysplasia), but in the Siberian husky and Samoyed the condition is due to RGPR, an X-linked gene, and autosomal dominance is the route for bullmastiffs and English mastiffs (RHO). Golden retrievers are affected by two different gene mutations (SLC4A3and TTC8) causing PRA. There is still a lot to learn about heritability and disease expression in dogs.
Paw Print Genetics takes the lead
This gap in research and quality diagnostic testing in the canine world is why Paw Print Genetics founder and CEO Lisa Shaffer started the company. As a biotech entrepreneur with a background in pediatric genetic research, Shaffer was surprised to discover that there was very little testing outside research institutions for severely debilitating inherited veterinary diseases in dogs, such as degenerative myelopathy and progressive retinal atrophy.
Shaffer combined her love of dogs and experience in clinical diagnostics to offer genetic testing and genetic counselling at the same high standards as a human diagnostic genetics service. Employing veterinarians alongside PhDs and molecular technicians, Paw Print Genetics is a centralized testing facility for canine genetic screening. This "one-stop" diagnostic lab covers a wide range of inherited disease mutations and trait markers useful for pet owners, veterinarians and dog breeders.
SeqStudio resolving power: A walk in the park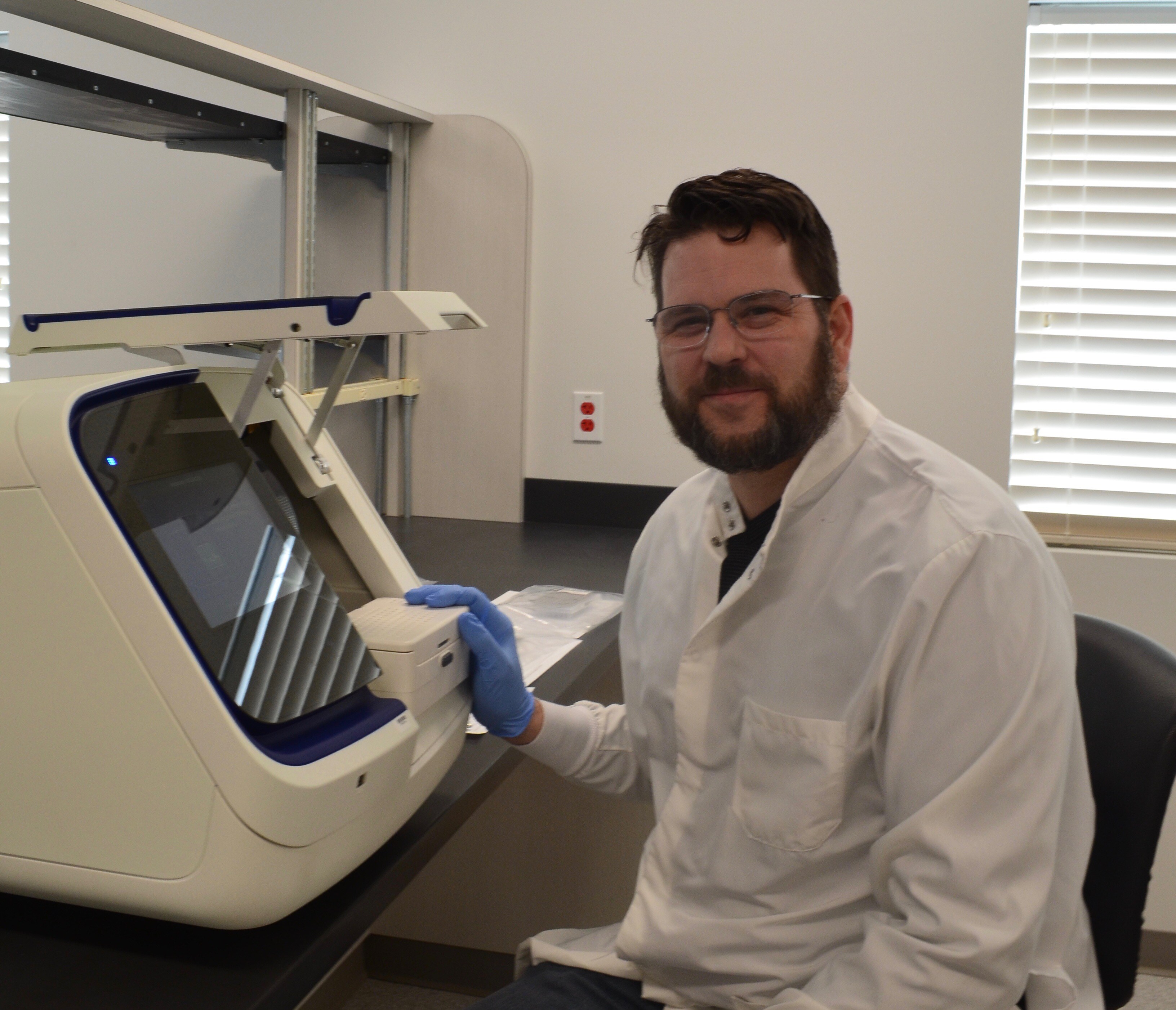 Since Paw Print Genetics operates according to human diagnostic standards, it uses multiple platforms with confirmatory testing to validate results. According to Kyle Sundin, Senior Manager, Development and Lab Operations, SeqStudio enhances the company's genetic analysis service. The company had been using traditional molecular approaches, including restriction enzymes and gel electrophoresis, to validate results from some of their high throughput genotyping platforms. However, these approaches lacked the sensitivity and precision to resolve smaller mutations that was necessary in certain situations. By enabling DNA fragment sizing precision at the level of single-nucleotide resolution, SeqStudio provides clear and reliable confirmation of their results.
One of the many exciting contributions that Sundin already sees from their new SeqStudio is the power the instrument brings to the company's research into the highly desirable but potentially problematic trait for merle coat pattern. Dogs with merle patterning show patchy diluted areas of pigmentation intermixed with areas of normal pigmentation. Heterozygotes show the desirable merle coat pattern, as the gene is incompletely dominant. Homozygotes, or "double merles," typically exhibit a mostly white coat with a few small patches of normal pigmentation. However, double merles also have a higher incidence of hearing and vision problems. Paw Print Genetics offers screening for merle carrier status by examining the M (merle) locus, positioned between exons 10 and 11 of the PMELgene. This locus influences a gene associated with regulation of black pigment in skin, hair and other tissues through melanocytes. When a dog is homozygous M/M, this also affects retinal and auditory development, which can lead to blindness and deafness.
The mutation in the PMEL gene is an insertion of a "retrotransposon" that contains a highly variable and somewhat unstable stretch of T's termed a "homopolymer".  The alleles of interest at the M locus are defined by the length this stretch of T's which can range from 9 – 90 or more. In addition, the size of this stretch of T's appears to impact the over coat color of the dog. However, accurately determining the precise length of these homopolymers using other traditional molecular biology techniques is problematic. Recently published research by Paw Print Genetics indicates that variations in the length of the poly T homopolymer, and thus the overall size of the retrotransposon insertion, are associated with a spectrum of merle coat color patterns (Ballif et al. 2018. The PMELgene and merle in the domestic dog: A continuum of insertion lengths leads to a spectrum of coat color variations in Australian shepherds and related breeds. Cytogenet Genome Res, Aug 3 Epub). Total retrotransposon insertion lengths of 200-246 bp result in "cryptic" merle dogs that are non-merle; Insertion lengths of 247-264 bp result in "atypical" merle dogs that show a significant shift from normal coat color and are often diluted In color; Insertion lengths of 265-269 bp result "classic" merle coat patterns; And Insertions of 270-280 bp often result In "harlequin" coat colors that display patches of multiple shades of the same color. Measuring the precise size of the homopolymer length Is critical for determining the actual merle alleles present in each dog, analysis for which the SeqStudio Genetic analyzer is perfectly suited.
SeqStudio: A nose for mutations
SeqStudio was an obvious choice for Paw Print Genetics, with Sundin's previous experience running the Applied Biosystems 3500xL Genetic Analyzer. This experience and satisfaction with Thermo Fisher Scientific polymerase chain reaction (PCR) consumables led Sundin to seek out a solution from within the brand. Although they initially focused on the option of a refurbished sequencing instrument, as Sundin and colleagues viewed product videos and read the specification, they quickly realized that the SeqStudio perfectly fit their needs.
"In addition to being a reliable means of detecting the different sizes of these homopolymer mutations, the SeqStudio platform provides a lot of versatility in that it also allows us to do DNA sequencing," Sundin explains. Sundin realized that with gold standard Sanger sequencing technology, the SeqStudio offered Paw Print Genetics more than just a versatile tool for data validation, fragment analysis and multiplexing potential. His experience with older capillary electrophoresis (CE) instruments reminded him that a refurbished machine would need, in his words, "babysitting to coax it into productive life." With the SeqStudio cartridge system and user-friendly interface, setting up CE was straightforward, a fact shown by product demonstrations and now confirmed for Sundin in real life.
SeqStudio fetches the future
The ability to handle fragment analysis is also a big plus for Sundin. He and his team can capitalize on the simplified workflows and straightforward sample preparation associated with this approach. Another feature that pleases Sundin is the instrument's economy. Describing it as a really affordable option that gives Paw Print Genetics the technology to develop its range of tests, Sundin explains that it fits in well with current operations. Not only is it easy to operate and efficient in reagent use via the cartridge-based system, but it also offers a convenient low-cost, low-throughput approach to R&D. "SeqStudio allows us to explore options and consumer demand without excessive cost or investment in a high-throughput platform," explains Sundin, adding that if they exceed capacity, it's simple enough to bring in another SeqStudio. Sundin looks forward to an exciting future with SeqStudio in harness.
For research use only. Not for use in diagnostic procedures.