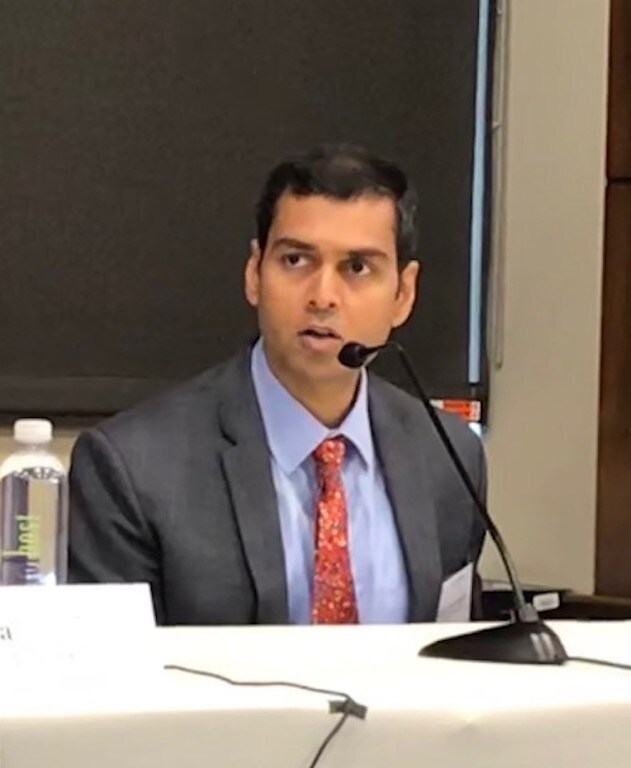 Joydeep Goswami, president of Clinical Next Generation Sequencing and Oncology for Thermo Fisher Scientific, recently participated in a briefing on Capitol Hill to discuss the latest advancement in diagnostics that are changing the paradigm for precision medicine. The invitation came soon after the U.S. Food and Drug Administration's premarket approval to Thermo Fisher Scientific's Oncomine Dx Target Test in June.
Joining him in the lively conversation on the topic were Andrea Ferris, chief executive officer for LUNGevity Foundation; Mark Stewart, senior science policy analyst for Friends of Cancer Research; Paul Radensky, partner at the law offices of McDermott Will & Emery; and Andrew Fish, chief strategy officer for AdvaMedDx, the briefing's organizer. Each participant shared background on the progress made so far to bring companion diagnostics to the forefront of medicine, and the challenges that still need to be overcome to affect broader adoption and better health outcomes.
This is the second time Thermo Fisher Scientific has participated in a briefing on Capitol Hill this year to discuss diagnostics. What purpose does this serve and how does it benefit the clinical sequencing business' long-term strategy?
The briefing addressed two key areas with patient advocates and Capitol Hill staffers. One was to raise awareness on the availability of new molecular diagnostics technologies and how these products can help drive better health outcomes, while also potentially reducing overall healthcare efficiencies. Another was to raise awareness of the issues facing the diagnostics industry, including regulatory and reimbursement-related hurdles. Raising awareness on both these fronts is key to drive demand for the types of technologies and products that Thermo Fisher's clinical sequencing business is developing, but also to ensure that regulatory and reimbursement policies are designed in the best interest of patients.
Tell us about the discussion. What were some of the more interesting perspectives communicated by your fellow panelists?
There were some interesting perspectives on the importance of quality and standardization in the lab-developed test (LDT) world, especially around standardization of validation and controls. This might create some interesting opportunities for us as a business. Also, some participants advocated for the need to create a broader repository of data so that health systems could collectively learn about the most effective diagnostics and therapy.
Another interesting discussion was regarding the fact that current diagnostic reimbursement guidelines were developed for diagnostics that were relatively simple, quick and easy to validate with an investment of perhaps a few million dollars. These guidelines are wholly inadequate for the world of next-generation sequencing (NGS) diagnostics, which can simultaneously address multiple markers but can cost tens of millions of dollars and several years to develop. This reinforced the need to work with payors, including the Centers for Medicare & Medicaid Services, to reset reimbursement guidelines for NGS tests, especially IVD NGS tests.
Where did you see synergies in what was discussed, and where were the differences of opinion?
There was a lot of agreement in the views around the need for greater patient awareness about tests that could help a physician prescribe the right therapy without trial and error. There was also clear agreement on the need for tests that could guarantee results with minimal biopsy material and reduce the risk of rebiopsies.
The panel did not fully align on the extent to which regulation would be needed to ensure that LDTs would be safe, while also enabling them to remain innovative to help patients benefit from the latest scientific developments.
What advice did you or the other panelist give in terms of how our nation's legislation can better support further advancement of NGS-based diagnostics?
There were three clear themes here. One was to balance the need for safety and regulation with those of innovation and speed of getting new scientific discoveries to help patients. The second was around ensuring fair reimbursement for new diagnostics that could radically improve patient outcomes so that labs were incentivized to offer these tests. Lastly, legislators should make it easier for or mandate that health systems share data to more rapidly identify diagnostic and treatment paradigms that improve patient outcomes and overall healthcare efficiencies.