Working on cold cases may mean investigating very old samples. A recent publication described a study in which researchers tested a 100-year-old semen stain on a handkerchief to verify the possibility of obtaining a complete genetic profile from an extremely old sample.
The handkerchief had biological trace evidence on it, and is presumed to be from a famous Italian poet. It was kept in an envelope within a crate at room temperature for many years. Researchers collected a sample from the poet's living male descendant (a great-grandson) to use as a reference to confirm the paternal lineage.
First, six latent biological traces (F1–F6) were identified and semen stains were successfully visualized with the Alternative Light Source (ALS) method. The semen stains were also confirmed with Prostate-Specific Antigen (PSA) tests. The DNA was extracted from the samples using the Qiagen EZ1 kit and quantified with Applied Biosystems' Quantifiler™ kit. Reasonable amounts of DNA yields were obtained only from 3 samples: 240 pg (F1), 260 pg (F2) and 290 pg (F4). Applied Biosystems' AmpFlSTR IdentifilerTM Plus kit and AmpFLSTR YfilerTM kit were used to amplify these DNA templates.
The following table shows all the genotype results from these three traces, as well as the male descendant. After reviewing the consensus of the three stains' genotypes, researchers recovered a complete autosomal STR genotype profile of the poet, as well as all Yfiler loci except DYS392. The consensus Yfiler profile matched perfectly with the male reference, which confirmed the reliability of results. Further, the YHRD database search showed no match for this Y-STR haplotype (N = 165,259, or Italian alone N = 3,366), which also provides strong evidence that that the living male and the poet are indeed from the same male lineage.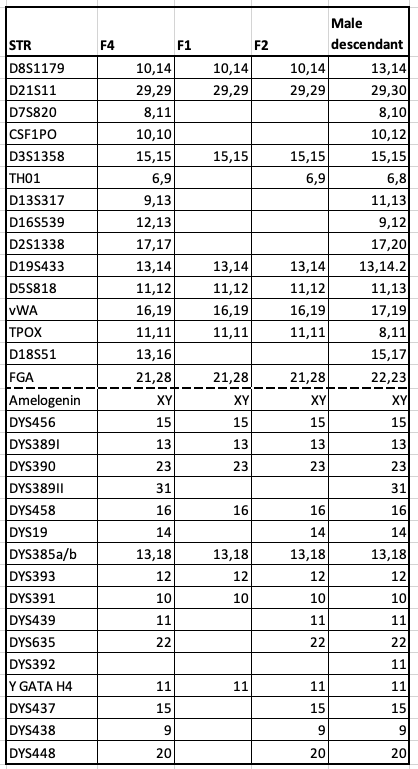 A previous study from the University of North Texas Health Science Center used both Yfiler and YfilerTM Plus kits to successfully obtain a large proportion of alleles from old bones, some dating back to the 17th century. This recent Italian study further supports the high performance of both Identifiler Plus and Yfiler chemistry, even with 100-year-old semen stains. With improved performance, it is likely that the Yfiler Plus kit could amplify more alleles from those aged semen stains.
Learn more about how Y-STR analysis can help solve more criminal cases and mysteries.
For research, forensic or paternity use only. Not for use in diagnostic procedures. For licensing and limited use restrictions visit thermofisher.com/HIDlicensing