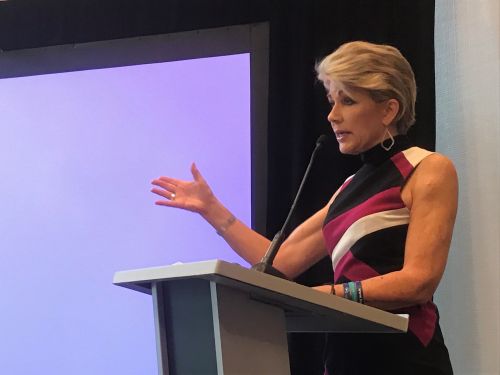 Greta Kreuz had never smoked. She ate a healthy diet and was a runner, albeit "a bad runner," she quips. She had a flourishing career as a Washington, DC-based TV reporter, but seven years ago, when she started to feel a mild pulling sensation in her sternum, she went to see her doctor. Her chest x-ray came back abnormalso her physician ordered a follow-up CT scan. Kreuz was about to go live for the six o'clock news in March of 2012 when she got the call. She was 55 and she was told she had lung cancer.
Kreuz's diagnosis was far from anomalous. For reasons that are not clear, women who have never smoked develop lung cancer at far higher rates than male non-smokers. As many as 20 percent of people who die from lung cancer in the U.S. have never smoked or used other types of tobacco, according to the American Cancer Society.
Kreuz shared her story at Thermo Fisher's Global Strategic Partnership Summit, an annual event that brings together diagnostic assay developers, pharmaceutical companies, reference labs, reimbursement specialists, patient advocacy representatives and laboratory heads who support clinical trials in oncology. Speaking before the large group, Kreuz emphasized the importance of comprehensive genomic testing and the need for more patient advocacy.
Kreuz was lucky the cancer had been caught early: stage IB, in the lower lobe of her left lung. She had a lobectomy and was regularly monitored with CT scans. Life continued. She won an Emmy for a two-part series she did on her cancer journey, but had no idea that journey was far from over.
A year and a half after her surgery, the cancer came back. This time, it was a tumor in the upper lobe of the same lung. There was also lymph node involvement and malignancy in the lung's lining. Her cancer was now stage IV. Kreuz underwent comprehensive genomic testing, which can reveal alterations to DNA that can drive cancer growth. Ideally, the genomic insights lead to a tailored treatment, but in 2014 there was no targeted therapy for her BRAF V600E mutation, so she began a three-drug chemotherapy regimen.
Over the next few years, there were lots of ups and downs: Two-plus years in remission, the development of a targeted therapy for her mutation (but with considerable potential side effects that initially dissuaded her from trying it), radiation and immunotherapy — leveraging her own immune system to fight the cancer. Eventually, she decided to take her chances with the two-drug targeted therapy indicated for her mutation. The side effects turned out to be manageable and today, she's feeling good.
"The targeted therapy is what's keeping me alive," says Kreuz. "I don't know what I'd be doing without it because I had run out of tools."
Besides the fact that comprehensive genomic testing can identify effective therapies, Kreuz says she's also a fan because of the quick turnaround time, typically 1-2 days, although when she had hers in 2014, it took longer. Conventional genetic testing is piecemeal, looking for specific alterations in single genes or multi-gene panels, one test at time, and it can take many weeks to get the results back.
"When you find out you have cancer, and if it's advanced, you think you're dying and you want to start treatment immediately," she explains. "Even if your doctor tells you a few more weeks or a month won't make a difference, when it's your life, waiting that long is hard to accept."
Kreuz's testimony underscored the need for those at the event to continue pushing the boundaries of cancer research and to improve patient care with her single call to action: "Please keep me in mind when you go back to your offices and labs," she said. "You need us to test and to use your products.
And we need you to stay alive."