In this blog, authors Haripriya Sridharan, Priyanka Swamynathan, Jason Sharp, April Livengood, and Eliza Small describe how Thermo Fisher Scientific is helping to provide high-quality antibodies and CRISPR genome editing tools for important neurobiology targets.
Neurobiology targets can be challenging to work with in vitro. Many are expressed only in specific cells and/or tissues and may have little to no expression in commonly used cancer cell lines, which are the workhorse model systems in many labs. Reagents demonstrated to perform with high accuracy and reproducibility can go a long way to help researchers interpret their data more confidently.
CRISPR-Cas9-mediated gene knockout (KO) technology
Antibodies are crucial reagents in neurobiology, used in applications such as fluorescence imaging, western blots and flow cytometry. To provide a high degree of confidence in the quality of these antibodies, they are subjected to specificity tests to demonstrate that they are specific for their intended antigen. One of these tests is to demonstrate specificity through a knockout model in which the antigen is absent and shows the corresponding absence of signal from the antibody. CRISPR-Cas9-mediated gene knockout (KO) technology offers the possibility to generate knockout models at high throughput, compared to other gene editing technologies.
Thermo Fisher Scientific scientists with extensive experience in antibody development and validation have teamed up with scientists with extensive experience in CRISPR technology to bring our highest quality neurobiology antibodies and CRISPR reagents to the bench. Thermo Fisher Scientific offers award-winning CRISPR tools, including the LentiArray CRISPR Libraries. These libraries provide up to four lentiviral CRISPR guide RNAs (gRNAs) targeting each gene represented in a given library, up to and including the whole human genome.
Custom LentiArray CRISPR library
We developed a custom LentiArray CRISPR library targeting a neurobiology relevant gene set to validate antibodies against these targets. These targets are important for basic and applied neurobiology research, and include disease-associated genes and drug targets, as well as neural markers. Simultaneously, we provide validation of the CRISPR libraries themselves using high throughput sequencing (Figure 1) and antibody- based verification (Figures 2 and 3).
We chose two cell models for each target based on target biology and expression. Many of the cell models converge around two commonly used neuronal cell lines, SHSY5Y (derived from a neuroblastoma patient and commonly used to study neuronal function) and U87MG (a glioma cell line). Following transduction and selection, the pool transductants were subjected to deep sequencing using the GeneStudio S5 Plus next-generation sequencing platform, in order to determine the editing efficiency of the gRNA used. Figure 1 shows the editing efficiency of the best gRNAs for 43 targets. 74% of the targets analyzed by sequencing has at least one gRNA with editing efficiency of 50% or better. From these pools we developed clonal homozygous KO cell lines for the specific neurobiological targets.
The clonal homozygous KO cell lines were then used to test the specificity of antibodies against these targets in western blotting and/or immunofluorescence to determine if a loss of signal is observed in the KO cell model. Figure 2 shows data from an antibody recognizing the amyloid beta precursor protein (APP). APP is a major component of the amyloid plaques that are characteristic in the brains of patients with Alzheimer's (AD), Lewy body dementia and other neurodegenerative diseases. APP is proteolytically processed into a secreted peptide and a membrane bound receptor that is concentrated in neuronal synapses. It has multiple roles in neuronal growth, signaling and maintaining homeostasis. The APP antibody (Product # PA5-17829) was tested in the western blotting application using U87MG-APP KO cell line. A strong band corresponding to the expected size of APP was picked up in wild type and Cas9 control U87MG cells but was not detected in KO cells. Figure 3 shows data from an antibody recognizing Tubulin Beta 3 (TUBB3) which is a great choice for immunofluorescence. TUBB3 is a neuronal specific member of the tubulin family and is routinely used to identify neuronal populations in brain sections. Its important role in neuronal development has also made it useful as a marker during iPSC differentiation into neurons. A U87MG-TUBB3 KO cell line has been used to test the TUBB3 antibody (Product # 53-4510-82). Compared to the wild type and Cas9 controls, there is no detectable signal from this antibody in the TUBB3 KO cell line. These data demonstrate that the antibodies tested are specific for the intended targets.
Using LentiArray CRISPR libraries
Using the tools described here, we demonstrate a workflow for KO generation using LentiArray CRISPR libraries and their validation using specific KO verified antibodies, which highlights the ease with which customers can generate KOs in many different cell models for applications of their choice.
Table 1 lists additional targets we have validated antibodies for by CRISPR KO- continue to watch this space as we add more targets to this list!
Figure 1 – Editing efficiency of custom neuro LentiArray CRISPR gRNA panel targeting 43 genes. Figure shows the % editing efficiency (Y axis) of the best guide RNA for each of the targets tested (X axis). Each LentiArray lentiviral CRISPR gRNA was transduced at a MOI of 5 on Cas9 expressing stable cell lines followed by puromycin treatment for selection of transductants (Note: optimal puromycin concentration was determined for each cell line by a kill curve), and then deep sequencing to determine the percentage of edited population.
Figure 2 – Testing of APP Antibody (Product # PA5-17829). Knockout of APP was achieved by CRISPR-Cas9 genome editing with LentiArray CRISPR gRNA (Product # A32042). Western blot analysis of beta amyloid was performed by loading 30 µg of U-87MG wild type (Lane 1), U-87MG Cas9 control (Lane 2), U-87MG – beta amyloid knockout (Lane 3) whole cell extracts. The blot was probed with Anti-beta amyloid Polyclonal Antibody (Product # PA5-17829, 1:1000 dilution) and Goat anti-Rabbit IgG (H+L), Superclonal™ Recombinant Secondary Antibody, HRP (Product # A27036, 1:4000 dilution), and imaged using the iBright FL1500. Loss of signal upon CRISPR mediated knockout (KO) confirms that the antibody is specific to beta amyloid protein.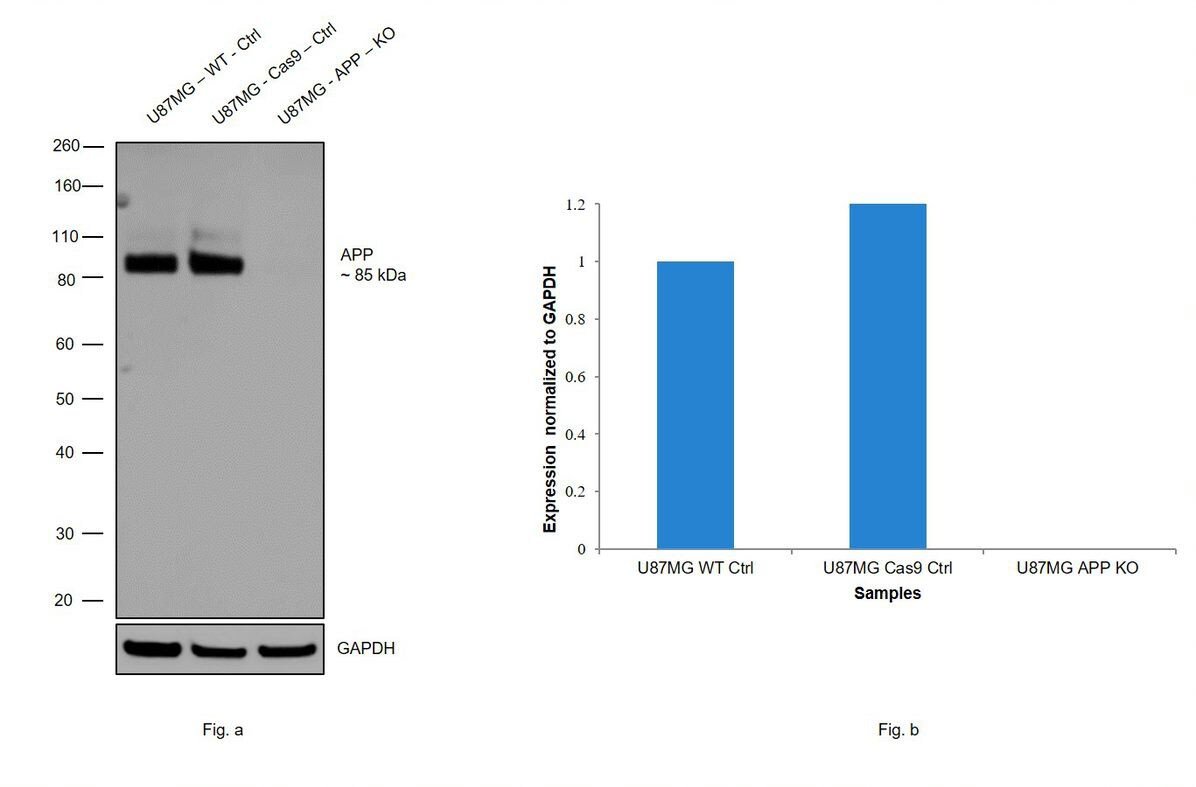 Figure 3 – Testing of TUBB3 Antibody (Product # 53-4510-82). Knockout of beta-3 Tubulin (TUBB3) was achieved by CRISPR-Cas9 genome editing by LentiArray CRISPR gRNA (Product # A32042). Immunofluorescence analysis was performed on wild type U-87 MG cells (panel a,d), U-87 MG Cas9 control cells (panels b,e) and U-87 MG beta-3 Tubulin KO cells (panel c,f). Cells were fixed, permeabilized, and labelled with beta-3 Tubulin Monoclonal Antibody, Alexa Fluor® 488 (Product # 53-4510-82​, 10 µg/mL). Nuclei (blue) were stained using ProLong™ Diamond Antifade Mountant with DAPI (Product # P36962), and Rhodamine Phalloidin (Product # R415, 1:300) was used for cytoskeletal F-actin (red) staining. Loss of signal (panel c,f) upon CRISPR mediated knockout (KO) confirms that antibody is specific to beta-3 Tubulin (green). The images were captured at 60X magnification.
Table 1- List of Targets to which KO validated antibodies have been added and the SKU #s for the antibodies
For Research Use Only. Not for use in diagnostic procedures.