Life is all about scarcity of time and resources, and when you need to get the most out of your archived samples, it seems that life imitates art in the lab. We've been seeing a trend in researchers turning to NGS to get the most out of their samples.  Let's take a look at how these three different templates work in concert.
NGS analysis of cfDNA
Cell-free DNA is readily available in whole blood. However, the majority of fragmented DNA from plasma derives from normal cells. Our target for research analysis is circulating tumor DNA (ctDNA). It represents a tiny fraction of cfDNA, and provides molecular information about the tumor cell profile primarily in the form of point mutations and copy number variations.
Research with ctDNA depends on managing the signal-to-noise ratio—finding mutations at low frequency increases the risk of false positives. It's a bit like tuning an orchestra before a performance. There's lots of noise but very little that sounds like music.
Hang on to that orchestra concept for a minute.
Isolating and enriching CTCs
Circulating tumor cells are rare—occurring at about 1 in every 109 cells. CTCs may be mobilized by shearing events, mesenchymal transition, or programmed release of metastatic stem cells, and provide access to understanding the heterogeneity of tumor cells. They contain useful biomarkers that reflect the tissue of origin, such as proteins, RNA and DNA templates.
CTCs can be selected and enriched. The challenge here is to isolate CTCs without missing cells or damaging those collected. Cell surface markers are commonly used to identify cells for isolation—choosing the right antibody or cell surface binding is critical to achieving a high CTC recovery rate.
And, there is a clear need to manage the number of background cells selected. CTC purity—the ratio of CTCs to captured white blood cells in the isolated cell population—drives the accuracy of downstream NGS analysis and is a limiting factor for some commercial technologies. Here too, think of an orchestra; too much brass and you lose the melody.
Using germline DNA to identify somatic mutations
NGS analysis from both ctDNA and CTCs increases sensitivity. Yet, the rarity of ctDNA and DNA from CTCs in blood and the heterogenous nature of tumor DNA necessitate case control sequencing. By sequencing normal healthy cells from the same sample, you're able to distinguish noise caused by any sequencing test, as well as changes that are not specific to the tumor DNA.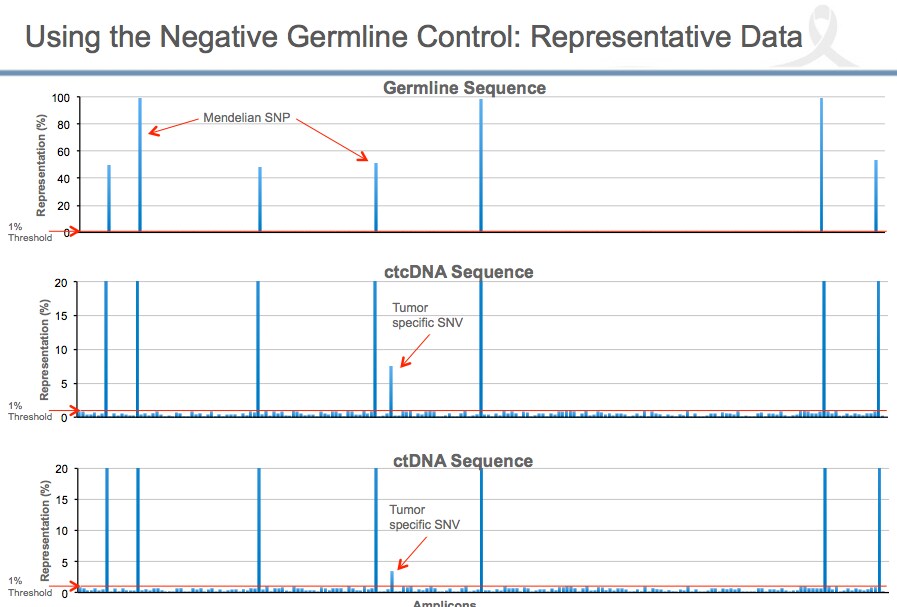 Figure 1. Identifying mutations in germline DNA, ctcDNA and cfDNA using the LiquidBiopsy™ workflow including Ion Torrent technology. Representative data shows single nucleotide polymorphisms (SNPs) across all three templates, along with a point mutation at varying frequency in the ctcDNA and cfDNA.

Figure 2. Subtracting germline SNPs using the LiquidBiopsy™ workflow. Removing the Mendelian SNPs using Ion Reporter™ Software results in a clear view of somatic mutations.
Tune your liquid biopsy research
Fine tuning your liquid biopsy research results doesn't have to be complex. Like orchestra sections, let the templates work together and you'll be humming along in no time.
Find out more about the LiquidBiopsy™ workflow at thermofisher.com/liquidbiopsy.
Upcoming liquid biopsy platform events/conferences in 2016
March Events:
Molecular Medicine Triconference
San Francisco, CA, USA 6th–11th March 2016
Venue: Moscone North Convention Center
Speaker: Michael J. Donovan, MD, PhD, Wed Mar 9, "Analyzing Liquid Biopsy Samples with Next-generation Sequencing in Clinical Research"
3rd Austrian Biomarker Symposium 2016 Early Diagnostics.
Vienna, Austria 10th–11th March 2016
March 10th, 10.30 AM – Session 1: Personalized Medicine and Early Diagnosis
Dr. Luca Quagliata's talk is titled, "Liquid Biopsy a new tool in the era of personalized medicine."
International Symposium Minimal Residual Cancer.
Hamburg, Germany 19th–21st March 2016
March 21st: Session "Companies with novel technologies"
Professor José Luis Costa will present his Liquid Biopsy research on lung samples
Arab Lab
Dubai, UAE 20th–23rd March 2016
Venue: Dubai World Trade Center
April Events:
Biopsia liquida: la firma dei tumori nei fluidi biologici
Milan, Italy 6th April 2016
Venue : Fondazione IRCCS Istituto Nazionale dei Tumori (INT), Aula A,
Exosomes and Liquid Biopsies Asia
Taipei, Taiwan 7th–8th April 2016
Speaker: Xingwang Fang, Senior Staff Scientist, Thermo Fisher Scientific, Talk title TBD
American Association for Cancer Research Annual Meeting
New Orleans, LA, USA 16th–20th April 2016
Venue: Ernest N. Morial Convention Center
Liquid Biopsy – A revolution in Cancer treatment
IPG, Gosselies, Belgium, 27 April 2016
Liquid Biopsy: Tracking Cancer
Rome, Italy 29th–30th April 2016
Venue: Aula A Patologia Generale- Policlinico Umberto I, Viale Regina Elena, 324
May–Dec Events:
The European Human Genetics Conference 2016
Barcelona, Spain 21st–24th May 2016
European Association for Cancer Research
Manchester, UK 9th–12th July 2016
World CDx
Boston, MA, USA 27th–29th September 2016
Speaker TBD.
Association for Molecular Pathology (AMP) Annual Meeting
Charlotte, NC, USA 10th–12th November 2016
Venue: Charlotte Convention Center
For Research Use Only. Not for use in diagnostic procedures.