Authors: Aparna Chandrasekaran, Sathya Raj S, Nancy Priya, Prachy Dixit
Why should we study CPC?
The accurate and timely orchestration of chromosomal, cytoskeletal events regulated by the chromosomal passenger complex leads to seamless cell division. The Chromosomal Passenger Complex (CPC) is a heterotetrameric complex consisting of an enzymatic component Aurora B along with three regulatory components INCENP (Inner centromere protein), Survivin and Borealin which are responsible for the activity and the localization of the Aurora B kinase. During cell division, the CPC localizes along the chromosome arms and at centromeres during prophase and is restricted to the inner centromere region from prometaphase to metaphase. During anaphase, it moves to the central spindle microtubules and finally accumulates in the mid-body region at telophase.
The CPC dynamically localizes to different subcellular locations to regulate key mitotic phases such as correction of kinetochore-microtubule attachment errors, activation of the mitotic spindle assembly checkpoint and assembly and maintenance of the outer kinetochore.
What is the CPC made of?
The N-terminus of INCENP forms a triple-helix bundle with the baculovirus IAP repeat (BIR) domain of Survivin and the C-terminus of Borealin and is responsible for the dynamic localization of CPC to the inner centromere, spindle midzone, and the midbody during cell division (1). This localization subunit is linked by the central region of INCENP toAurora B bound to the C-terminus of the highly conserved IN-BOX domain of INCENP responsible for the kinase activation.
Invitrogen offers specific antibodies against some of these key targets (Table 1). Aurora B, INCENP and Survivin antibodies (Figure 1A, C, D) have been validated by relative expression strategies where detection of differential subcellular localization of the target protein during different phases of mitosis demonstrates antibody specificity. (Learn more about antibody validation)
Aurora B, a member of the highly conserved Aurora family of Ser-Thr kinases along with Cyclin-dependent kinases (Cdks) and Polo-like kinases (Plks), which act as key regulators to direct distinct processes during cell division, with checkpoints that determine the overall progression. The kinase activity is regulated atmultiple levels, including targeting, localization, post-translational modification, and degradation (6). The binding and activation of the kinase by INCENP is akin to the action of cyclin. Aurora B over-expression in cells causes tumorigenesis and has been correlated to poor prognosis in a large number of cancers, including breast, ovarian, lung, nasopharyngeal, and hepatocellular carcinomas.
INCENP acts as the scaffold protein on which the CPC assembles and contributes to the spatial regulation of the complex. INCENP is in turn regulated by Aurora B and Cdk1. Recent studies (4) on the protein show that it contributes to ER-negative breast cancer susceptibility.
How is the CPC activated and regulated?
Low levels of kinase activity are initiated by the binding of Aurora B to the C-terminal IN-BOX motif of INCENP. Phosphorylation of a C-terminal TSS (threonine – serine –serine) motif on INCENP as well as Thr232 in the T-loop of the kinase domain by Aurora B, results in its full activation (1).
During prometaphase, Aurora B is phosphorylated at Ser311 by Chk1 kinase present in the kinetochores which, in turn, leads to activation of Plk1. The CPC accumulated at the inner centromeres along with Plk1 activated by phosphorylation by INCENP and Aurora B regulates microtubule binding at the kinetochore by destabilizing erroneous kinetochore-microtubule attachment. It also activates the mitotic spindle assembly checkpoint and promotes chromosome congression to the metaphase plate. During the metaphase-to-anaphase transition, the CPC relocates to the equatorial cortex where it promotes the assembly of the cleavage furrow, formation, and stabilization of the spindle midzone (2). The CPC is localized in the midbody during telophase and controls the timing of abscission that completes cytokinesis as shown in figures 1A, 1C and 1D.
Plk1 (Polo-like kinase 1) as seen in figure 1B is a cancer-relevant protein that is involved in cell division and cell death and whose expression is deregulated in cancer. Survivin, a substrate of Plk1, also localizes during anaphase and telophase of cell division shown in figures 1 B and 1 C. Phosphorylation of Survivin at Ser20 by Plk1 is required to correct misaligned chromosomes and for the safe passage into anaphase (5). The Ser20 phosphorylation, although critical for cell proliferation, does not affect the ability of Survivin to inhibit apoptosis. Inhibition of Plk1 leads to the generation of monopolar spindles, polyploidy and ultimately increases apoptosis.
How is CPC linked to cancer?
Loss of CPC function results in lagging chromosomes, segregation errors and cytokinesis failures. This promotes genomic instability, which contributes to oncogenesis by altering the balance of critical growth and death pathways, along with the overall expression of oncogenes and tumor suppressors (3). Aurora B and Plk1 are overexpressed in several human cancers and have been linked with a poor prognosis for cancer patients. Aurora B and Plk1 thus become good anti-cancer drug targets (7,8).
Inhibitors of both Aurora and Polo-like kinases are currently being evaluated as a new generation of antimitotic agents that can act as chemotherapeutics due to their involvement in different events during cell division. Novel therapeutic strategies might involve combining genotoxic drugs with inhibitors for PLK1 or aurora kinase which could enhance their cytotoxic effects, and act as effective anti-cancer drugs (9).
Additional Antibody Blogs
Let's get 'specific' about the TNFR pathway!
DIY Neurons for antibody validation
Translate to Invitrogen antibodies for your ribosomal protein research!
Figure 1
Immunofluorescence analysis of Aurora B (Figure 1 A), Survivin (Figure 1 B), Plk1 (Figure 1 C) and INCENP (Figure 1 D) was performed using 70% confluent log phase HeLa cells. The cells were labeled with Aurora B Antibody (Product # MA5-27890) in panel A; Survivin Recombinant Rabbit Monoclonal Antibody (Product # 700387) in panel B; PLK1 Monoclonal Antibody (Product # MA1-848) in panel C and INCENP Monoclonal Antibody (Product # 39-2800) in panel D. The panels show progression of cells through subsequent phases of the cell cycle. The images were captured at 60X magnification.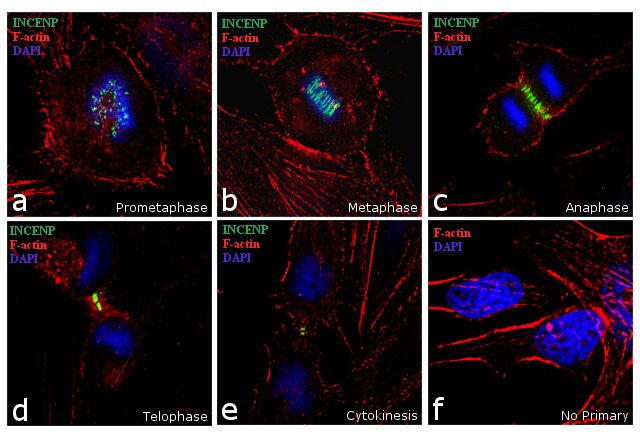 References:
Carmena, Mar, et al. "The chromosomal passenger complex (CPC): from easy rider to the godfather of mitosis." Nature reviews Molecular cell biology 13.12 (2012): 789.
Kitagawa, Mayumi, and Sang Hyun Lee. "The chromosomal passenger complex (CPC) as a key orchestrator of orderly mitotic exit and cytokinesis." Frontiers in cell and developmental biology 3 (2015): 14.
D'Avino, Pier Paolo, and Luisa Capalbo. "New auroras on the roles of the chromosomal passenger complex in cytokinesis: implications for cancer therapies." Frontiers in oncology 5 (2015): 221.
Kabisch, Maria, et al. "Inherited variants in the inner centromere protein (INCENP) gene of the chromosomal passenger complex contribute to the susceptibility of ER-negative breast cancer." Carcinogenesis 36.2 (2015): 256-271.
Colnaghi, Rita, and Sally P. Wheatley. "Liaisons between survivin and Plk1 during cell division and cell death." Journal of Biological Chemistry 285.29 (2010): 22592-22604.
Carmena, Mar. "Abscission checkpoint control: stuck in the middle with Aurora B." Open biology 2.7 (2012): 120095.
Chieffi, Paolo. "Aurora B: A new promising therapeutic target in cancer." Intractable & rare diseases research vol. 7,2 (2018): 141-144.
Sung Baek Jeong, Ji Hye Im, Jeong-Hoon Yoon, Quyen Thu Bui, Sung Chul Lim, Joon Myong Song, Yumi Shim, Jieun Yun, Janghee Hong and Keon Wook Kang. "Essential Role of Polo-like Kinase 1 (Plk1) Oncogene in Tumor Growth and Metastasis of Tamoxifen-Resistant Breast Cancer." Mol Cancer Ther. 2018 Apr;17(4):825-837.
Lens, Susanne MA, Emile E. Voest, and René H. Medema. "Shared and separate functions of polo-like kinases and aurora kinases in cancer." Nature Reviews Cancer 10.12 (2010): 825.