Thermo Fisher Scientific and Illumina Sign Agreement to Provide Research Community Broader Access to Ion AmpliSeq Technology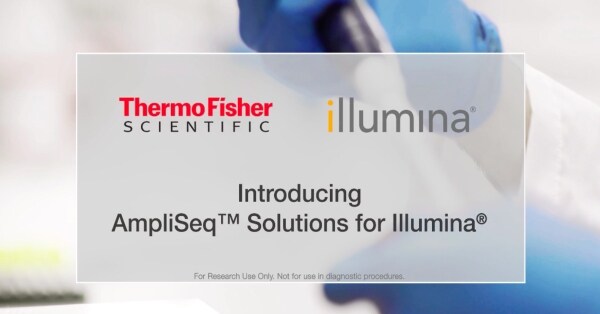 We are excited to announce a partnership that enables Illumina to sell Ion AmpliSeq panels for use on Illumina platforms. This agreement will enable more researchers to benefit from Ion AmpliSeq technology, and its ability to deliver meaningful insights even from difficult sample types.
Under the agreement, Illumina will be able to sell and support the AmpliSeq technology adapted to their platforms, for research use only (RUO) studies. For our valued Ion Torrent customers, we want to assure you that this agreement does not change the way we do business with you, but it may make it easier for you to collaborate across NGS platforms in the future.
"We expect standardization on the AmpliSeq technology will have a profound impact on disease research and encourage greater collaboration among the community," said Joydeep Goswami, president of Clinical Next-Generation Sequencing and Oncology for Thermo Fisher Scientific. "Through this agreement, more research customers can now leverage AmpliSeq technology's benefits, while we continue our commitment to Ion Torrent targeted sequencing solutions for the research market and accelerate our focus and forward momentum in the clinical space."
While demand for Ion AmpliSeq technology has been high from Illumina customers, access had been historically limited. We anticipate this partnership to have a significantly positive impact to the NGS community by enabling researchers to conduct their experiments, and then more easily compare, share, and collaborate their results, findings and insights across geographies and platforms.
Watch the video to learn more about the announcement.
Introduced to the market in 2011, Ion AmpliSeq technology was developed to facilitate amplicon sequencing on the Ion Torrent NGS systems. The technology leverages highly multiplexed polymerase chain reaction (PCR) to quickly and easily capture DNA or RNA targets from very limited samples. It has since proven to be a highly desired and effective NGS amplicon sequencing solution for its ease-of-use, scalability, efficient workflow and ability to provide trusted data in multiple NGS research application areas. To date, more than 1,100 Ion AmpliSeq technology studies have been published in peer-reviewed scientific journals.  Read our blog post, Complete guide to Ion AmpliSeq Technology to learn more about the technology and its applications.   Watch this Seq-it-Out video to find out how Ion AmpliSeq technology works.
For Research Use Only. Not for use in diagnostic procedures.