The research benefits of liquid biopsy are well known and have been in practice for some time. While the impact of liquid biopsy research in potentially treating cancer patients is well established, we are now at the threshold of making the transition into routine clinical practice. Join us on February 19th from 4 – 5 PM at the Precision LBx Conference in San Diego, CA. We have assembled a distinguished panel that will discuss how liquid biopsy assays are moving from the research environment into routine clinical practice.
Meet our panelists:
Dr. Madhu Ghosh (Moderator) – Senior Director, Strategic Alliances, Thermo Fisher Scientific
Dr. Raja Luthra (Panelist) – Director, Molecular Diagnostics Lab, MD Anderson Cancer Center
Dr. Gina Waller (Panelist) – Senior Vice President, Clinical Division, NeoGenomics
Dr. Luca Quagliata (Panelist) – Senior Director, Medical Affairs, Thermo Fisher Scientific
Dr. Raja Luthra will share her perspective as the Director of the Molecular Diagnostics Lab at MD Anderson Cancer Center, a leading institute in demonstrating the clinical application of liquid biopsy assays in treating cancer patients. Dr. Luca Quagliata will share his perspective as the Global Director of Medical Affairs for Thermo Fisher Scientific and also provide insights gleaned from his recent work at the University of Basel. Dr. Gina Walker will describe progress in the clinical application of liquid biopsy based on the use, to date, of NeoGenomics liquid biopsy assays. Dr. Madhu Ghosh, Senior Director of Strategic Alliances at Thermo Fisher Scientific, will provide an overview of partnerships across the world that are enabling the adoption of liquid biopsies into clinical care – highlighting key partners in the US, Europe, and Singapore.
Our discussion will start with the benefits to the patient. In research settings, some of the most exciting and compelling areas relate to the potential of liquid biopsy assays to change the clinical experience for patients – both in terms of the discomfort associated with traditional biopsy, and the costs associated with traditional diagnostic imaging screening protocols. Can implementation of liquid biopsy assays replace some of these traditional protocols and enhance the patient experience?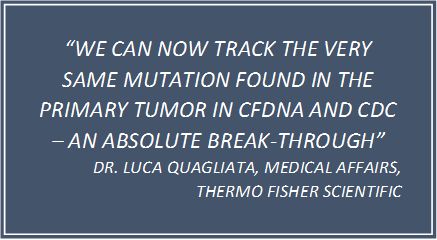 Our panelists will discuss the possibilities in clinical treatment that liquid biopsy assays provide in terms of the overall diagnostic and treatment potential to improve outcomes. We will share the promises and challenges of earlier detection, improved tumor and cancer progression monitoring, and improved timeliness of tumor responsiveness to treatment options, including earlier signs of resistance.
Our panelists will discuss the practical challenges of adoption into more routine clinical practice including reimbursement and education of the community. Each panelist has insights in this area from first-hand experience; some have experience working with several institutions. Advice on ways to overcome challenges and anticipate solutions in the clinical, research, and administrative environment will be covered.
Our panelists will compare interests in liquid biopsy between pharmaceutical companies and clinical practice. They will also discuss the role liquid biopsy plays in profiling solid tumors.
Please join us for the very latest thinking, practical advice, and forward-looking guidance from leaders and experienced practitioners in the field of liquid biopsy. This discussion will be of interest to anyone who is looking to bring liquid biopsy assays into clinical practice as well as anyone who is interested in the current state and future opportunities in liquid biopsy. Our panelists will share their own experience in navigating the very same challenges that others face in the clinical adoption of liquid biopsy assays as an important development in how we potentially treat cancer patients.
Thermo Fisher Scientific believes in the importance of bringing together experts that are working through the kinds of challenges and opportunities that clinicians and clinical scientists face as they embark on integrating liquid biopsy into their own clinical practice. We have fostered an environment where candid professional discussions may help elevate new technology and solutions and potentially impact patient lives. We are excited about the opportunity to bring this panel of thought leaders to share the latest in making liquid biopsy a practical and routine tool to improve the treatment of cancer and the lives of patients. Please join us and be part of the discussion! If you are unable to join, please stay tuned for a debrief after the event.