Did you know that the average American household is home for over a 100 different species of insects and other "arthropods"?1 Now, what if these house guests could actually be more than just pests? Okay…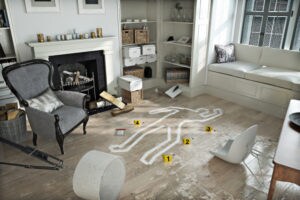 Imagine a scene where a body is lying in the middle of the living room. All you can see is maybe a broken vase here and perhaps scattered papers on the table there, but at a crime scene inside a house, blood, urine, feces, semen, hair, saliva, skin, etc… may spread to the ground depending on whether there was a murder, injury, rape or fight, as well as from mundane day-to-day activities2. Household insects can feed on these pieces of potential evidence that may not be visible to the naked eye2. These insects may hence be considered as potential carriers that may hold a piece of evidence that could help solve even the toughest of cases. Something like this sounds right out of a Sherlock Holmes novel, but technological advances are allowing us to look at everything with a magnifying glass (pun intended).
Hunt for Human STR Profiles – Maggot Stomach to Insight
Insects found at crime scenes may actually be important in criminal cases. Forensic scientists are able to extract and analyze human DNA from the gastrointestinal tracts of various insects. For instance, insects found on cadavers can actually help determine post mortem interval (PMI)2. Short tandem repeat (STR) profiles as well as analysis of mitochondrial genes from human DNA collected from insects, can provide crucial evidence and help the investigation2,3. These STR profiles can be compared to references in database to help find a match3.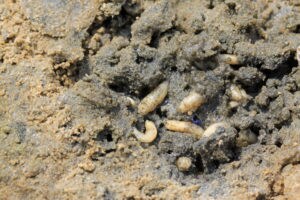 Maggot crop analysis, by STR typing or evaluation of Hypervariable region (HVR) within the mitochondrial d-loop sequence, can be used in criminal investigations when maggots are found at the crime scene, but the corpse is missing3. Several studies highlight the use of insects to determine Postmortem interval (PMI) and identify the body3. Using insects to determine PMI is in fact considered more accurate than that done by a pathologist or a medical examiner, especially if time of death has been more than 72 hours3. Studies have successfully generated human mitochondrial DNA (mtDNA) profile from maggots in a laboratory setting3. Njau et al (2016) for the first time demonstrated that STR analysis can be performed on degraded human tissue from maggots that have fed on decomposing bodies3. They used the Applied Biosystems™ Quantifiler™ Human DNA Quantification Kit and the Applied Biosystems™ 7500 Real-Time PCR instrument for quantitation3. For STR analysis they used the Applied Biosystems™ Identifiler™ Plus for amplification and the Genemapper™ ID-3.2 software for analysis3. They were not only able to extract human DNA from maggots, but were also able to generate STR profiles, which can be compared to reference STR profiles and help in identification of the body3. Their study shows that maggots collected within 2-4 days contributed to the identification of a body along with several other variables that were considered3.
Blood-sucking pests – Flying pieces of crucial evidence.
Mosquitoes are at times called the vampires of the insect world, best known for their blood-sucking nature, also referred to as hematophagous, and acting as vectors for various diseases like Zika, Yellow Fever, Dengue, etc4. A hematophagous mosquito found at a crime scene with a belly full of blood, could hold a very important piece of evidence4. Rabelo et al (2015) conducted a study, where they collected hematophagous mosquitos from two homes, to see if they could collect intact genetic profiles of suspects in the blood found in the gastrointestinal tracts of these collected mosquitoes4. They used the Applied Biosystems™ Quantifiler™ Duo DNA Quantification kit to quantify extracted DNA, amplified the DNA with the AmpFLSTR™ Identifiler™ PCR Amplification Kit and then analyzed on the Applied Biosystems™ 3500 Genetic Analyzer4. Their data shows that human blood found in hematophagous mosquitoes found at crime scenes, may be able to provide genetic profiles that could be used to include or exclude potential perpetrators.
A Case of Neglect – Getting help from Lice and Mites
According to the National Center on Elder Abuse, in the United States in 2015, neglect accounted for over 58.5% of all reported elder abuse cases5. If an elderly individual dies due to neglect, this can turn into a criminal case. But how exactly can you help confirm if the death was due to neglect or not? Pilli et al (2016) explored the case of an elderly woman who died from unknown causes6. Several lice were found on the woman and where she lived, this was suspected to be a result of neglect6. Scientists wanted to confirm the victim's state of neglect prior to death6. To do that, they extracted human nuclear DNA from the gastrointestinal tracts of the lice6. Since DNA was present in low amounts and was seemingly difficult to quantify with traditional kits, they were able to successfully quantify DNA using the Quantifiler Duo DNA quantification kit and the Applied Biosystems™ Quantifiler™ Trio DNA quantification kit6. After quantification, they performed a STR typing test, which gave no results. The team decided to use Next-generation sequencing technology (NGS) since classical STR methodology gave no results6. They used the Applied Biosystems™ Precision ID Identity Panel and the Ion PGM™ System for NGS analysis. For data analysis, they used the HID SNP Genotyper. Using NGS and Ion AmpliSeq™ technology, the team was successfully able to obtain a SNP profile of human nuclear DNA, from the gastrointestinal tracts of lice (Pediculus humanus capitis)6. Their results showcase the utility and sensitivity of these technologies as a way to extract and analyze human DNA from lice found in crime scenes.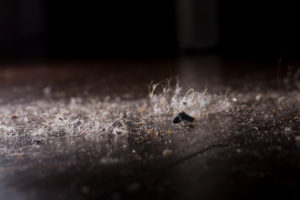 House dust mites are commonly found in many households. Since dust mites feed on flakes of human skin, Çakan et al (2015) explored if human DNA can be extracted from dust mites7. They collected dust mites from 27 households and blood from 40 individuals that were living in these households7. DNA was isolated from both samples, then amplified using the AmpFℓSTR™ MiniFiler™ PCR Amplification Kit and the fragments were analyzed using the Applied Biosystems™ 310 Genetic Analyzer7. They were able to generate human STR profiles from dust mites and compare them to collected samples7. Their study shows that human DNA can be collected from dust mites and may prove useful in generating DNA profiles and comparing them to victims and suspects.
Species Identification – Accurately Telling one From the Other?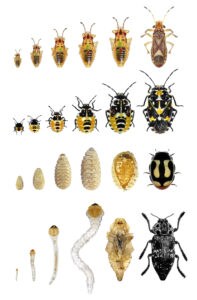 Species identification is the first and a crucial step when insects found at a crime scene may be an important piece of evidence in a forensic case8. Correct identification may be difficult when traditional morphology-based approaches are used, because most of the species are morphologically similar and difficult to distinguish8. The COI (Cytochrome C Oxidase Subunit I) mitochondrial DNA (mtDNA) sequences are often used in species identification, when traditional morphology-based approaches cannot help distinguish species8. A study by Aly (2014) explores the ability of the mtCOI gene to distinguish between closely related species8. They extract mtDNA from fifty adult blowflies belonging to 18 species, they then amplify the mtCOI gene and analyze sequences using the Applied Biosystems™ 3730 Genetic Analyzer8. Their results show that although both the short (272bp) and the long fragment (1173bp) of the mtCOI gene show overlap of the inter and intraspecific variations, the long fragment showed more completeness and outperformed the short fragment, when it came to species identification8. Such studies sheds light on how forensic scientists may be able to use molecular techniques to help in accurate species identification when insects are analyzed in forensic cases.
From species identification and human STR profiles to PMI determination, various insects that we once considered pests, could hold the pieces of information that may help solve even the most complicated cases. These studies highlight the utility and sensitivity of various technologies and showcase the ability to extract human DNA from a variety of insect species. Although this still sounds farfetched and something out of a TV show, this is truly how some cases are being solved, helping separate fact from assumption and suspect from criminal.
References:

1] Bertone MA, Leong M, Bayless KM, Malow TL, Dunn RR, Trautwein MD: Arthropods of the great indoors: characterizing diversity inside urban and suburban homes. PeerJ 2016, 4:e1582.
2] Singh R, Sharma S, Sharma A: Determination of post-burial interval using entomology: A review. Journal of forensic and legal medicine 2016, 42:37-40
3] Njau DG, Muge EK, Kinyanjui PW, Omwandho COA, Mukwana S: STR analysis of human DNA from maggots fed on decomposing bodies: Assessment of the time period for successful analysis. Egyptian Journal of Forensic Sciences 2016, 6(3):261-269
4] Rabelo KC, Albuquerque CM, Tavares VB, Santos SM, Souza CA, Oliveira TC, Oliveira NC, Crovella S: Trace samples of human blood in mosquitoes as a forensic investigation tool. Genet Mol Res 2015, 14(4):14847-14856.
5] Harden S: Elderly Abuse Statistics. Statistic Brain. Statistic Brain Research Institute, 04 Jan. 2016
6] Pilli E, Agostino A, Vergani D, Salata E, Ciuna I, Berti A, Caramelli D, Lambiase S: Human identification by lice: A Next Generation Sequencing challenge. Forensic Sci Int 2016, 266:e71-78.
7] Çakan H, Güven K, Çevik FE, Demirci M, Kocazeybek BS: Investigation of Human DNA Profiles in House Dust Mites: Implications in Forensic Acarology. Romanian Journal of Legal Medicine 2015, 23: 187-192
8] Aly SM: Reliability of long vs short COI markers in identification of forensically important flies. Croat Med J 2014, 55(1):19-26.
For Research, Forensic or Paternity Use Only. Not for use in diagnostic procedures.