At 4-months old, Madison Pagel was diagnosed with choroid plexus carcinoma (CPC), a rare and aggressive pediatric brain cancer that had spread down her spine and into her spinal fluid. She had surgery to remove the primary tumor, followed by 12 rounds of chemotherapy, which put the cancer into remission. But nine months later, the tumors had returned and spread.
This time her cancer, which currently has a poor prognosis and no established cure in cases of relapse, was resistant to three different chemotherapy protocols. Doctors at Spectrum Health's Helen DeVos Children's Hospital in Grand Rapids, Michigan, told Madison's mother, Tracy, to put her in hospice care.
"I told them no way. I wasn't taking her home at 3 years old to say goodbye," Tracy recalled. "They had to find an alternative."
Fortunately, Helen DeVos Children's Hospital is the headquarters for Beat Childhood Cancer, an international consortium of 40-plus research centers and children's hospitals collaborating on cancer clinical trials and research. Doctors presented Tracy with the option of a clinical trial for a molecular guided therapy, which involved genetic analysis of Madison's tumor to identify mutations and drugs that could effectively target them. It was a long shot, but Madison's parents opted to take a chance.
Four years later, thanks to a medical team equipped with leading next-generation sequencing (NGS) and microarray technology, Madison's only remaining sign of cancer is a tiny mass that appears inactive. Now 7, Madison goes to school, enjoys dressing up like a princess and plays on the swings with her younger brother and sister.
Researchers believe Madison's is the first CPC case in which a molecularly targeted therapy has successfully overcome the cancer for a sustained period. Madison's story "highlights the importance of incorporating molecular guided therapy in treatment options for such cases," the researchers wrote for an article published in Frontiers of Pharmacology.
Tracy Pagel is comforted knowing that her daughter's cancer treatment may serve as a guide in other pediatric cancer cases. "Honestly, I think that is Madison's purpose," she said.
Life Changed Overnight
Madison seemed like a normal, healthy baby until the day after her four-month doctor's visit in January 2011. She was sick, vomiting all day. In the evening, when she appeared to have a seizure, her parents rushed her to the hospital. A CT scan revealed a golf ball-sized mass in Madison's brain.
"The doctors said they would do everything they could for her," Tracy recalled.
The initial rounds of chemotherapy lasted through Madison's first birthday and required numerous hospital admissions. But a follow-up MRI revealed the cancer had returned months later.
"When your child is diagnosed with cancer, you're always going to have the worry in the back of your mind that it could come back," Tracy said.
When the next round of chemotherapy didn't work, doctors discussed the option of a clinical trial. They explained that the trial was early stage research and in no way a promise of a cure. It might buy Madison more time, they said.
Tracy's one stipulation was for oral medications that Madison could take at home. If her time was limited, Tracy didn't want it spent in a hospital.
Precision Medicine: Identifying the Right Therapy
To prescribe the most effective therapy, the doctors had to first learn which genetic mutations were driving Madison's brain tumor. For that, they biopsied a sample of the tumor and ran a number of tests, including next-generation sequencing (NGS) using Thermo Fisher Scientific's targeted NGS platform. The DNA in her blood was also sequenced and the two results were compared to find the mutations specific to Madison's cancer.
The analysis revealed a mutation of the TP53 gene, which is supposed to stop tumor growth when functioning normally. CPC cases with this mutation have a much poorer prognosis. The tests also revealed a novel IDH2 mutation, which further complicated treatment options, but was especially helpful to quickly guide doctors toward another path during the clinical trial since neither of these mutations were tangible targets for a therapy, according to researchers.
Pediatric cancer most often occurs when immature cells are multiplying and dividing rapidly and mistakes happen during that process, which is why the disease often occurs in the nervous system or in bone tissue as children are growing, said Giselle Sholler, M.D., who was the lead researcher on Madison's case. As a result only 10 to 15 percent of pediatric cancers have targetable DNA mutations, as opposed to up to 75 percent in adults, whose tumors are due to mutations resulting from age or environmental toxins.
Fortunately, researchers had another path to explore for Madison. RNA sequencing analysis helped identify alternative genetic pathways that could have been playing a role in driving the disease. This proved to be crucial to finding the right drugs to target the cancer, Dr. Sholler said.
The RNA analysis enabled researchers to select four therapies that were used to counter the downstream effects of the genetic mutations at the proteomic level. The novel combination of FDA-approved drugs chosen for Madison by a Molecular Tumor Board comprised of clinicians, pharmacologists, bioinfomaticians and researchers targeted multiple pathways that were driving the tumor. By using several medications simultaneously, the clinicians aimed to overcome the cancer's ability to become drug resistant.
The medications also had minimal side effects, which was consistent with Tracy's wishes and fulfilled a goal of the clinical trial to aim for less toxic therapies, Dr. Sholler said. And contrary to what is commonly thought about targeted therapies, the cost of the molecularly guided drug protocol used in Madison's case was significantly less expensive than all but one of the chemotherapy combinations. There were also additional savings by reducing the number of hospital admissions, Dr. Sholler added.
"As far as I know, there aren't other clinical trials incorporating RNA [sequencing] in making treatment decisions at this point," Dr. Sholler said. "This is one such case and we have a few others in the pipeline. It's been really an amazing thing to see kids go from on-hospice to off-hospice, and that really speaks to the power of sequencing and precision medicine," she said.
Ground-breaking Success
In the three years Madison underwent treatment, she had no serious side effects. The cancer in her spine and spinal fluid cleared two months after she began oral medication, and an MRI taken when she completed treatment showed a 92 percent reduction of the primary tumor in her brain.
The positive results in Madison's case have led Helen DeVos Children's Hospital, with approval by the FDA, to now incorporate DNA and RNA sequencing as part of the care on all children diagnosed with neuroblastoma, the most common extracranial solid tumor in children, Dr. Sholler said.
"It's really just about getting more information about the child's tumor and making a more informed decision on why to recommend one treatment over another," she said. "So, while a patient is getting their first cycle of chemotherapy, we sequence their tumor and blood to identify one pre-approved targeted therapy to add on to standard of care chemotherapy to help get more kids into remission."
Madison has been off the medications for about 16 months. There has been no change in the two-millimeter growth that remains in her brain. She has some nerve damage, hair loss and occasional headaches, but otherwise she is a normal 7-year-old, her mother said.
"Madison's doctor was telling me last week that if she wasn't such a strong-willed child she probably wouldn't be here today," Tracy said. But the mother recognizes many people contributed a great depth of intelligence, ingenuity and perseverance to achieve this happy outcome and believes many more are ahead.
"All of the doctors, the researchers … the people responsible for the testing and technology, they are doing an amazing job by helping to find medications for children battling cancer. They are doing … a miracle job. Madison, I believe, is our miracle."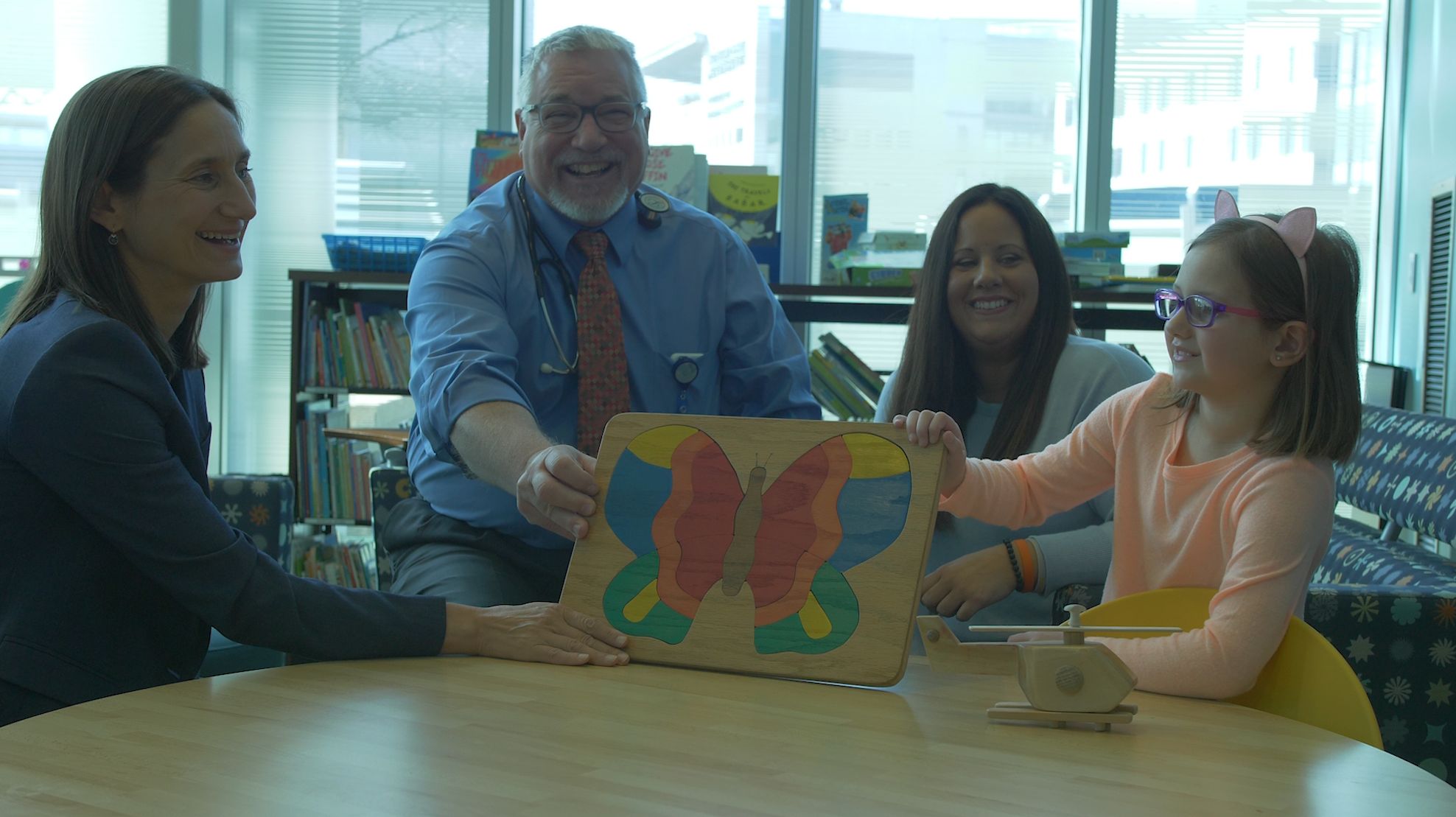 Watch Maddie's incredible precision medicine story here.