Ion World Tour Berlin Presentation: "Highly sensitive amplicon-based transcript quantification by Ion Proton Sequencing", by Prof. Uli Certa, Roche Pharmaceuticals, Basel Switzerland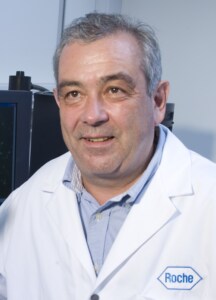 Dr. Certa's group is interested in pathway analysis during induced pluripotent stem cell differentiation. They use cardiomyocytes as a model, investigating what pathways are activated or deactivated upon drug candidate or compound administration. "In their compound testing process, slight changes in formulation may or may not affect toxicity and other important properties, and use gene expression as part of their development processes.
He showed data where many stem cell-specific genes (what he termed "Yamanaka Factors" after Dr. Shinya Yamanaka who won the 2012 Nobel Prize) expressed themselves in a time-dependent manner, illustrating how well-characterized their cardiomyocyte model is. Using Ion AmpliSeq™ RNA to quantitate 917 genes, their recent publication demonstrated improved sensitivity compared to whole-genome microarrays, and was performed on the Ion Proton™ System.  They also compared these results against whole-transcriptome RNA sequencing, and showed an overall correlation coefficient of r=0.87.
Their group generated a "pathway fingerprint" which they term "molecular phenotyping", where a total of 152 signalling pathways were identified, and from careful analyses of whole-genome expression data they've determined 917 'response genres'. Each genre is a modularized signalling cascade from across cell types, and has been developed across organisms including human, mouse, Cynomolgus monkey and the Göttingen minipig (both important to pharmaceutical research organizations). This work, to be published soon (Zhang JD and Certa U et al.), and they anticipate an in silicodatabase will be made available.
Dr. Certa showed data from 50 low-expressing genes that were not picked up on the whole-genome microarray, that were detected via their custom Ion AmpliSeq RNA panel. He also showed very good correlation for the moderate- and high-expressing genes. In validation of their experimental model, they used Principal Component Analysis on genome-wide data and clustered 96 pathway genres; these were identical to the 96 pathway genres identified from the 917-gene Ion AmpliSeq RNA subset. Other data were presented with an example of hepatotoxicity shown.
Lastly Dr. Certa shared his enthusiasm for the Ion Proton System, both in terms of its throughput and ease of analysis: he can run 100 samples on a single Ion PI™ Chip run to interrogate 1000 genes, and after the run finishes 'within 30 minutes' obtain a spreadsheet with his pathway genres of interest.