Forensic DNA laboratories are in a unique position. As science, by its very nature, continues to progress and advance, laboratories are constantly presented with new technologies that promise to do more with their evidence samples. Increased sensitivity, more genetic information, faster sample processing, and more accurate data are all possibilities. But the number one focus of forensic DNA laboratories is keeping up with day-to-day caseloads. So, how do you evaluate and bring on new technology without slowing down those day-to-day operations? How do you change a tire while driving 60 miles per hour down the highway? Forensic laboratories don't have the luxury of slowing down while they validate new chemistries, instruments, or processes. More and more,
forensic laboratories are looking for outside resources to help bring new technologies online.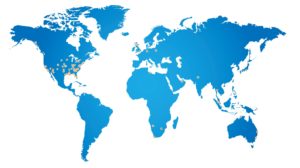 Thermo Fisher Scientific recognized this need over 10 years ago, and created the first of its kind, Human Identification Professional Services (HPS) team.
Since its inception, HPS has grown from a team of two based in Foster City, CA into a global team of 18. This team is comprised of validation specialists, all with forensic DNA experience, who now perform validations all over the world. The HPS team knows what it takes to implement new technology in a forensic laboratory. The validation packages HPS have developed are typically customized from the following framework:
Benchwork execution: validation specialists come to you and perform the experimental lab work in your own laboratory, with your equipment.
Data analysis: comprehensive analysis of the data generated during your validation is performed to help make sure you get the most out of the data generated.
Report writing: experienced forensic professionals write and technically review scientific reports that explain and summarize the trends and conclusions from your validation data.
Teach back: in-depth training is provided to you and your analysts, right in your laboratory so that you're ready to go with the new technology

Validating new chemistry and instruments is just one type of service that HPS can provide. Verification and validation services are available for robot implementations, complete with LIMS integration. Training and support are available for audits and SOP development. Total turn-key solutions are available – the HPS team has helped develop laboratories in emerging markets from the ground up, from architectural designs to workflow solutions.
HPS works continually to improve and individualize services in partnership with laboratories. Amy Liberty, Senior Manager of HPS North America, reflects on meeting customer needs. "We know that each customer has different needs, and that those needs change over time, so we are constantly improving, refining, and redefining our services. Whether big or small, we know that for each customer, their project is the top priority."
As 2017 approaches, and Thermo Fisher Scientific's HPS team heads into its 10th year, be on the lookout for more validation service evolution. In 2017, Amy says the HPS team will be rolling out more applications based validations and efficiency workflow solutions. "We are excited to be able to offer more than just chemistry or instrument validation heading into 2017. We are expanding our validation portfolio by developing services to support probabilistic genotyping statistical analysis of complex mixtures and Y-screen workflow solutions for sexual assault kit processing. We will also continue to leverage the unique in-house knowledge of our robotics implementation team to help laboratories increase their efficiency."
Another arena where you will see the HPS team in 2017 is in helping laboratories implement Next-generation sequencing (NGS). Amy anticipates that forensic laboratories will look to partner with the HPS team when they are prepared to validate NGS systems, and the HPS team will be ready. Amy says, "The HPS team has an insider's look at the technology as it applies to forensic laboratories. We have already worked extensively with the Ion Chef™ and Ion S5™ Systems for NGS. As a validation team, we approach new technology as forensic case working scientists, discussing the advantages and limitations of the system from a forensic perspective. This is an incredibly unique opportunity."
For 10 years now, Thermo Fisher Scientific's HPS team has helped customers like you successfully navigate the validation process required to bring new technologies into operation. Labs have partnered with HPS time and again – over 35% of customers have used HPS services more than once. Once they realize the ease and simplicity of working with the HPS team, changing that tire at 60 miles per hour doesn't seem so impossible after all.
Unless stated otherwise on the individual product labeling, all products referenced are For Research, Forensic or Paternity Use Only. Not for use in diagnostic procedures.