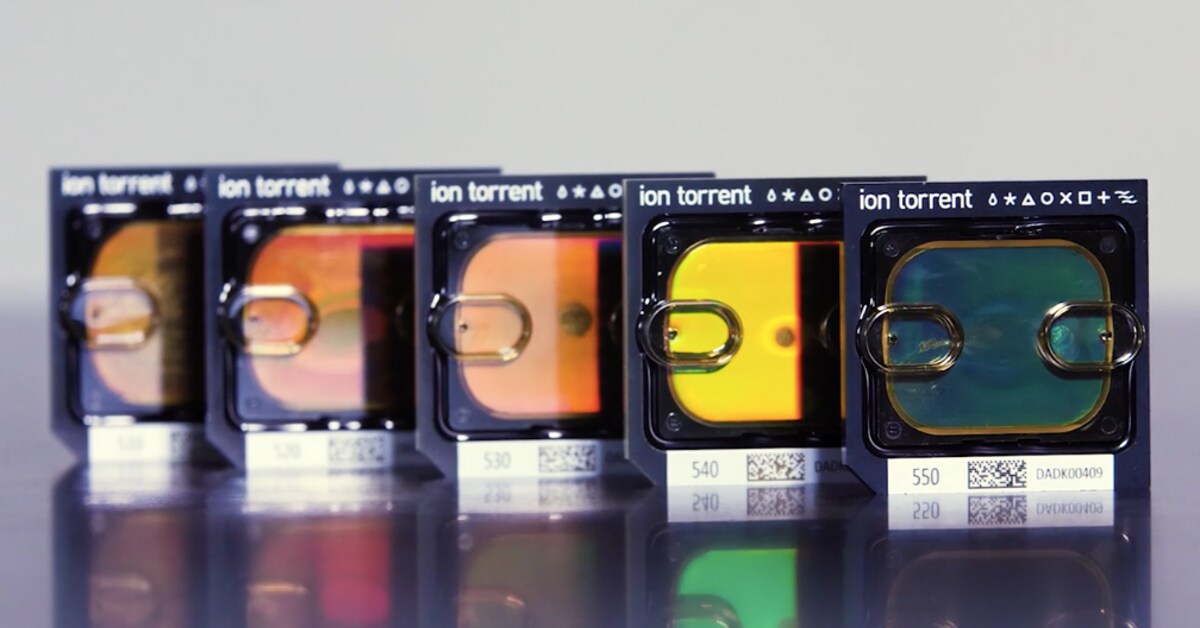 As the manager of the molecular genetic laboratory in the department of clinical genetics at Rigshospitalet in Copenhagen, Denmark, Morten Dunoe and his colleagues are responsible for the analyses of myriad sequencing projects. In fact, they perform analysis of more than 200 genetic disorders, with a consistent focus on performance and quality. So when he was asked to test-drive a cutting-edge sequencing system during an early access program, Dunoe's answer was an enthusiastic "yes." And when this system, part of the new Ion GeneStudio S5 Series systems lineup, was announced on January 8, 2018, he was excited that its flexible workflow would finally be available to a broader community of researchers.
"Customers come to me for speed and flexibility for different gene panels, tailored to disease areas of interest," he said. "This is the most elegant workflow on the market today, and I can now offer a range of applications and deliver the data in the fastest turnaround time in the market, at costs that are competitive."
How can Dunoe make those claims?
Well, the Ion GeneStudio S5 systems offer outputs ranging from 2 million to 260 million reads per day, with read lengths up to 600 bp, enabling researchers to run a broad range of applications on a single next-generation sequencing (NGS) platform, all with the simplest sample-to-data workflow and superior speed. Scalability and application flexibility are supported by five chip formats, including the new Ion 550 Chip (Figure 1).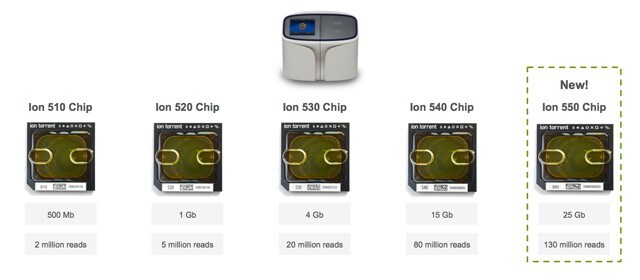 Figure 1: Five Ion Torrent chips achieve 2 M–130 M reads per run (2 M–260 M reads per day), enabling a broad range of applications.
The Ion GeneStudio S5 systems and the Ion Torrent chip portfolio enable researchers to scale their projects according to their application needs to help minimize their investment in multiple NGS platforms. This means Dunoe can efficiently sequence a gene panel one day, then exomes or transcriptomes the next day, without the need to change platforms.
This type of groundbreaking innovation is nothing new for the Ion Torrent team. Since the introduction of the pioneering Ion PGM System and scalable sequencing chips in 2010, followed by Ion AmpliSeq technology the next year and the launch of the Ion S5 and Ion S5 XL Systems in 2015, that team, which is now part of Thermo Fisher Scientific, has been committed to making NGS more accessible to researchers and scientists around the world. In fact, Thermo Fisher continues to invest millions of dollars each year supporting and improving their Ion Torrent NGS portfolio.
That's why, along with the cutting-edge technology of the Ion GeneStudio S5 Series systems, January 8, 2018, also marked the announcement of a suite of other innovations that will further promote application flexibility and throughput scalability for oncology, reproductive health, and inherited and infectious disease research.
Among the oncology offerings announced were:
The Ion Torrent Oncomine Tumor Mutation Load Assay, which is based on a curated set of over 400 genes that can be sequenced using as little as 20 ng of formalin-fixed, paraffin-embedded (FFPE) DNA. This assay is specifically designed to improve potential selection strategies for immune therapy clinical trials.
The Ion Torrent Oncomine Pan-Cancer Cell-Free Assay, which targets more than 50 genes across multiple cancer types and enables detection and analysis within two days of tumor DNA and RNA across SNVs, indels, CNVs, and fusions, all from a single vial of blood and as little as 1 ng of nucleic acid input.
Ion AmpliSeq HD technology,* available later this year, will enable customization of NGS panels while achieving increased sensitivity of ≤0.1% limit of detection (LOD) in blood samples. This technology will for the first time allow clinical researchers to customize cell-free DNA (cfDNA) NGS panels with maximum flexibility.
The responses from the oncology research community to these announcements have been almost universally positive.
"We used the Oncomine Tumor Mutation Load Assay on a retrospective colon cancer cohort, and were able to separate high and low mutation load samples with results correlating well with the microsatellite instability status of the tumors," notes Jose Carlos Machado, PhD, group coordinator for the Institute of Molecular Pathology and Immunology of the University of Porto (IPATIMUP) in Porto, Portugal. "The assay yielded rapid and robust results with its streamlined informatics. Together with other Oncomine assays, we truly have a comprehensive solution for tumor samples."
"The new Oncomine Pan-Cancer Cell-Free Assay addresses our unmet need to sequence samples for multiple tumor entities in a single run," adds Luca Quagliata, MD, senior director of contract R&D at the University Hospital of Basel, Switzerland. "We now look forward to adding the Oncomine Pan-Cancer Assay into our portfolio."
Iterate faster. Publish faster.
In early 2017, Ion AmpliSeq On-Demand panels were introduced, offering practical pack sizes (8-, 16-, 32-, and 96-reaction packs) and a catalog of pretested genes for inherited disease researchers who want to design custom panels. This year, Thermo Fisher revealed an expansion of the panel catalog that features over 5,000 of the most relevant genes for clinical research of inherited diseases, including hereditary cancer, neurodevelopmental diseases, primary immunodeficiency, hearing loss, and muscular dystrophy, among others. Researchers can now minimize the need for extensive literature searches and data mining by using a database of more than 5,000 carefully curated genes available on Ion AmpliSeq Designer, helping them to publish faster.
For researchers like Dunoe, Machado, and Quagliata—as well as Thermo Fisher—January 8 was a red-letter day. It was a date that revealed over a half-dozen significant advances to the tools needed for NGS and clinical research. It also affirmed the unyielding commitment of Thermo Fisher to relentless innovation, to building upon the success of Ion Torrent products, and—most significantly—to partnering with and supporting the researchers who are on the frontlines of scientific discovery.
* The content provided herein may relate to products that have not been officially released and is subject to change without notice.
For Research Use Only. Not for use in diagnostic procedures.