Connectivity; the need to know what is going on as it happens, from anywhere, comes naturally to us. We, as a society, have taken to it with gusto, enjoying the freedom it gives to learn about anything, talk to anybody, keep track of anything, at anytime from anywhere with just a tap of our smartphones.
In talking with our customers, it became clear that the same convenience was not yet fully available in labs. We've all been there; you're ready to run your plate, but the instrument is still being used by someone else (which you find out after you've walked two buildings down to your shared instrument to set up your run with your precious samples). You'd like to get a cup of coffee, but also want to keep an eye on your experiment's progress to plan next steps. It is frustrating, and we want to make sure it becomes a thing of the past! We live in a digitally connected world, and we feel your lab instruments shouldn't hold you back from that experience.
You've spoken, and we listened! Applied Biosystems™ has pioneered a way to connect you to your instruments, giving you real-time updates on your run and access to data as it comes up. We connect you to your cloud-enabled instruments and benchtop devices anytime, anywhere using the Instrument Connect mobile app.
The Instrument Connect remote monitoring app allows you to stay connected to any Thermo Fisher Cloud-enabled instruments, including the Applied Biosystems™ QuantStudio™ 3 and 5 real-time PCR instruments (the ProFlex™ and SimpliAmp™ end-point PCR devices are also compatible).
With the Instrument Connect app, you can:
Check the availability of your Thermo Fisher Cloud-enabled, network-connected device
Monitor run progress
View amplification plots in real time (available for QuantStudio 3 & 5 instruments)
View plots and filter by sample or target in real time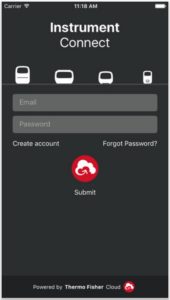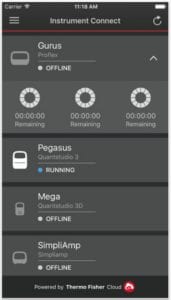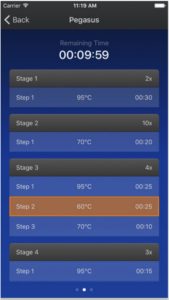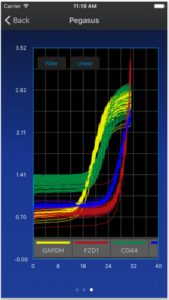 It's easy to get started. Just download the Instrument Connect App from the Apple App Store and log in to your Thermo Fisher Cloud account. You can view your connected QuantStudio 3 and 5 instruments, monitor remaining time in your run, and view your amplification plots in real time.
Best of all, remote monitoring with the QuantStudio 3 and 5 Real-Time PCR Systems and the Instrument Connect app deliver peace of mind in knowing your experiment runs will produce the quality results you expect. So get that cup of coffee with confidence, you can keep an eye on your run and come back just in time to pop in the next plate!
To learn more about the Instrument Connect App visit us: thermofisher.com/qpcrconnect 
Start your free trial of Thermo Fisher Cloud Today and get 10 GB for free! No cost. No risk. No excuse not to connect your lab. Start with 10 GB of free data storage. Buy more when you need it.
For more information about our Real-Time PCR instruments click here.
For Research Use Only. Not for use in diagnostic procedures.