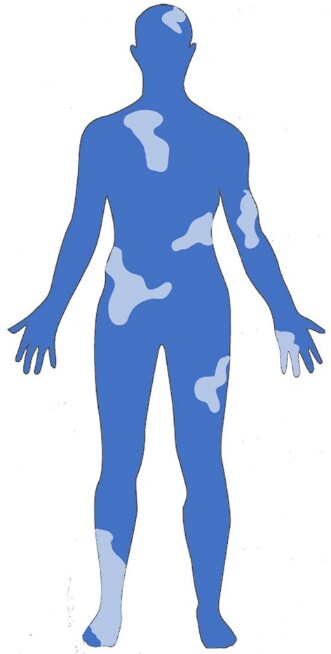 Epilepsy is known to be a heterogeneous disorder with a strong genetic contribution. Several causative genes have been identified to date [1]. For example, mutations in SCN1A can lead to clinical symptoms that range in severity from benign febrile seizures to the more severe Dravet syndrome. This makes it difficult to track down the predisposing alleles, especially since mode of transmission is often unclear. Severe sporadic cases appear to be caused by de novo variants – whereby the causative variant arises during embryogenesis and not through transmission in the germline.
Researchers at Amplexa Genetics, Denmark are studying these cases and their results appear to suggest that such sporadic cases of epilepsy might actually be carried by parents in a mosaic manner. Mosaicism is the presence of two or more populations of cells with different genotypes in one individual, who has developed from a single fertilized egg.
Amplexa scientist, M.Sc. Line Larsen, presented their early work at this year's ESHG, where they studied the parental genotypes of 46 patients with de novo variants through next generation deep sequencing. Their approach was to sequence 12 genes known to contain epilepsy-predisposing variants using an Ion AmpliSeq On-Demand targeted NGS panel on the Ion PGM system, where they achieved a mean read depth of 6600x, thereby providing a far closer inspection of potential gene variation in family genomic DNA samples than is achievable with regular whole exome sequencing approaches.
Deep coverage sequencing reveals rare variants
In 4 out of 46 cases of previously suspected de novo epilepsy mutations, mosaicism could be detected; ie 9% of the cases. The fraction of mosaicism appeared to vary widely from 0.8% to 29% in the parents studies (Figure 1). The father showed mild disease phenotype in the most extreme case.
Since Ion AmpliSeq uses a PCR-based method of amplification, the Amplexa laboratory wanted to rule out any possibility that the suspected mosaic variants were PCR-based errors, introduced in the library preparation. Therefore, they re-sequenced the gene variants in these families with the Ion AmpliSeq HD chemistry, which makes use of molecular tagging technology, an orthogonal method to Ion AmpliSeq chemistry, to negate any PCR-based issue. The new Ion AmpliSeq HD technology has the added benefit that it can go down to very low limits of detection (LOD) of 0.1% in genomic DNA. They performed the Ion AmpliSeq HD sequencing on the Ion Genestudio S5 Prime system, using the Ion 550 chip.
Similar to the findings they made with the Ion AmpliSeq On-Demand chemistry, the Ion AmpliSeq HD technology appeared to confirm that indeed, 9% of the cases under study were found to coincide with parental mosaicism (Figure 1).

Figure 1 – sequencing results from analysis of 4/46 de novo cases of epilepsy show rare variants in the parental genomic DNA. Results were similar when using Ion AmpliSeq chemistry or Ion AmpliSeq HD library preparation methods (red boxes).
"Like the Ion AmpliSeq On-Demand technology, Ion AmpliSeq HD is easy to design a custom panel – so wet-lab work is fast and easy, taking just 3 days total from sample extraction to an answer. It takes a high read depth to get 0.1% LOD – 50,000x, or for 0.5% you need 15,000 reads", stated Line Larsen.
The laboratory were able to detect all of the previously detected variants using this new technology, with a LOD down to 0.2%.
These early findings appear to confirm that parental mosaicism is a mechanism of genetic transmission in severe early onset epilepsy, and can occur in several different genes. The laboratory are continuing their study using Ion AmpliSeq HD technology to see if they can find any more instances of mosaicism with this more sensitive library preparation method:
"Now we want to collect samples from different tissues for DNA extraction and analysis to see if we can detect previously undetected mosaicism; verify all positives with an alternate technique (ddPCR) and analyse the parents of more patients carrying de novo variants" concluded Larsen.
To learn more about mosaicism in epilepsy and the use of Ion AmpliSeq HD technology to find rare variants, watch the webinar where Amplexa will present their further work.
More details on Ion AmpliSeq on Demand can be found here. Learn more about variant detection in human genetics at thermofisher.com/humangenetics.
"Use of ultra-sensitive targeted NGS gene panel to investigate transmission of pathogenic variants from mosaic parents" was presented by Line H.G. Larsen, M.Sc., Amplexa Genetics A/S, Denmark, at ESHG Jun 2018. Download the presentation here.
1. Thomas & Berkovic (2014)