Written by Anusha Sivakumar 
Synergistic interaction between innate and adaptive immunity facilitate a holistic defense against infection and tissue injury. The innate immune response is rapid and blunt. It responds with germline receptors by recognizing pathogen-associated molecular patterns (PAMPs) common to many pathogens; toll-like receptors (TLRs) are particularly important to the innate immune response. The adaptive immune response made up of T- and B- cells/lymphocytes, is antigen specific against pathogens evolved to evade the innate immunity. T- and B- cells can somatically recombine antigen receptors to distinguish between any antigen. Understanding the cellular components of these two arms of immunity, their interface, and intricate communication is critical for vaccine development and combating autoimmune diseases.
In this blog, multiple Invitrogen™ antibodies that help in immunophenotyping T and B cells are discussed. Each antibody is validated across several specificity tests and applications including – flow cytometry, western blot, and immunofluorescence. This blog also describes how various growth factors like cytokines and chemokines are involved in lymphocyte development and how they can be detected using antibodies.
T- and B- Cell Development
Development of T- and B- lymphocytes from hematopoietic stem cells is a coordinated but flexible pathway orchestrated by transcription factors, cytokines, chemokines, and interleukins. Upon interaction with stromal cells and in conjunction with IL-7 signaling, lymphoid progenitor cells are specified to B lineage with CD19/B220 surface protein expression and T cells migrate to the thymus for thymic selection and maturation into CD4+CD8– or CD4–CD8+ cells. Then, CD4+ cells differentiate into helper cells for improved cellular immunity and CD8+ cells develop into cytotoxic T cells and secrete cytolytic factors. Table 1 lists lineage specific proteins commonly used as surface markers for immunophenotyping T- and B- cells. Figure 1 shows antibodies against these targets in flow cytometry, western blot, and immunofluorescence applications.
Table 1. Lineage specific antibodies for immunophenotyping
T-Cell

 B-Cell

Target

Catalog #

Target

Catalog #

14-0032-82
14-0194-82
50-0081-82
17-0452-82
11-0041-82
MA5-14585
LAT Polyclonal Antibody
PA5-78472
PA5-16701
14-0251-86
14-0106-82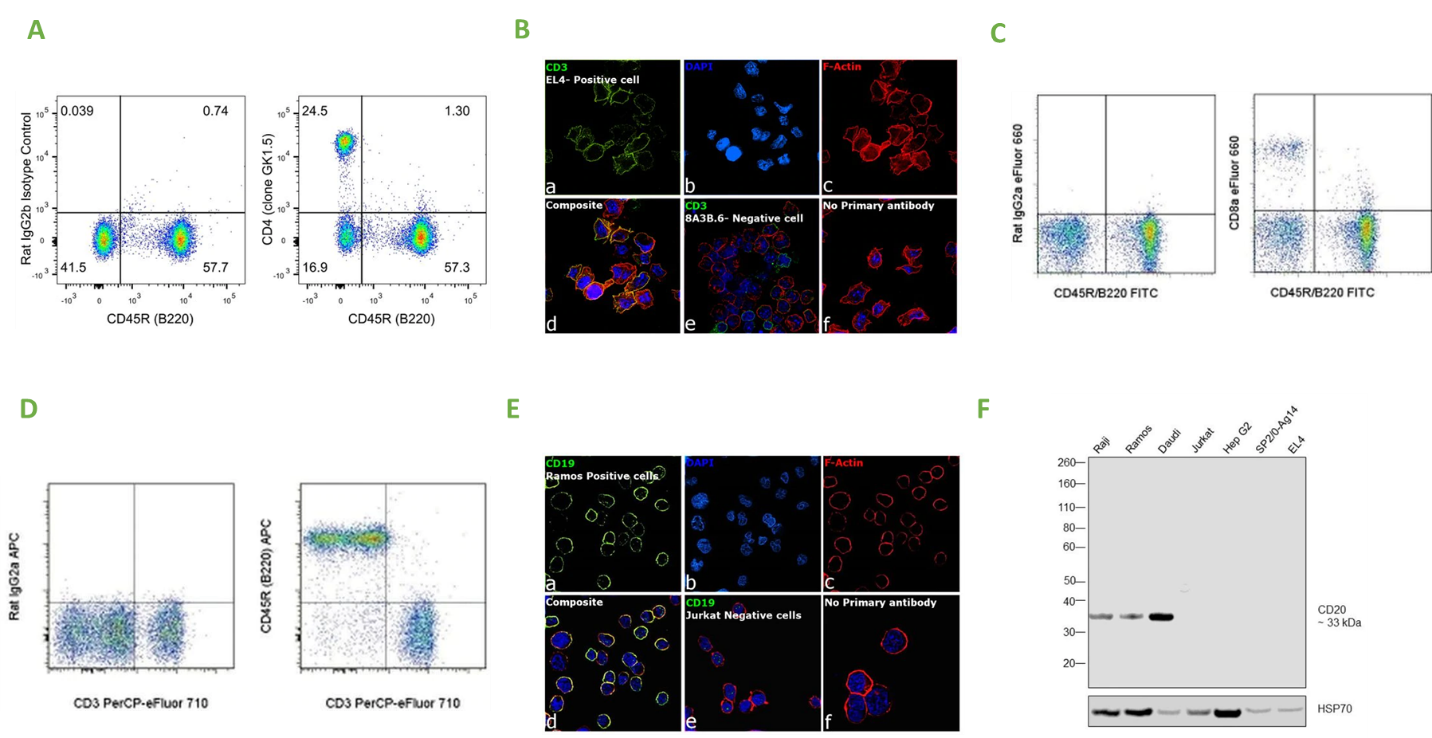 Figure 1. Immunophenotyping T- and B- cells using antibodies against lineage specific surface markers in flow cytometry, western blot, and immunofluorescence. Figures A-D represent (A) CD4 Monoclonal Antibody (GK 1.5) (Catalog No. 11-0041-82), (B) CD3 Monoclonal Antibody (17A2) (Catalog No. 14-0032-82), and (C) CD8a Monoclonal Antibody (53-6.7) (Catalog No. 50-0081-82), demonstrating relative expression of protein in T-cells but not in B- cells, whereas (D) CD45R (B220) Monoclonal Antibody (RA3-6B2) (Catalog No. 17-0452-82), (E) CD19 Monoclonal Antibody (6OMP31) (Catalog No. 14-0194-82) and (F) CD20 Polyclonal Antibody (Catalog No. PA5-16701) show relative expression in B-cells as compared to T-cells.
Growth Factors and the Development of Lymphocytes
Cytokines, chemokines, interleukins, interferons, and other growth factors have an important role in the development and maturation of lymphocytes. They stimulate inflammatory response and participate in pathogen elimination. Here are a few ways that growth factors participate:
 Interaction between TNF superfamily molecules and their receptors is required for cell survival, inflammatory signaling, and crosstalk between T-cells and other cell types. TNF-α, secreted by B-cells, participates in the development of follicular dendritic cells and specific stromal cells in the spleen.
Interferons have multiple effects on lymphocytes. Endogenous IFN- γ is required for the homeostasis of immune cells, maintenance of hematopoietic stem cells and, bone formation. In T-cells, it aids in cytotoxic T-cell precursor proliferation whereas in B-cells, it has both activation and repression effects on specific immunoglobin classes.
TGF-β signaling helps in maintaining a functional and self-tolerant immune repertoire. TGF- β1 can promote expansion of CD4+ or CD8+ specific T-cells in a context dependent manner, while negatively regulating B-cell and hematopoietic stem cell proliferation.
Antibodies for these secretory factors are validated using cell models where the factors were induced upon cell treatment. (Figure 2).

Figure 2. Antibodies for cytokines, interferons, and growth factors. A) Lipopolysaccharide induced expression of TNF- α in U-937, THP-1, and RAW 264.7 cells detected with TNF alpha Polyclonal Antibody (Catalog No. PA5-19810), B) detection of intracellular IFN-γ expression with IFN gamma Monoclonal Antibody (XMG1.2) (Catalog No. 12-7311-82) in subset of mouse CD4+ T cells stimulated with cell stimulation cocktail and secretion blocker and C) detection of knockdown of TGF β1 expression in M2 macrophages (from THP-1) with TGF-beta1 Monoclonal Antibody (F.888.7) (Catalog No. MA5-15065) demonstrate target specificity of antibodies for ICC, western blot, and flow cytometry applications.     
Understanding the complex interplay between cells of the immune system and elucidating their molecular network helps contribute to finding an effective strategy to target immune disorders and autoimmune diseases. Antibodies are often the "go-to" reagents for this purpose. Thermo Fisher Scientific provides antibodies that are tested across a variety of specificity tests to demonstrate that they are indeed the ideal reagents to help advance research.
Search for antibodies.
Additional Antibody Blogs
Let's get 'specific' about the TNFR pathway!
DIY Neurons for antibody validation
Translate to Invitrogen antibodies for your ribosomal protein research!
Drivers of the Chromosomal Passenger Complex
PRMTs: Role in epigenetic regulation 
Using Blockers to Unlock Secretory Proteins
Specific and neutralizing recombinant antibodies to SARS-CoV-2
Staining Your Way into Cells: Exploring Cell and Organelle Markers