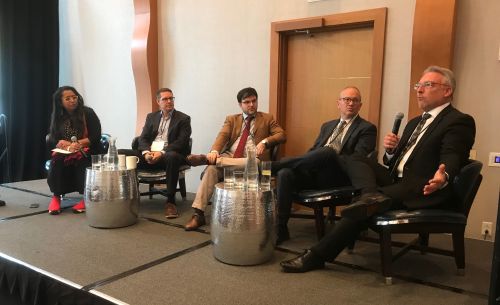 Next-generation sequencing (NGS) has become an increasingly powerful tool for characterizing the genetic makeup of tumors by helping clinical researchers identify the molecular drivers behind cancer. Advances in the field's understanding of the disease and the emergence of NGS in the clinic were among the topics of panel discussions and expert presentations during Thermo Fisher Scientific's second annual Global Strategic Partner Summit in Boston.
The use of NGS-based assays to help profile samples was a key theme throughout the summit. Philip Jermann, PhD, director, contract R&D and strategic partnerships at University Hospital Basel, shared how Thermo Fisher's Oncomine solutions are being applied to assess various sample types in his lab, including tissue biopsies, cytological and blood samples. Even in cases where tissue is limited, the assays demonstrate a rejection rate of less than 5 percent, with a turnaround time of less than six working days, he said.
Jermann also highlighted a paper he and his team published in the Journal of Pathology that assessed tumor mutational burden (TMB) with NGS to predict the clinical benefits of immune checkpoint inhibitors in non-small cell lung cancer. The team found the highest response rates among samples that were both PD-L1 positive and had high tumor mutation load, indicating that combining biomarkers could provide more accurate predictions to guide clinical decision-making.
Bekim Sadikovic, PhD, division head, Molecular Diagnostics, Pathology and Laboratory Medicine at London Health Sciences Center, described how his lab has incorporated NGS as part of a comprehensive "genotype-first" approach to screening patients with suspected hematologic malignancies. The technology captures a variety of important genetic abnormalities, he said, including gene mutations, gene deletions and gene fusions, which help inform clinical decision-making. His lab has leveraged the technology to assess about 2,000 patient samples, resulting in a diagnostic yield (mutation-positive) of 46 percent. Half of the patient specimens were found to harbor mutations in multiple genes—a finding that cannot be discerned using classical screening methods, he said.
Together, these data help underscore the power of NGS for precision oncology and suggest the technology may soon supplant some conventional molecular tests, said Sadikovic, particularly those that are more time-consuming and can delay downstream clinical care or provide limited information.
A Deep Look at Liquid Biopsies
Liquid biopsies, which examine the biochemical characteristics of blood and other biological fluids, represent an exciting new alternative to conventional tissue biopsies, both in research and medicine. Liya Xu, PhD, of the University of Southern California Michelson Center for Convergent Biosciences, presented recent research on the use of a high-definition single-cell analysis platform that uses Oncomine assays to characterize cell-free DNA (cfDNA) from liquid biopsies. The team set out to reconstruct the disease of a single cancer patient as comprehensively as possible, including treatment response and tumor evolution. To do so, they analyzed samples from an ER-positive/HER2-negative metastatic breast cancer patient at multiple points throughout her treatment journey, which included 11 different lines of therapy.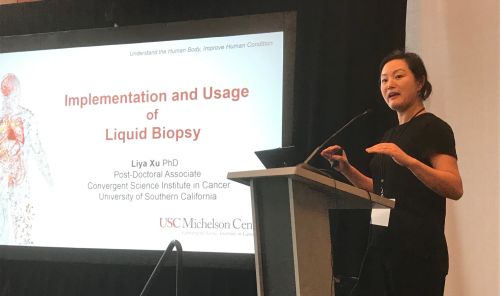 Notably, Xu and her colleagues identified tumor mutations that could have predicted treatment failure. They also detected distinct tumor evolution events that persisted through multiple lines of treatment. This longitudinal, liquid biopsy-based approach highlights liquid biopsy's promise not only for early cancer detection, but also for tracking the evolution of cancer in real-time, including the emergence of therapy-resistant mutations that can cause treatments to fail.
Kelli Bramlett, PhD, director of research and development at Thermo Fisher, also highlighted research to advance liquid biopsy-based testing. One group leading this key area of activity is the BloodPAC Consortium, a group of more than 35 stakeholders representing public, industry, academic and regulatory agencies with a mission to accelerate the development and validation of liquid biopsy assays to improve outcomes in cancer. The consortium is deeply focused on evidence generation and stakeholder engagement, with several working groups to address the need for standardization in data storage and sharing, technology applications and sample collection.
Tracking the T-Cell Response
The summit also featured a robust discussion of immuno-oncology, including the explosion of clinical trials in cancer immunotherapy, particularly for combination therapies; the use of TMB as a biomarker to help predict patient response to immune checkpoint inhibitors; and, in particular, the need for improved biomarkers beyond TMB.
As Luca Quagliata, PhD., global head of medical affairs at Thermo Fisher, and others noted, the intersection of tumor cells and the immune system is highly complex and involves three key players: cancer cells, T-cells and antigen-presenting cells. For this reason, researchers in the field, including Patrick Hurban, PhD, senior director and global head of translational genomics for Q2 Solutions, are now exploring the T-cell repertoire within the tumor microenvironment using NGS-based technologies.
That includes assays focused on T-cell receptors (TCR), including Oncomine TCR assays, which can offer views of different T-cell populations and their relative abundances. Hurban and his colleagues have tested these assays using a variety of sample types, including T-cell derived cell lines, matched whole blood and peripheral blood mononuclear cells (PBMCs) from healthy donors, and formalin-fixed paraffin-embedded (FFPE) tumor samples. In comparing the assays' performance to those from other companies they found the Oncomine TCR assays yield more data from fewer samples and offer a superior workflow and faster cycle time, Hurban said.
Nearly 70 attendees from global contract research organizations, reference labs, pharmaceutical companies, payer groups and patient advocacy organizations across North America, Latin America, Europe, China and Asia Pacific participated in this year's summit. Overall, participants were very encouraged and expressed great optimism about where NGS-driven cancer research and patient care is heading in the future.
As noted by Patrice Hugo, PhD, chief scientific officer of Q2 Solutions, only a small fraction of cancer patients was eligible to receive immune checkpoint inhibitors just a few years ago. Now, that figure is at 40 percent and the response rate to the therapy has almost doubled.
"In another five years, we will be in a place we don't expect to be right now," Hugo said.
The Global Strategic Partnership Summit also included a presentation from lung cancer survivor Greta Kreuz, a former television anchor and reporter who has benefited from comprehensive genomic testing.