What's phosphorylation?
In a simple sense, phosphorylation is the mechanism by which relays of signals go from protein to protein. This relay is initiated by the binding of a cell surface receptor and in turn, cascades down a signal transduction pathway. These pathways result in a biochemical response within the cell. The progression of the natural cell cycle, metabolism and differentiation are examples of the events phosphorylation drives. If you're studying cellular processes, chances are you'll be interested in capturing phosphorylation.
Tell me more about phosphorylation capture.
Detecting phosphorylated proteins help track cellular activity. Whether you're conducting analysis through applications such as Western blotting or immunofluorescence microscopy, detection begins with quality reagents. Choosing a primary antibody from our ABfinity™ portfolio is a step in the right direction. ABfinity™ antibodies benefit from recombinant technology, which results in efficient protein recognition across different applications. Additionally, ABfinity™ antibodies offer lot-to-lot consistency, to help you save valuable time that may have been wasted conducting validation experiments.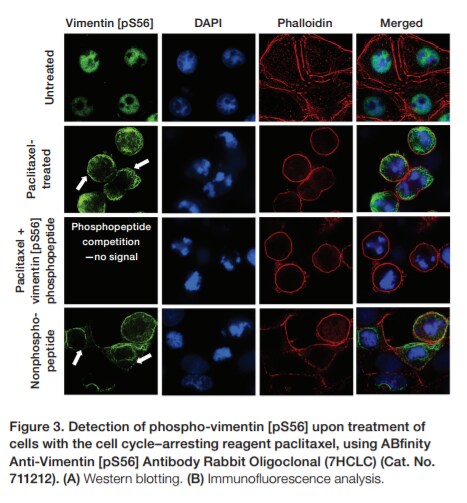 Show me examples!
Gladly—check out this App Note: Detection of phosphorylation using ABfinity™ antibodies.
You'll find Western blot and immunofluorescence data alight with phosphorylation activation, including:
Basal phosphorylation
Enrichment of basally phosphorylated proteins
Phosphorylation in response to stimulation
Enrichment of the phosphorylated form of the protein
Preserve basal (and transient) phosphorylation
For Research Use Only. Not for use in diagnostic procedures.
Sources:
http://tools.thermofisher.com/content/sfs/brochures/detection-phosphorylation-abfinity-antibodies-app-note.pdf
http://www.thermofisher.com/us/en/home/life-science/antibodies/antibodies-learning-center.html