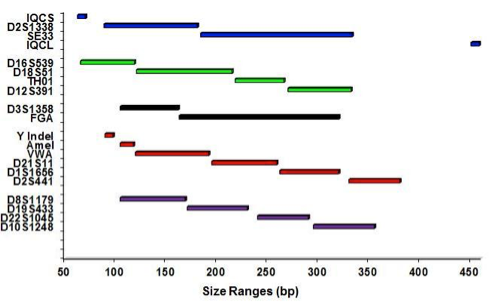 Crime scene samples may be of low quality or low quantity or both. As a DNA analyst, you need to make a decision on how you can maximize the number of alleles recovered from that sample so you can be sure that you will get a hit to your database or match a suspect sample. With Applied Biosystems NGM Detect PCR Amplification Kit, your worries are now over. This new kit, released in March of 2017, offers superior sensitivity to other kits and the design has minimized the size range of the most discriminating markers that are required by ESS standards. As a matter of fact, 7 of the 16 autosomal markers are less than 230 bp, and helps ensure that prioritized markers are well represented and searchable in national DNA databases. And that includes optimization of SE33, which has a size range of 180-351. In addition, the kit includes an additional gender discrimination marker (Y indel) so you can be confident if male DNA is detected, as occasionally the Amelogenin Y marker drops out.
At HIDS 2017, Tomasz Kupiec, Ph.D. from the Institute of Forensic Research in Krakow, Poland presented the work his lab has done to validate NGM Detect Kit. The lab performed a sensitivity study with quite good results down to 63 ng though there were a few loci with PHR < 60%. A mixture analysis was completed with ratios of 1:1 to 1:50. When the female DNA was the major contributor, the male component dropped out at 1:15. When male DNA was the major contributor, the female component could still be detected at 1:15.


Results were shown for using a dual amplification strategy with Applied Biosystems™ GlobalFiler™ Kit with an increase of alleles recovered. And the inhibition study showed that NGM Detect Kit performs well when challenged with humic acid.
And of course no validation study is complete without looking at the most challenging samples. Here is an example of a tooth with a degradation index of 8,showing good results in the preferred markers.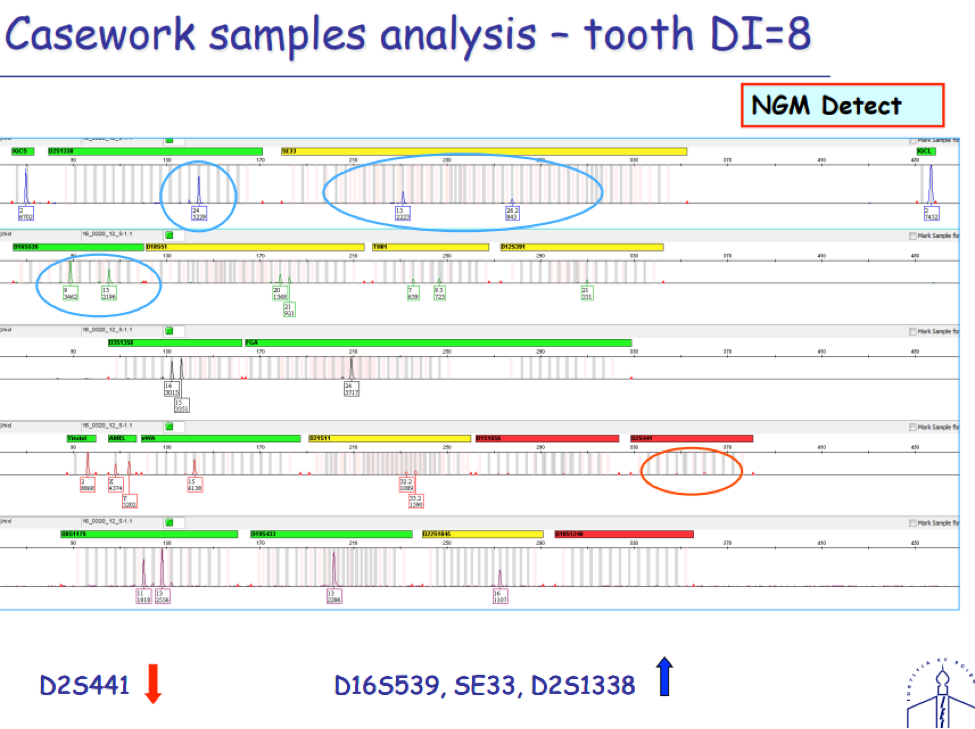 And speaking of bones… Sheree Hughes-Stamm, Ph.D. from Sam Houston State University presented on two of her projects, all examining bones. An interesting study she has been working on since her graduate school days is the shipwreck of HMS Pandora off the coast of Australia in 1791. HMS Pandora had been dispatched from England to recapture the mutineers from HMS Bounty. After locating 14 of the mutineers in Tahiti, she then set sail for home, only to hit a reef near Cape York. There have been 2 excavations of HMS Pandora in 1986 and 1996. All manner of booty has been recovered, including sets of bones. Dr. Hughes-Stamm has mapped these bones to a number of unknown individuals using STR technology on CE, in hopes of being able to reconnect these remains to family members. She has been able to combine her recent results with the NGM Detect Kit with past results from the GlobalFiler Kit to get a more complete profile, that may in the future generate a match to a long-lost relative.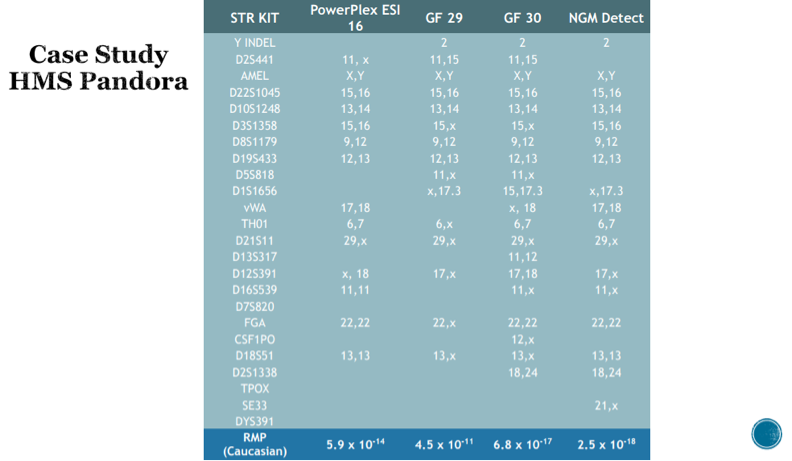 Andrzej Ossowski, Ph.D from the Forensic Laboratory at Pomerian Medical University in Scezin, Poland discussed the work they are doing in identifying victims of war and from totalitarian crimes. This is quite a laborious and detailed process as first they need to perform historical studies which include interviews with witnesses,and analysis of archival information including any photography. Once a site has been confirmed, the team then uses a number of non-invasive techniques to determine where remains are located. Those are brought to the lab for careful handling during cleaning and DNA extraction. Given the challenging nature of the samples with both low quality and low quantity, the laboratory decided to test the NGM Detect Kit. Results showed that in 19 of 23 samples, they are able to obtain more alleles. This increase in alleles means there is a better chance of identifying the missing.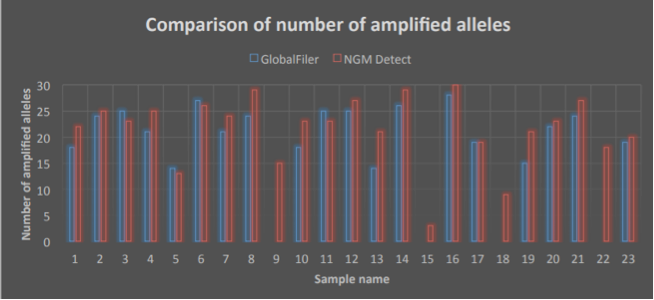 The improvements to the NGM Detect Kit were made possible by using a 6-dye chemistry and new primer design for optimal marker positioning to enhance searchable information from your challenging samples. It also allows complete repositioning of the highly informative marker SE33 into a different dye channel and lower molecular weight range, reducing the chance of dropout. Finally, the 6-dye configuration enabled us to include additional informative markers such as the Y-indel and an Internal quality control (IQC) system. Now you can have greater confidence with the analysis of those degraded samples. Detect the answers that matter.