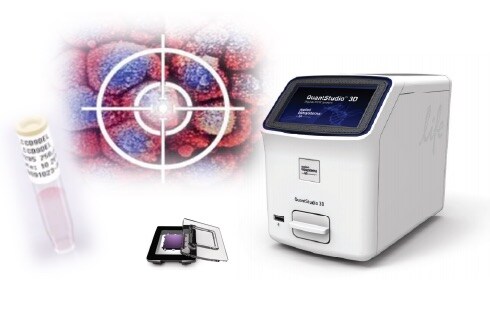 Oncology researchers studying tumor progression and regression are on the lookout for techniques to learn more about rare mutations as the accumulation of mutations in oncogenes or tumor suppressor genes is an important aspect of tumorigenesis. Research using TaqMan® assays for rare mutation analysis using digital PCR offer a highly sensitive detection method when compared to conventional imaging techniques, and are of increasing interest in cfDNA studies from liquid biopsy cancer samples. By combining TaqMan fluorogenic 5' nuclease chemistry with digital PCR using the QuantStudio™ 3D Digital PCR System, researchers are now able to detect low-frequency mutations at sensitivity levels as low as 0.1%. Building on the TaqMan based Rare Mutation assay set we are now exploring multiplex assays for simultaneous detection of several mutations leading to the same disease phenotype. Multiplexing could offer a cost effective alternative for obtaining maximum information from precious, limited samples.
We undertook a feasibility study to demonstrate the ability to multiplex TaqMan Rare Mutation Assays. We selected relevant mutations in the EGFR and KRAS genes (common tumor biomarkers) for our initial multiplex application: EGFR G719, EGFR exon 19 deletions, and KRAS G12/G13. These mutations may have implications for potential future targeted therapy (Markman B et al. 2010). All assays were tested on template consisting of wild-type genomic background with spiked-in mutant plasmid. Each multiplex assay was tested for each individual mutation represented. The study confirms that all multiplex assays successfully detect their individual targets. While this is not a commercially available product, this feasibility work was recently presented at AACR (American Association for Cancer Research) and ESHG (European Society of Human Genetics). The poster presents test results of all three multiplex assays against each of their specific targets. Assay performance data demonstrates that all assays show good signal and cluster separation. You can find the poster here for more details.
Learn more about rare mutation analysis with digital PCR.
References:
Markman B, Javier Ramos F, Capdevila J, Tabernero J: EGFR and KRAS in colorectal cancer. Adv Clin Chem 2010, 51:71-119.
For Research Use Only. Not for use in diagnostic procedures.