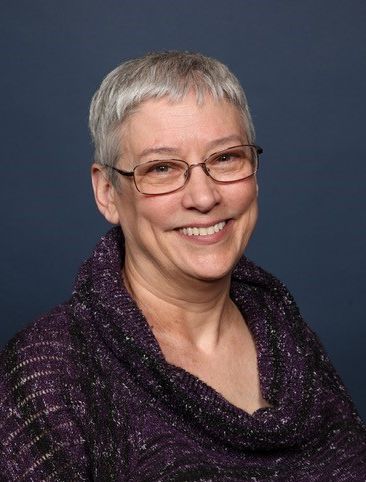 Janet Freeman-Daily speaks with a soft-spoken, yet confident, voice as she shares her incredible journey of how her natural curiosity of all things scientific led her to a clinical trial and a targeted therapy that is helping her beat non-small cell lung cancer (NSCLC) seven years after she was initially diagnosed. Today, the retired aerospace systems engineer from Seattle, Washington, has become one of the most outspoken advocates for ROS1-positive cancer patients, and is leading the charge with others to raise awareness of this rare cancer that affects about 2 percent of all NSCLC patients.
A nagging and persistent cough is what led Janet to see her doctor in 2011. After several tests, scans, and procedures, her physicians returned with troubling news. They concluded that Janet had Stage IIIA NSCLC. These were the days before genomic testing, Janet says, so she was immediately started on the standard care of chemotherapy and radiation after her biopsy tested negative for EGFR and ALK mutations using individual molecular tests.
Her curious nature, along with information she learned from online patient communities, led her to the University of Colorado, where patient samples were being accepted for testing as part of the Lung Cancer Mutation Consortium program. Initial analysis of her tumor confirmed the previous results, but on a chance visit to the university months later, Janet's doctor informed her of their newly developed test for ROS1, a gene fusion she had recently learned about online. By this time, Janet's disease had progressed to Stage IV.
The unplanned visit to the University of Colorado turned out to be Janet's lifeline. Her sample came back positive for the ROS1 fusion. A month later (in November 2012), Janet was placed in a clinical trial for crizotinib, which has since been FDA approved to treat NSCLC, and she has had no evidence of disease since.
"I feel pretty lucky to still be around since I was initially only give a couple of years to live," Janet says.
Since her diagnosis seven years ago, Janet has become a prolific proponent for molecular testing and a vocal advocate for ROS1 research. She has blogged extensively about her condition to educate others. She also co-founded the ROS1ders, a global group of patients and caregivers dealing with ROS1-positive cancers that has now partnered with the Bonnie J. Addario Lung Cancer Foundation in an effort to move research into the rare gene fusion forward. To date, there are more than 290 ROS1ders, some of whom have donated tumor samples from their medically necessary biopsies for the development of ROS1 cell lines and mouse models for research. [watch ROS1ders video]
She also speaks around the country at conferences, such as the American Society for Clinical Oncology, advocating for ROS1-positive patients, emphasizing the value of online patient communities, and sharing the need for more awareness around molecular testing using next-generation sequencing (NGS) technology, particularly for the time and quantity of sample NGS testing can save.
"Given that lung cancer patients often don't have much tumor tissue, we should make the best use of it, and running an NGS test is the best chance that we have of finding a gene that might allow them to take an FDA-approved drug or get into a clinical trial," Janet says. "A lot of people aren't even being tested for ROS1, yet it has a targeted therapy that works in up to 80 percent of patients. I just need to get the word out about genomic testing because many times doctors just can't keep up when the science is evolving so fast."
Among the changes Janet has seen since her diagnosis is the growing number of molecular tests, targeted therapies and immunotherapy clinical trials. While there are still challenges to overcome, Janet remains hopeful that progress in treating all types of lung cancer will continue.
"I'm seeing a lot more patients living with lung cancer as a chronic disease rather than a terminal disease thanks to all the new drugs being developed," she says. "But there is a huge need in the United States for insurance plans to provide better access to them. Having the new genomic tests approved for reimbursement by the Centers for Medicare and Medicaid is a step in the right direction."
NOTE: The Oncomine Dx Target Test is a comprehensive genomic test that simultaneously evaluates 23 genes clinically associated with non-small cell lung cancer (NSCLC) and is the only FDA-approved companion diagnostic test approved for ROS1. For more information about the test, please visit www.thermofisher.com/oncomine-dxtarget.