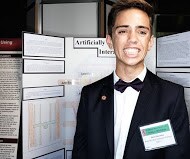 This is "Part 2: What Happened at the Science Fair" the continuing story of high school student Paul Gauvreau's amazing experiment and the reaction he received.
Let's go back to the science fair at the State level. You mentioned that they were baffled with your project, tell us about that. Well, one of the judges asked a lot of questions because she had worked with stem cells and therefore was following the concept of the project really well. She thought it was amazing that I had found an alternate way of attacking the resistance/rejection issue that cuts out the process of growing stems cells, scaffolding them, finding out that it's not 100% and antibiotic resistant.
And what about the project confused them? What baffled the judges was the fact that no one before had been able to get two different cell strains to communicate and interact with each other before so they didn't know quite how to score my project.
There was one judge that I kind of bonded with, and she thought that I was a senior and asked me questions like, "What colleges have you applied to? Are you going to go the MD route?" And since I was a freshman at the time, I had no idea.
She was stunned that you were a freshman? Yah, there weren't many freshman at this senior level of the competition. Senior level is comprised of all high school students, but most are juniors or seniors. Very few freshman make it this far.
How did it feel to be one of the few freshmen there? It was cool. There was a freshman that had a theoretical lab, so his wasn't like mine, a wet lab experience. 
Since you were judged at a few different levels, what were some of your favorite comments? Something that pretty much all judges told me was that this experiment should be considered a "builder project" and hoped to see me again this year.
That's awesome. I'm sure as a normal part of the judging, they ask what your parents do, right? Yes, they all ask that. My dad works with data, a kind of electrical engineer and my mom is in finance.
Bet the judges were amazed that there were no scientists in your immediate family? For sure.
If the science influence didn't come from your parents, where did it come from? Who is the science hero in your life? I'd say it comes from my science teacher, Mr. Haas. He runs the QUEST program at my school. He really opened my mind to all the possibilities within labs and research. His way of teaching allows us to get into the lab and just do it. It was a great wet-lab fueled experience. Even his quizzes and tests are basically labs that we have to go and do. We would get in there and run into the same issues that scientists at higher levels would and have to figure out how to approach the problems and do write-ups on them afterwards.
Anyone else? I'd have to say my dad, but more on the continuation of the project. He's shown me a lot on what I could do to help me design, program and hopefully prototype a 3D artificial tissue printer.
Sounds like you have an interest in continuing with science…do you know where you'd like to go to college? What you'd like to study for your future profession? I really like biochem, molecular biology, and bioengineering. UCSD has some really great labs. Other than that, I don't know.
By the sounds of it, Paul Gauvreau will definitely be a future innovator within the science realm and he'd be one to keep an eye on in the future.
For more on Paul's project: https://www.usc.edu/CSSF/Current/Projects/S0511.pdf
Products Used in experiment:
Gibco™ Cell Culture Media
Gibco™ Fetal Bovine Serum
Invitrogen™ Lipofectamine Reagents
Invitrogen™ Plasmid Mini Prep
Gibco™ Cell Culture Reagents
All products are for Research Use Only. Not for use in diagnostic procedures.