AGBT has been an amazing conference so far, with the plenary sessions of the day covering cancer genomics and evolutionary biology. Workshops, in-suite presentations, and demos were the focus of the evening.
Paul Dempsey of Cynvenio and Robert Sebra of Ichan School of Medicine at Mount Sinai gave talks in the Ion Suite (Amarante 1)
Liquid Biopsy: A molecular platform that supports clinical research in the analysis of CTCs and ctDNA.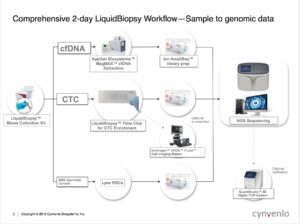 Tumor templates in blood are rare events and both circulating tumor cells (CTCs) and cell-free DNA (cfDNA) or circulating tumor DNA (ctDNA) can be detected in tumor samples, where the detection depends on the signal to noise ratio. While CTCs can be enriched, cfDNA cannot and this alters the detectability. Studies determining which biomarker (CTCs or cfDNA) is useful depends both on prevalence and what biological information is required.
The comprehensive 2-day liquid biopsy workflow, which provides a complete end-to-end sample to genomic data workflow were explored. The LiquidBiopsy™ platform and can isolate CTCs, cfDNA and germline cells.
While the MagMAX™ Cell-Free DNA Isolation kit can recover cfDNA in ~1.5-2hrs and is a manual protocol. MagMAX on Liquid Biopsy platform for cfDNA isolation allows for automation and removes variability. It takes the same amount of time, but less time is spent interacting with the protocol as the machine takes over.
Cell and cell-free analysis yield complementary and overlapping information. Together these two sample types provide access to various all classes of biomarkers. Peripheral blood monitoring needs multiple different classes of biomarkers. Both CTCs and CfDNA provide complimentary information using a readout that can be used on all templates.
All in all, research using the Ion AmpliSeq™ Cancer Hotpot panels and Oncomine panels run on Ion PGM™ vs. Ion S5™ systems show high concordance between the platforms and the higher capacity of the Ion S5 instruments give them the flexibility to run a higher number of samples per run as their projects should require. The LiquidBiopsy platform allows for isolation of CTCs, cfDNA, and germline cells, combined with the easy to use Ion S5 platform; this provides a complete end-to-end research solution for peripheral monitoring.
High Throughput Comprehensive Sequencing using Ion AmpliSeq Custom Mendelian Research and Oncomine Panels on the Ion S5 XL System.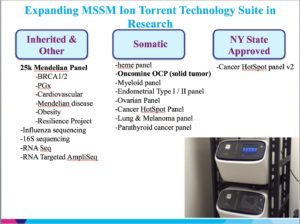 The next in-suite presentation was given by Robert Sebra of Ichan School of Medicine at Mount Sinai, who presents two potential applications.
When comparing the Ion Proton™ system and Ion S5 system, while the Ion Proton has a longer initializing time (120mins), the Ion S5™ XL has a shorter initialization time (60mins). When it comes to reagents, its "plug-and-play" reagents for the Ion S5 XL.
Comprehensive sequencing using the Oncomine™ assay and Ion S5 XL

Cancer is a complex, multifaceted disease. Dr. Sebra discussed cancer research with various technologies including the Oncomine assay. Variants and variant allele frequencies were observed and showed concordance across Ion Proton and Ion S5 XL platforms.
Single cell versus bulk tissue variants were also analyzed. Relevant variants in bulk tissue were assessed using the Oncomine Assay Knowledgebase.

High throughput Ion S5XL sequencing using a Custom 25K target AmpliSeq Inherited disease research Panel.

The idea of this research study entitled the Resilience Project is to assess large populations and identify subjects that harbor disease mutations in the genotype, but do not display the observed disease phenotype – they are resistant. Deeper genetic, proteomic, transcriptomic analysis of the "resistant" samples are performed, followed by in-depth phenotypic characterization – which may potentially be able to help guide the development of novel therapeutics in the future.
The 25K AmpliSeq research panel includes:

Covering all exons (resilience, cardiovascular, cancer, obesity, and other Mendelian diseases).
>700 disease-associated genes and >4000 disease-associated genomic hotspots.
Including 4000 genomic hotspots (including intronic and intergenic) loci.
The panel displays high uniformity, is on-target (12-plex sample w/ 200-250x coverage), and shows concordance across data from the Ion Proton and Ion S5XL platforms.
Robert Sebra's talk highlighted the Oncomine Panels and the Ion S5 XL and how the two platforms produced data that was concordant. They also explored data from single vs. bulk tumors and how the Oncomine knowledgebase can be used to assess the variants.
For a recap of AGBT plenary talks, be sure to check out our AGBT Dispatches and a complete recap of AGBT.
*For Research Use Only. Not for use in diagnostic procedures