In June, the FDA approved the first next-generation sequencing (NGS) companion diagnostic for non-small cell lung cancer. The approval highlights a potential move away from sequential testing for cancer patients as CLIA/CAP certified labs adopt the Oncomine Dx Target Test. Joydeep Goswami, president of the Clinical Sequencing Division, talked about the test and its potential to change therapy decisions in the future.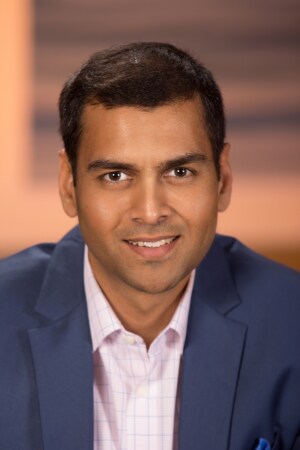 "Our whole approach to cancer is that the cancer type shouldn't matter in the long run given that cancer is a molecular disease. The test should be able to perform regardless of which cancer type the sample is coming from. It should give doctors an accurate, holistic read of all the mutations that might be present in the tumor so they can select the right drug or drugs for the patient."
What are you hoping to accomplish with the test, and how close are you to reaching your original goals?
The original goal that we set out to achieve was to take a panel based approach to detection of various mutations that may be present in a tumor. We selected about 46 genes that are considered clinically relevant—those for which there are either drugs on the market or in development or in clinical trials.
The idea was that once approved by the FDA with the initial set of drugs that we're focused on in non-small cell lung cancer (NSCLC), this panel could then be extended to other drugs within NSCLC and beyond to other types of cancers as well. We built a panel that could be extended with minimal cost and minimal effort allowing our pharma partners to use the same panel as a companion diagnostic for their drugs.
Is this the first step in developing a universal companion diagnostic?
I think a universal test is exactly what we had in mind. The path to universality requires getting specific cancers or mutations related to specific drugs approved.
The FDA has decided to take an organ-by-organ approach for companion diagnostics. They approved our panel for non-small cell lung cancer. In addition to the three genes that are targeted by the drugs that are initially part of the companion diagnostic, they've allowed reporting of about 23 genes in total that are related to lung cancer. So, these genes or mutations therein will be available for oncologists or pathologists that order the test.
We expect that as other drugs are validated on the same panel, the FDA will continue to approve the panel for additional cancers moving along the path toward true universality.
What do you see as the next steps to expand the test?
We are in talks and partnership already with several pharma partners that are testing other drugs related to lung cancer, potentially extending the panel to other cancers including colon and breast among others.
Our whole approach to cancer is that the cancer type shouldn't matter in the long run given that cancer is a molecular disease. The test should be able to perform regardless of which cancer type the sample is coming from. It should give doctors an accurate, holistic read of all the mutations that might be present in the tumor (as designed in the panel) so they can select the right drug or drugs for the patient.
Do you expect to see more approvals that distinguish cancer type?
That is a question that the FDA will answer in due course. Our panel is absolutely ready to provide those answers in a cancer type agnostic manner. We've designed our panel , our chemistry, and the platform to provide those answers regardless of where the tissue comes from.
In terms of moving toward a universal panel, what's a reasonable timeline?
The Oncomine Dx Target Test can become a universal panel for the variants contained in the panel; we don't need to necessarily make any changes to it. We are partnering with pharma and biotech companies that have drugs specific to mutations found in other types of cancers. As we take those drugs and our panel through the FDA for further approvals, then the universality of the panel essentially improves with each approval.
What do you think these evolutions will mean for patients?
It's a huge step forward for patients. The whole idea of the panel is that the patient doesn't need to go through multiple rounds of testing to find out which genes are mutated in his or her case, and then try to figure out based on those mutations which drug or drugs to take.
Without access to this sort of test, what currently happens is that the oncologist and the pathologist essentially have to guess what sort of mutation exists in the tumor. Usually, they're going after the most commonly found mutation. But the most common mutations only occur about 15% of the time in NSCLC. Very often, doctors either re-test or give the patient a drug that may not work, or may not work for a very long time. So, the patient has to wait for another round of testing or wait until the first round of treatment is completed before finding out that they were better suited to a different treatment.
What the Oncomine Dx Target Test does is provide a comprehensive genetic profile right at the beginning, using a single test, so the doctor gets a holistic view of the tumor so that the right treatment can be provided to the patient from the start. And, the test itself takes just a few days to complete, rather than waiting for several weeks for sequential testing.
I think it's a huge move forward for patients that are already in late stages of cancer. Generally, for NSCLC most patients come in with late stage 3b or 4. It's quite hard because they really don't have that much time left. Getting them to the right therapy, and getting it right the first time, and doing it quickly, is a massive step forward for patients.
What response do you expect in terms of reimbursement?
Those conversations are just starting. They only take place after the FDA provides approval. We're hopeful that payors and the CMS recognize that this is a big step forward. What an IVD test effectively does is democratize the assay. This assay is adoptable by any CAP/CLIA certified lab across the country in any hospital. Now the diagnostic is accessible to patients across the country. Considering the high cost of therapies, we are hopeful that payors will consider the right path forward in terms of pricing the reimbursement for the test appropriately.
We also have had some initial studies that usually have to be conducted to understand the the overall economic impact of having such a test. These are in the process of getting published. Both of these efforts indicate that the test should be viewed favorably.
Do you think educating physicians is a priority?
Absolutely. Education is a key point. We have been working with several pharma partners in developing and validating this assay, and we will continue to work with them to spread the word about the assay and its benefits to patients and physicians through educational programs.
Patient education is also a huge part of this. We're working together to make sure patients are aware that this type of testing is available. They should be talking to their physicians about this testing before undergoing any kind of treatment.
How does this test fit into the existing field of tests that a lung cancer patient might have undergone prior to the approval?
Most labs today carry out only a general pathology staining, maybe some hybridization, histochemistry testing, or at most a limited PCR test of a specific few genes. This current process provides a rather inadequate overview of the tumor. Some patients have access to a centralized test that covers more genes. But here too, testing is limited because tissue is hard to access, sequential testing takes a fair amount of time to return results, and because of the higher sample requirements, sometimes testing does not return an answer at all.
Where the patient really benefits is that with a very small amount of sample they can get a result from their local lab or other labs in the vicinity to questions about the true molecular nature of their tumor. What are the actionable genes that can be targeted? Are the three therapies that have been approved for this test right for me?
This is a single test that covers multiple mutations in NSCLC, so it minimizes the need for sequential testing. It allows patients to get a holistic idea of their tumor within days rather than having to wait weeks for it.
It requires very small quantities of sample, so it really helps preserve very precious biopsy samples from the patient. A single biopsy in lung cancer can cost upwards of $20,000 or more if there is a complication. And, it can be hard to get samples from these very sick patients.
The ability to extend the Oncomine Dx Target Test to other indications makes it much easier for companies to approve their drugs on this platform. And, as an IVD, I think it will lead to true democratization of the test.
The Oncomine Dx Target Test is for in vitro diagnostic use.