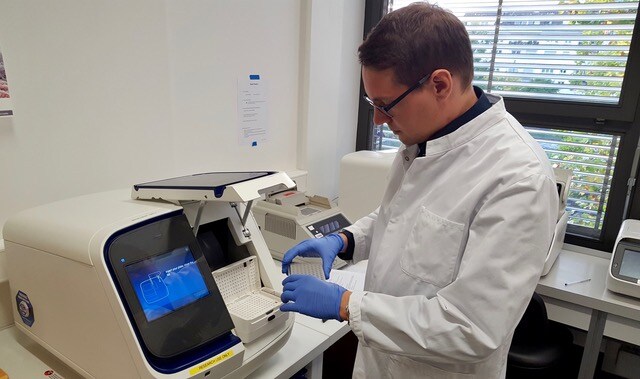 For Dr. Luca Quagliata, senior director at the University Hospital of Basel's Institute for Medical Genetics and Pathology, R&D unit, Sanger sequencing with the SeqStudio Genetic Analyzer performs a valuable and readily identifiable role in translational research. Even with next-generation sequencing (NGS) instruments readily available, Quagliata finds it easy to know when to place Sanger sequencing in his molecular research workflows.
"For example," he says, "what is the question that needs to be answered? How big is the sample itself?" According to Quagliata, if researchers are only interested in a small number of genes, or if the starting sample size is small, then Sanger is the best method.
Not only does his clinical research involve genomic profiling of individual tumors, but he also has to obtain valid results from challenging starting materials. His study samples now include cytology from fine needle aspirates, formalin-fixed paraffin embedded tissues and liquid biopsy, which are generally much smaller in volume. Quagliata finds that SeqStudio Sanger sequencing performs well with these clinical research materials with limited genomic material available.
As a translational medicine research–oriented laboratory, the R&D unit supports the University Hospital of Basel's research into clinical cancer management. For the last two years, molecular profiling carried out in the unit has aided research into tumor characteristics that can predict therapeutic success. By collecting as much data as possible on tumors at all stages of the disease, researchers have been able to build a library that associates specific molecular variants with drug sensitivity. Results from these research studies may help clinicians when they perform diagnostic work for individual patients to find drugs that are more likely to halt their cancer.
Precision medicine, also known as personalized medicine, can use the vast clinical databases generated from population studies that catalog disease risk factors, development and variation. In a disease like cancer, drilling down to the molecular profile of the tumor itself helps determine pathogenesis toward malignancy and metastatic spread. In turn, this shows therapeutic targets for drug development that could switch off the disease. The desired end result is effective therapeutic management, with fewer side effects, tailored to the individual patient.
Quagliata's unit works collaboratively with the hospital's diagnostics division, looking to move new technology beyond research. His team uses clinical research samples to examine, identify and catalog molecular aberrations within tumor tissues to build up profiles showing clinically relevant genomic mutations that might be useful in future diagnostic panels.
"With limited sample size and a clear clinical question, Sanger is still the choice," he says, explaining that where samples contain less than 20% tumor cell content, NGS struggles to perform as well without further microdissection or selective preparation. The unit also uses SeqStudio Sanger sequencing to verify rare variants and data from NGS.
In addition to investigating small-volume biopsy samples with limited genomic materials, Quagliata still finds Sanger sequencing appropriate in other applications. Although NGS covers multigene analysis with ease and is suitable for high-throughput multiplexing, Sanger sequencing still remains the gold standard after 40 years. Quagliata suggests that for research questions that require analysis of only a few amplicons, Sanger sequencing offers a low-throughput approach that is easy to set up, has a faster workflow and is cost efficient.
The SeqStudio capillary electrophoresis (CE) instruments fits well in Quagliata's laboratory. He is a longtime user of Applied Biosystems CE equipment for molecular analysis, citing reliability, practicality, results validity and ease of use.
"What we really like is that the machine is extremely simple," explains Quagliata. "Not simple as in just doing simple things, but that it does extremely complicated things in a very easy manner." This simplicity has allowed the unit to integrate the system quickly into its portfolio of technology and instruments to good effect.
Quagliata and his lab have had good results from the instrument. First, they compared results obtained from the new instrument with those from previous analyses. The results showed very high concordance, more than 99% as verified by the Swiss national laboratory accreditation scheme, and good performance. The team also compared tumor profiles from Sanger and NGS analysis; the results showed similar distributions of driver mutations by each method.
Quagliata also appreciates SeqStudio's flexibility, citing the new cartridge system for economic reagent handling, connectivity for remote access and fast operation. He also sees its versatility as a benefit. Currently running the RAS Research Assay, Quagliata looks ahead to using the SeqStudio for microsatellite instability and fragment analysis, clonality evaluation, and detection of specific deletions.
Further Reading
Introduction to Sanger and Next-Generation Sequencing Technology
SeqStudio is for research use only. Not for use in diagnostic procedures.